A Family Vacation in Dubai: Top Attractions for Kids and Parents Alike
A family vacation in Dubai offers a plethora of attractions for both kids and parents. This luxurious city combines modern architecture with traditional Middle Eastern culture, creating a unique experience for visitors. Here are some top attractions for families in Dubai:
---
The Dubai Mall
The Dubai Mall is the largest mall in the world by total area and a premier shopping, dining, and entertainment destination in Dubai, United Arab Emirates. It is located in the heart of the prestigious Downtown Dubai area, next to the iconic Burj Khalifa and the beautiful Dubai Fountain. The mall features over 1,200 retail outlets, including high-end brands, popular department stores, and boutique shops, catering to a diverse range of tastes and preferences.
Apart from shopping, The Dubai Mall offers numerous attractions for families and visitors of all ages:
Dubai Aquarium and Underwater Zoo: This massive aquarium boasts over 33,000 aquatic animals, including sharks, rays, and a diverse range of fish. The Underwater Zoo, located on the upper level, showcases fascinating marine creatures like penguins, sea otters, and crocodiles.
KidZania: An interactive, educational experience, KidZania is a child-sized city where kids can role-play various professions in a safe and engaging environment. It provides children aged 4-16 with the opportunity to learn about different careers, money management, and teamwork.
VR Park: This virtual reality theme park offers immersive experiences and thrilling rides across various genres like horror, adventure, and sports. The park caters to all age groups and features both individual and multi-player experiences.
Olympic-sized ice-skating rink: The Dubai Mall houses an Olympic-sized ice-skating rink where visitors can enjoy ice-skating sessions, figure-skating shows, and even hockey matches.
Dubai Fountain: Just outside the mall, you can witness the world's largest choreographed fountain system, featuring water jets reaching up to 150 meters high, accompanied by lights and music.
Reel Cinemas: A state-of-the-art multiplex with 22 screens, Reel Cinemas offers the latest blockbusters and a range of viewing experiences, including Platinum Movie Suites for a luxurious cinema experience.
Food and dining: The mall features over 200 food and beverage outlets, including casual eateries, international restaurants, and cafes, offering a variety of cuisines to satisfy every palate.
SEGA Republic: Although it is now permanently closed, SEGA Republic was an indoor theme park that featured over 170 arcade games, attractions, and thrilling rides based on popular SEGA video games.
The Dubai Mall is an all-in-one destination for shopping, dining, and entertainment, making it a must-visit for anyone traveling to Dubai.
---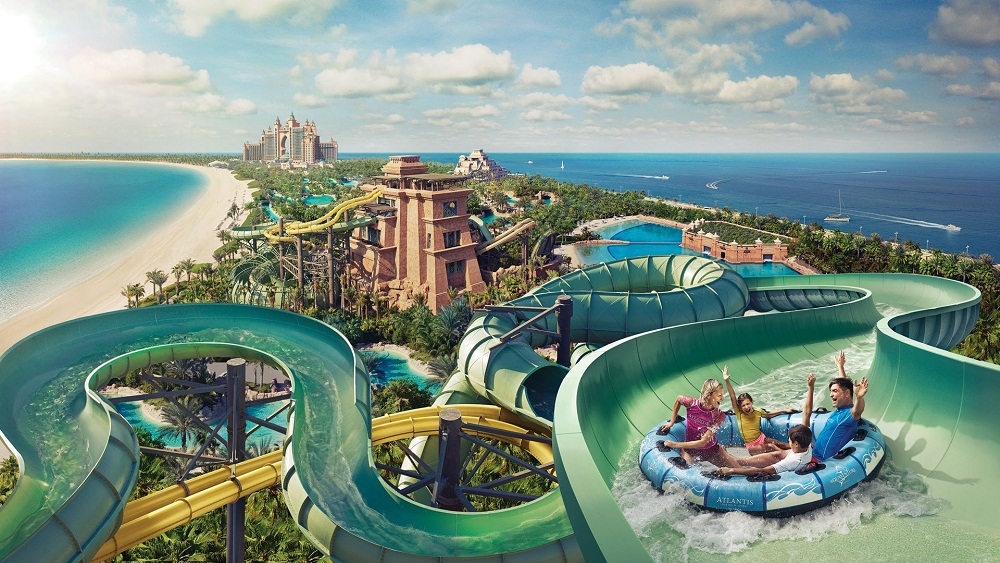 Wild Wadi Water Park is an exciting outdoor water park in Dubai, United Arab Emirates. Located in the Jumeirah area, it is situated right in front of the iconic Burj Al Arab, offering a stunning backdrop for a fun-filled day. The park covers an area of 12 acres and offers over 30 rides and attractions suitable for visitors of all ages.
Here are some highlights of the Wild Wadi Water Park:
Jumeirah Sceirah: This adrenaline-pumping ride is the tallest and fastest free-fall water slide in the Middle East. Riders experience a thrilling drop from a height of 32 meters, reaching speeds of up to 80 km/h.
Tantrum Alley and Burj Surj: Both of these rides feature exciting water slides combined with exhilarating tornadoes and bowls, providing a unique and thrilling experience for visitors.
Master Blasters: These aquatic rollercoasters use high-powered water jets to propel riders uphill and downhill on an exciting journey through a series of slides and tunnels.
Juha's Journey: Perfect for visitors looking for a more relaxing experience, this 360-meter lazy river allows guests to float along its gentle current, taking in the park's beautiful surroundings.
Wipeout and Riptide: These rides offer a unique surfing experience using powerful pumps to create realistic ocean-like waves for bodyboarding and kneeboarding.
Breaker's Bay: The largest wave pool in the Middle East, Breaker's Bay, generates waves of up to 1.5 meters, making it perfect for visitors to swim, splash, or ride the waves.
Juha's Dhow and Lagoon: A dedicated play area for young children, this interactive zone features over 100 water games, including slides, water guns, and a large dumping bucket.
Flood River: This action-packed river ride features sudden waves, rapids, and waterfalls, providing an exciting adventure for thrill-seekers.
Restaurants and shops: Wild Wadi Water Park offers various dining options, including BBQ restaurants, snack bars, and ice cream parlors. You can also find a range of shops selling swimwear, souvenirs, and other essentials.
Wild Wadi Water Park is an excellent destination for families, friends, and thrill-seekers looking to cool off and have a fun day in Dubai's warm climate.
---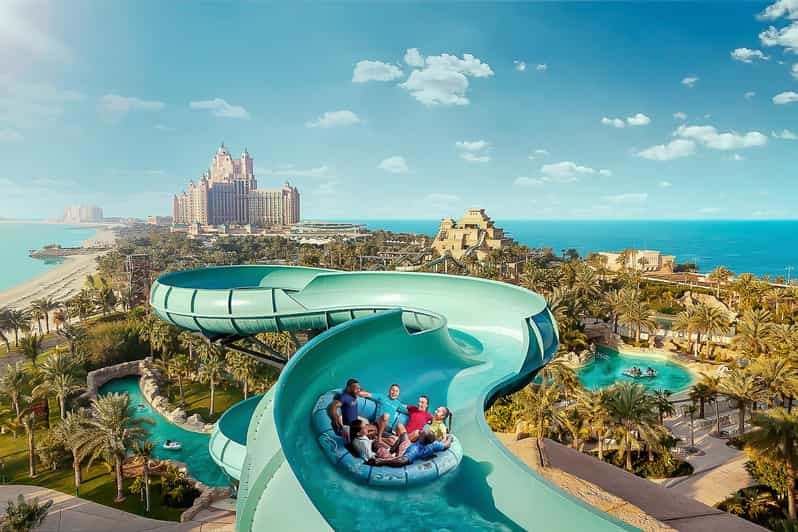 Aquaventure Waterpark is an award-winning water park located within the Atlantis, The Palm resort in Dubai, United Arab Emirates. This 42-acre aquatic wonderland is home to thrilling rides, slides, and attractions for visitors of all ages, making it an ideal destination for a family outing.
Here are some of the highlights of Aquaventure Waterpark:
The Tower of Neptune: This iconic tower features several exciting slides, including the adrenaline-pumping Leap of Faith, a near-vertical drop that sends riders through a clear tunnel surrounded by sharks and rays.
The Tower of Poseidon: Another thrilling tower featuring a variety of water slides, including the Aquaconda, the world's largest waterslide, and the Zoomerango, which offers a unique zero-gravity experience.
Lost Chambers Aquarium: Adjacent to the water park, this impressive aquarium is home to over 65,000 marine animals and offers interactive experiences, such as touch tanks and behind-the-scenes tours.
Dolphin Bay: This unique marine habitat allows visitors to interact with dolphins in shallow or deep water, with experiences tailored to various age groups and swimming abilities.
Sea Lion Point: Get up close and personal with playful sea lions in an interactive, educational encounter designed for all ages.
Aquaventure Beach: A pristine private beach exclusive to Aquaventure Waterpark and Atlantis, The Palm guests, perfect for lounging in the sun or taking a relaxing swim in the warm waters of the Arabian Gulf.
Splashers Island and Splashers Mountain: Designed for the park's youngest visitors, these areas offer kid-friendly slides, water cannons, climbing frames, and hanging bridges for endless fun in a safe environment.
River Rides: Aquaventure features two river rides, the Torrent River, which offers wave surges and rapids, and the Lazy River, where visitors can enjoy a relaxing float on a leisurely 2.3-kilometer journey.
Shark Safari: Experience walking underwater while wearing a specially designed helmet, allowing you to get up close with sharks, rays, and colorful fish in the Shark Lagoon.
Dining and shopping: Aquaventure Waterpark offers various dining options, including poolside cafes, BBQ restaurants, and snack bars. There is also a selection of shops selling swimwear, souvenirs, and other essentials.
Aquaventure Waterpark is a must-visit attraction in Dubai, offering a mix of thrilling adventures, marine encounters, and relaxation for the entire family.
---
LEGOLAND Dubai is a family-friendly theme park designed for children aged 2-12 and their families. Located within the Dubai Parks and Resorts complex, it offers a fun and interactive experience centered around the iconic LEGO bricks. The park features over 40 LEGO-themed rides, shows, and attractions spread across six themed lands.
Factory: Learn how LEGO bricks are made on a Factory Tour and take home a unique LEGO brick souvenir. The Factory also houses The Big Shop, the largest LEGO store in the Middle East, where you can find a wide range of LEGO sets and merchandise.
LEGO City: This interactive cityscape allows children to role-play as firefighters, pilots, and more while learning essential skills like teamwork and cooperation. Don't miss the popular driving school, where kids can earn their very own LEGOLAND driving license.
Imagination: This area encourages creativity and learning through interactive attractions, such as the LEGO Mindstorms robotics workshop, the Duplo Express train for younger children, and the Kid Power Towers, where kids can test their strength and enjoy a great view of the park.
Kingdoms: Step into a medieval world with exciting rides like The Dragon, a thrilling roller coaster that takes you through a LEGO castle, and Merlin's Flying Machines, a magical spinning ride.
Adventure: Explore the ancient ruins and go on an exhilarating underwater journey on the Submarine Adventure ride or search for hidden treasure on the Lost Kingdom Adventure, a laser-blasting interactive ride.
Miniland: Marvel at the incredible LEGO brick recreations of Dubai's iconic landmarks and other Middle Eastern architectural wonders, built using over 20 million LEGO bricks. The indoor, air-conditioned area also features a Build-a-City area, where kids can create their own LEGO buildings.
In addition to the main park, LEGOLAND Dubai also has a separate water park with a variety of water slides, wave pools, and splash pads designed for families with young children. Note that entry to the water park requires a separate ticket or a combined ticket with the main park.

With its blend of creative and educational attractions, as well as adrenaline-pumping rides, LEGOLAND Dubai offers a fun and memorable experience for families visiting the city.
---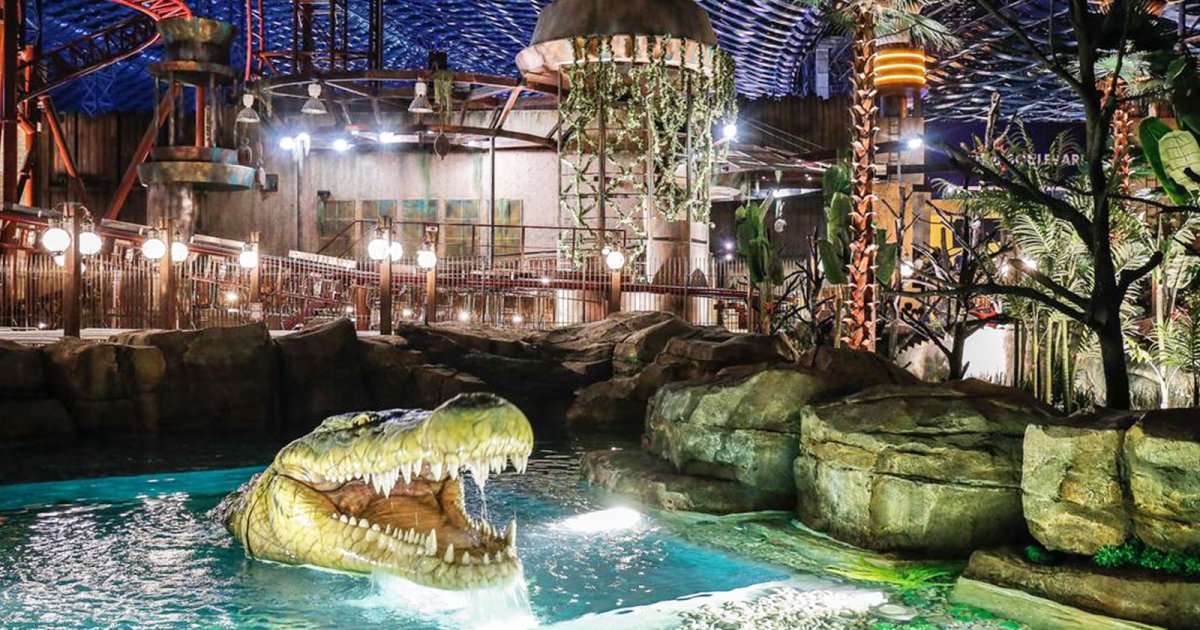 IMG Worlds of Adventure is the world's largest indoor theme park, covering an area of 1.5 million square feet. Located in Dubai, United Arab Emirates, this exciting entertainment destination offers a mix of thrilling rides, immersive attractions, and live shows based on popular franchises like Marvel, Cartoon Network, and Lost Valley – Dinosaur Adventure. The park is divided into five themed zones, providing fun for visitors of all ages.
Marvel Zone: This zone is dedicated to the popular Marvel comics and movies, featuring exhilarating attractions such as Avengers Battle of Ultron, Spider-Man: Doc Ock's Revenge, Thor Thunder Spin, and the Hulk Epsilon Base 3D ride.
Cartoon Network Zone: Home to popular characters like Ben 10, The Powerpuff Girls, and Adventure Time, this zone offers a mix of exciting rides and interactive play areas. Highlights include The Amazing Ride of Gumball, Ben 10 5D Hero Time, and Adventure Time – The Ride of OOO with Finn & Jake.
Lost Valley – Dinosaur Adventure: Step back in time and explore a prehistoric world filled with animatronic dinosaurs and thrilling rides, such as the Velociraptor roller coaster, the Dino Carousel, and the Adventure Fortress play area.
IMG Boulevard: The central hub of the park, IMG Boulevard, features a variety of dining and shopping options, as well as attractions like The Haunted Hotel, a spine-chilling walk-through experience suitable for older visitors.
Novo Cinemas: This state-of-the-art multiplex offers the latest movie releases in a comfortable and technologically advanced setting. It is the perfect place to unwind after a day of thrilling rides and attractions.
In addition to the themed zones, IMG Worlds of Adventure offers a wide range of dining options, including international restaurants, themed cafes, and snack bars. The park also houses a range of retail outlets where visitors can shop for exclusive merchandise, souvenirs, and gifts.

With its diverse range of attractions, IMG Worlds of Adventure is an ideal destination for families, friends, and thrill-seekers looking for an action-packed day of entertainment in Dubai.
---
Green Planet Dubai is a unique indoor attraction that brings the wonders of a tropical rainforest to the heart of Dubai. This bio-dome houses a thriving ecosystem with over 3,000 species of plants, birds, and animals, including reptiles and insects. The Green Planet offers an immersive and educational experience that showcases the beauty of nature and raises awareness about conservation and the environment.
Here are some of the key attractions and experiences within Green Planet Dubai:
The Indoor Rainforest: Spanning four levels, the indoor rainforest features a 25-meter-tall artificial tree and a living ecosystem with tropical plants, birds, butterflies, sloths, and other rainforest creatures.
Australian Walkabout: This exhibit allows visitors to encounter and interact with various animals native to Australia, including wallabies, sugar gliders, and various bird species.
The Bat Cave: Step into the nocturnal world of fruit bats and learn about their fascinating habits and behaviors in a cave-like environment.
The Flooded Rainforest: Explore the aquatic life found in the depths of the rainforest, including stingrays, arapaima, and various species of fish.
The Canopy: Venture up to the canopy level, where you can observe birds, insects, and other tree-dwelling creatures from a unique vantage point.
The Forest Floor: Discover the creatures that inhabit the forest floor, such as insects, reptiles, and amphibians.
Vertical Gardens: Admire the lush green walls made up of various plant species, which showcase the potential of vertical gardening in urban environments.
Educational Programs: Green Planet Dubai offers a range of educational programs and workshops for children and adults, focusing on topics such as conservation, sustainability, and the natural world.
Behind-the-Scenes Tours: Gain exclusive access to the inner workings of the bio-dome and learn about the care and maintenance of the plants and animals that call Green Planet home.
Cafe and Gift Shop: The on-site cafe offers a selection of snacks and refreshments, while the gift shop sells souvenirs and educational materials to remember your visit.
Green Planet Dubai provides a unique and engaging experience for visitors of all ages, making it a must-visit attraction for nature enthusiasts and families alike.
---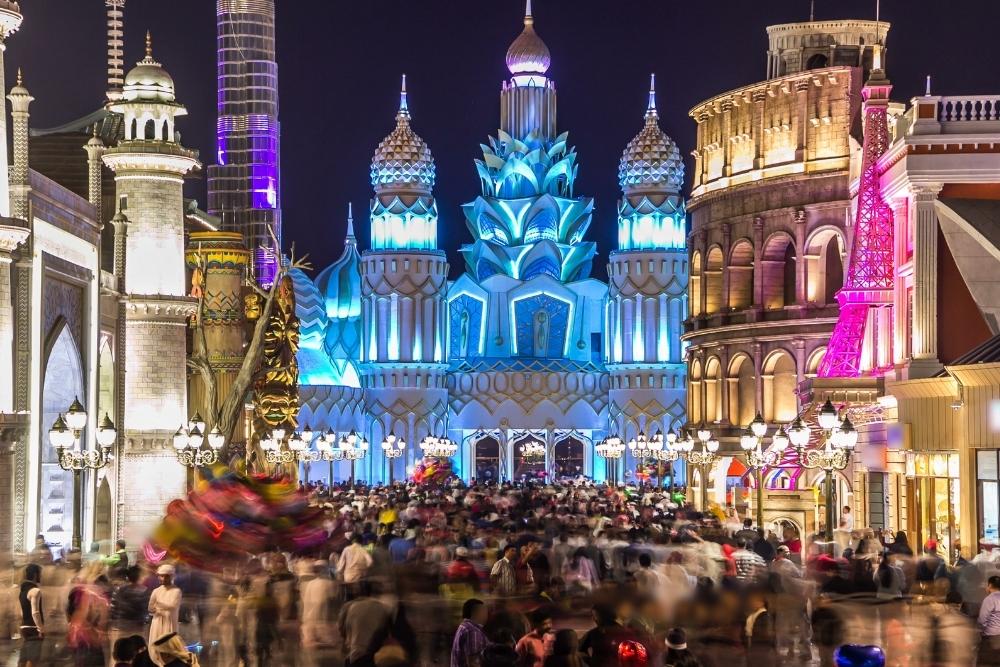 Global Village is a unique cultural, entertainment, and shopping destination in Dubai, United Arab Emirates. It combines the flavors, sights, and sounds of various countries and cultures from around the world in one location. Usually open from October/November to April each year, Global Village offers an immersive experience for visitors of all ages.
Here are some key highlights and experiences of Global Village:
Pavilions: The park features over 25 country-themed pavilions, each showcasing the cultural heritage, handicrafts, traditional clothing, and cuisine of the respective countries. Some popular pavilions include India, Egypt, Turkey, China, and the Americas, among others.
Shopping: Global Village is a shopper's paradise, with a wide range of unique products and souvenirs available from different countries. You can find everything from traditional handicrafts, clothing, and accessories to spices and food items.
Live Performances: Enjoy a variety of live entertainment, including cultural shows, dance performances, and street acts representing different countries and cultures. The park also hosts concerts featuring international and regional artists.
Food and Dining: With numerous food kiosks, restaurants, and cafes, Global Village offers a diverse selection of international cuisines for visitors to sample, ranging from Middle Eastern dishes to Asian, European, and American favorites.
Carnaval: The Carnaval is an exciting funfair area featuring over 30 thrilling rides and attractions for visitors of all ages, including roller coasters, bumper cars, and Ferris wheels. There are also numerous games and skill challenges where you can win prizes.
Stunt Shows: Global Village hosts action-packed stunt shows, such as motorcycle and car stunt performances, in a dedicated arena. These high-energy shows are a must-see for thrill-seekers and action enthusiasts.
Fireworks: On weekends and special occasions, Global Village hosts spectacular fireworks displays, adding a touch of magic to the night sky.
Kids' Theatre: This dedicated theater hosts a variety of shows and performances specifically designed for children, including puppet shows, storytelling sessions, and interactive workshops.
Floating Market: The Floating Market is an attraction where visitors can enjoy various food options while experiencing a unique dining concept inspired by Southeast Asia's famous floating markets.
Global Village is a one-of-a-kind attraction in Dubai, offering a fascinating journey through the world's cultures, traditions, and entertainment. It's an ideal destination for families, friends, and visitors looking for a fun-filled and enriching experience.
---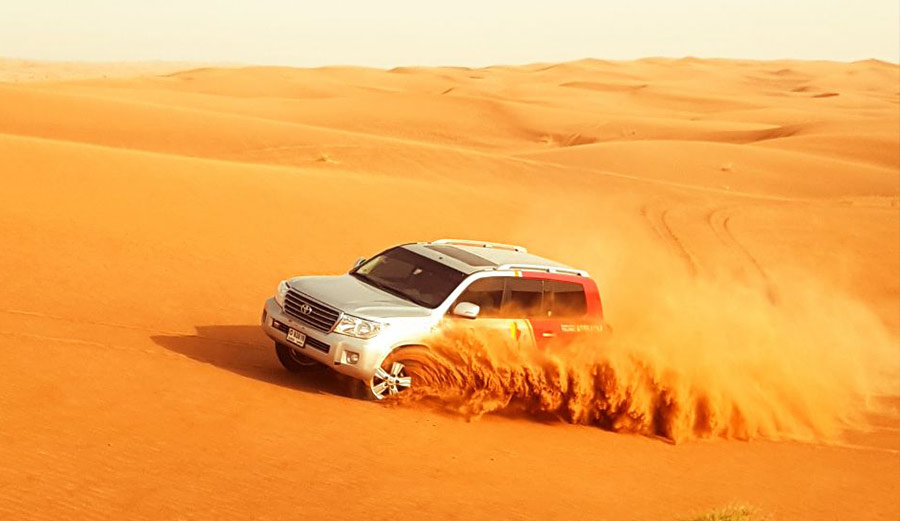 A Desert Safari is a quintessential Dubai experience that offers visitors a chance to explore the stunning Arabian desert landscape and indulge in various cultural and adventure activities. Desert safaris usually start in the afternoon and last until the evening, with options for morning and overnight safaris as well. Here's a list of activities and experiences typically included in a desert safari:
Dune Bashing: This thrilling activity involves driving across the desert's rolling sand dunes in a 4×4 vehicle, such as a Land Cruiser or a Hummer, driven by an experienced driver. It's an adrenaline-pumping adventure that offers a unique view of the desert landscape.
Camel Riding: Experience the traditional mode of transportation used by Bedouins for centuries by riding a camel through the desert. This activity provides a leisurely and authentic way to enjoy the vastness of the desert.
Sandboarding: Similar to snowboarding, sandboarding involves sliding down the sand dunes on a specially designed board. It's a fun and exciting activity for adventure-seekers.
Quad Biking/ATV Riding: For those seeking a more adrenaline-fueled adventure, quad biking or ATV riding through the desert dunes offers an exhilarating experience.
Falconry Display: Witness the magnificent birds of prey in action during a live falconry display, and learn about the ancient art of falconry, which has deep roots in Emirati culture.
Traditional Bedouin Camp: After the adventure activities, visitors are usually taken to a traditional Bedouin-style camp, where they can relax and enjoy the desert's serene atmosphere.
Cultural Activities: At the camp, guests can participate in various cultural activities, such as henna painting, dressing up in traditional Emirati attire, and learning about the Bedouin way of life.
Live Entertainment: The evening's entertainment typically includes traditional performances like the Tanoura dance (a folk dance featuring spinning performers) and belly dancing.
Barbecue Dinner: A sumptuous buffet dinner featuring a variety of Middle Eastern dishes, including grilled meats, salads, and desserts, is served under the stars in the desert camp.
Stargazing: Away from the city lights, the desert offers a perfect opportunity for stargazing. Enjoy the beauty of the night sky and try to spot constellations and planets with the naked eye or through a telescope.
A desert safari is a must-do experience when visiting Dubai, providing an unforgettable adventure that showcases the region's natural beauty and rich cultural heritage.
---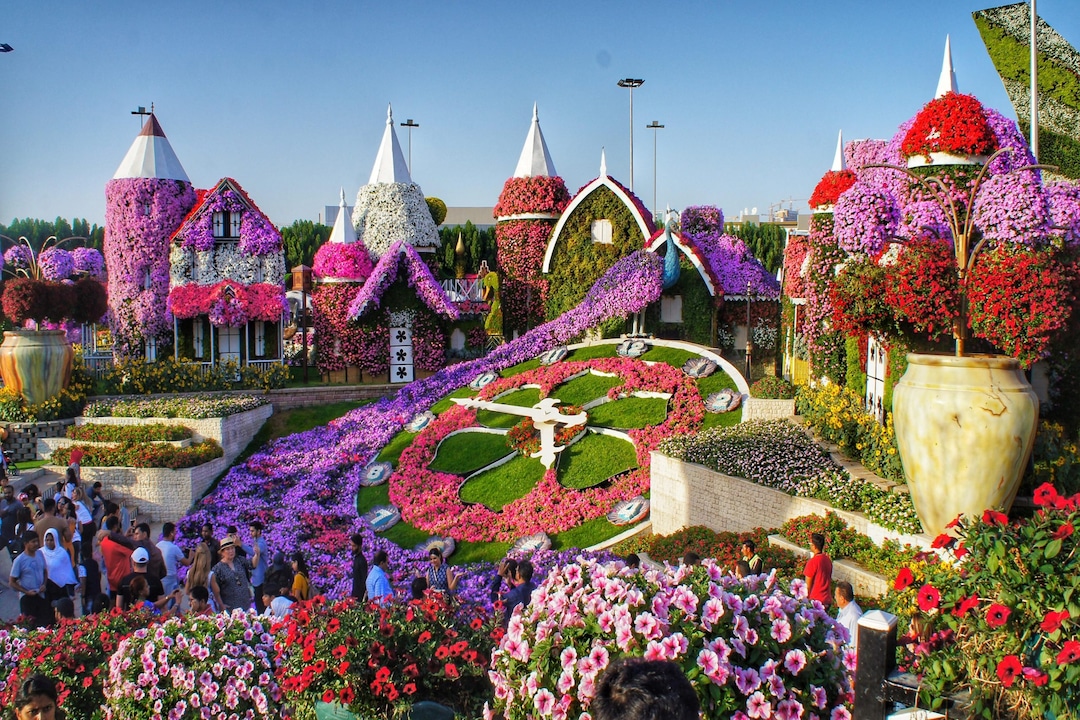 Dubai Miracle Garden is a stunning and unique floral attraction in Dubai, United Arab Emirates. It is the world's largest natural flower garden, covering an area of over 72,000 square meters and featuring more than 50 million blooming flowers and 250 million plants. The garden is typically open from November to May each year, depending on the weather, as it closes during the hot summer months.
Miracle Garden offers visitors a visually delightful experience with its creatively arranged and landscaped flower displays, which are changed and updated each season. Some key highlights and attractions of the garden include:
Floral Structures: The garden features a variety of imaginative structures and sculptures adorned with flowers, including heart-shaped arches, peacocks, butterflies, and even full-sized houses covered in blooms.
Record-Breaking Displays: Miracle Garden is home to several Guinness World Record-breaking floral installations, such as the largest vertical garden, the tallest topiary sculpture, and the largest floral Mickey Mouse sculpture.
Airbus A380 Floral Installation: One of the garden's most iconic attractions is a life-sized Airbus A380 airplane covered in flowers, which holds the record for the world's largest floral installation.
Lost Paradise: An underground section of the garden designed for kids, featuring small water ponds, fountains, and play areas amidst the lush greenery.
The Lake Park: A beautiful lake surrounded by a walking track, gazebos, and colorful flower displays, offering a tranquil and picturesque setting for relaxation and photos.
Amphitheater: This open-air venue hosts live performances and entertainment events, with a stunning floral backdrop.
Butterfly Garden: Located adjacent to Miracle Garden, the Dubai Butterfly Garden is an indoor, climate-controlled space that houses thousands of butterflies in a beautifully designed environment. Note that this attraction requires a separate entrance ticket.
Dining and Shopping: The garden offers a range of food and beverage options, including cafes, food trucks, and kiosks. There are also souvenir shops where visitors can purchase gifts and memorabilia.
Dubai Miracle Garden is a must-visit attraction for nature lovers and those seeking a colorful, vibrant escape from the city's hustle and bustle. It provides a perfect backdrop for photography, leisurely strolls, and quality family time.
---
La Mer is a contemporary beachfront destination in Dubai, United Arab Emirates, that combines upscale leisure, dining, and entertainment facilities. Located between Pearl Jumeira and Jumeira Bay, this vibrant destination offers a unique blend of relaxation, fun, and excitement for visitors of all ages. Here are some key highlights and attractions at La Mer:
Beach: La Mer features a beautiful and clean beach with sun loungers, umbrellas, and cabanas available for rent. It is the perfect spot to relax, soak up the sun, and enjoy the clear blue waters of the Arabian Gulf.
Dining: With a wide range of cafes, restaurants, and kiosks, La Mer offers a diverse selection of international and local cuisines. From casual street food to fine dining, visitors can enjoy a variety of culinary experiences along the beachfront.
Shopping: La Mer is home to an array of boutique shops and retail outlets, offering fashion, accessories, and souvenirs. It's a great place to shop for unique gifts or treat yourself to something special.
Laguna Waterpark: This family-friendly water park features a variety of exciting rides, slides, and attractions, including a wave pool, lazy river, and a children's splash pad. The park also offers direct beach access and a range of dining options.
Roxy Cinemas: La Mer hosts a state-of-the-art Roxy Cinemas complex, where visitors can catch the latest movie releases in a luxurious and comfortable setting.
Street Art and Murals: La Mer is known for its vibrant street art and murals, which add a colorful and lively atmosphere to the destination. The eye-catching artworks provide an excellent backdrop for photos and selfies.
Playgrounds and Attractions: La Mer offers various playgrounds and attractions designed for children, such as trampolines, inflatable play areas, and climbing structures.
Events and Entertainment: Throughout the year, La Mer hosts a range of events and entertainment activities, including live music, outdoor movie screenings, and seasonal festivities.
Watersports: Visitors can partake in various watersports activities, such as paddleboarding, kayaking, and jet-skiing, for an exciting day on the water.
La Mer provides a refreshing and vibrant atmosphere for visitors looking to unwind and enjoy a leisurely day at the beach. With its mix of beach relaxation, dining, shopping, and entertainment options, it's a popular destination for both tourists and residents of Dubai.
Search City: