A Guide to London's Best Instagrammable Spots
London is a city with many photogenic spots and Instagram-worthy locations. Here's a guide to some of the best:
1 – Tower Bridge:
Tower Bridge is a famous suspension bridge that spans the River Thames in London, England. It is one of the city's most iconic landmarks and is recognizable for its distinctive twin towers that are connected by two walkways.
The bridge was built between 1886 and 1894 and was designed by Sir Horace Jones and John Wolfe Barry. It was constructed using a combination of steel and stone, with the towers and piers made from Cornish granite and the remainder of the structure made from steel.
Tower Bridge is a bascule bridge, which means it can be raised to allow ships to pass through the river. The mechanism that lifts the bridge uses hydraulic power and can raise the bridge to an angle of 86 degrees. This is still done regularly to this day, although it is mostly for ceremonial purposes rather than for practical reasons.
Visitors to London can enjoy the views from the Tower Bridge Exhibition, which includes a glass floor walkway that offers a unique perspective on the bridge and the river below. The exhibition also includes displays on the bridge's history and construction.
---
2 – Notting Hill:
Notting Hill is a district in West London, known for its colorful houses, charming streets, and vibrant cultural scene. The area is famous for its annual Notting Hill Carnival, which is one of the largest street festivals in Europe and celebrates the area's Caribbean community.
Notting Hill is also known for its unique shops, restaurants, and cafes. The Portobello Road Market, which runs along Portobello Road, is a popular attraction for locals and tourists alike. The market offers a variety of goods, including antiques, clothing, and food.
The area is home to a diverse mix of residents, ranging from young professionals to artists and musicians. The architecture in Notting Hill is also notable, with many buildings featuring colorful facades and intricate detailing.
Notting Hill has been the setting for many films and TV shows, most famously the romantic comedy "Notting Hill" starring Julia Roberts and Hugh Grant. The area has a bohemian and relaxed atmosphere, making it a popular destination for visitors looking for a break from the hustle and bustle of central London.
---
3 – Covent Garden:
Covent Garden is a historic district in London's West End, famous for its shopping, dining, entertainment, and street performers. It is located in the heart of London and is easily accessible by public transport.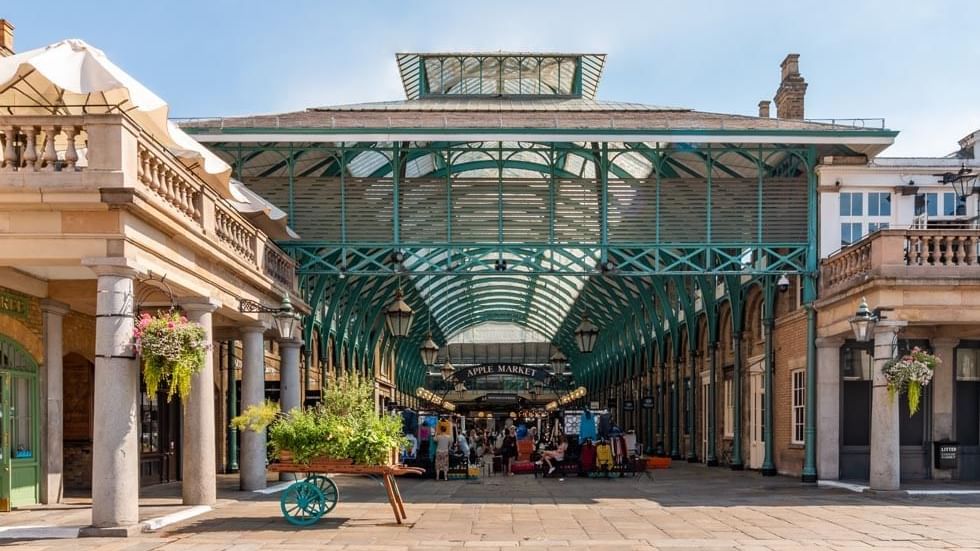 Covent Garden was originally a fruit and vegetable market in the 17th century, but it has since been transformed into a lively shopping and entertainment destination. The covered market building, which dates back to the 19th century, is now home to a variety of shops, restaurants, and cafes. Visitors can find everything from luxury brands to handmade crafts and unique gifts.
In addition to shopping and dining, Covent Garden is also known for its street performers. Musicians, magicians, and other entertainers can be found throughout the district, adding to the lively atmosphere. The street performers are licensed by the local council and are a popular attraction for both locals and tourists.
Covent Garden is also home to several theaters, including the Royal Opera House and the Lyceum Theatre, which hosts the long-running musical "The Lion King". There are also several smaller theaters and performance spaces, offering a range of shows and productions.
Overall, Covent Garden is a vibrant and bustling district that offers something for everyone, whether you're looking to shop, dine, or be entertained.
---
4 – The Shard:
The Shard is a modern skyscraper located in Southwark, London, that is known for its distinctive shape and towering height. Standing at 310 meters (1,016 feet) tall, it is the tallest building in the United Kingdom and the fourth-tallest building in Europe.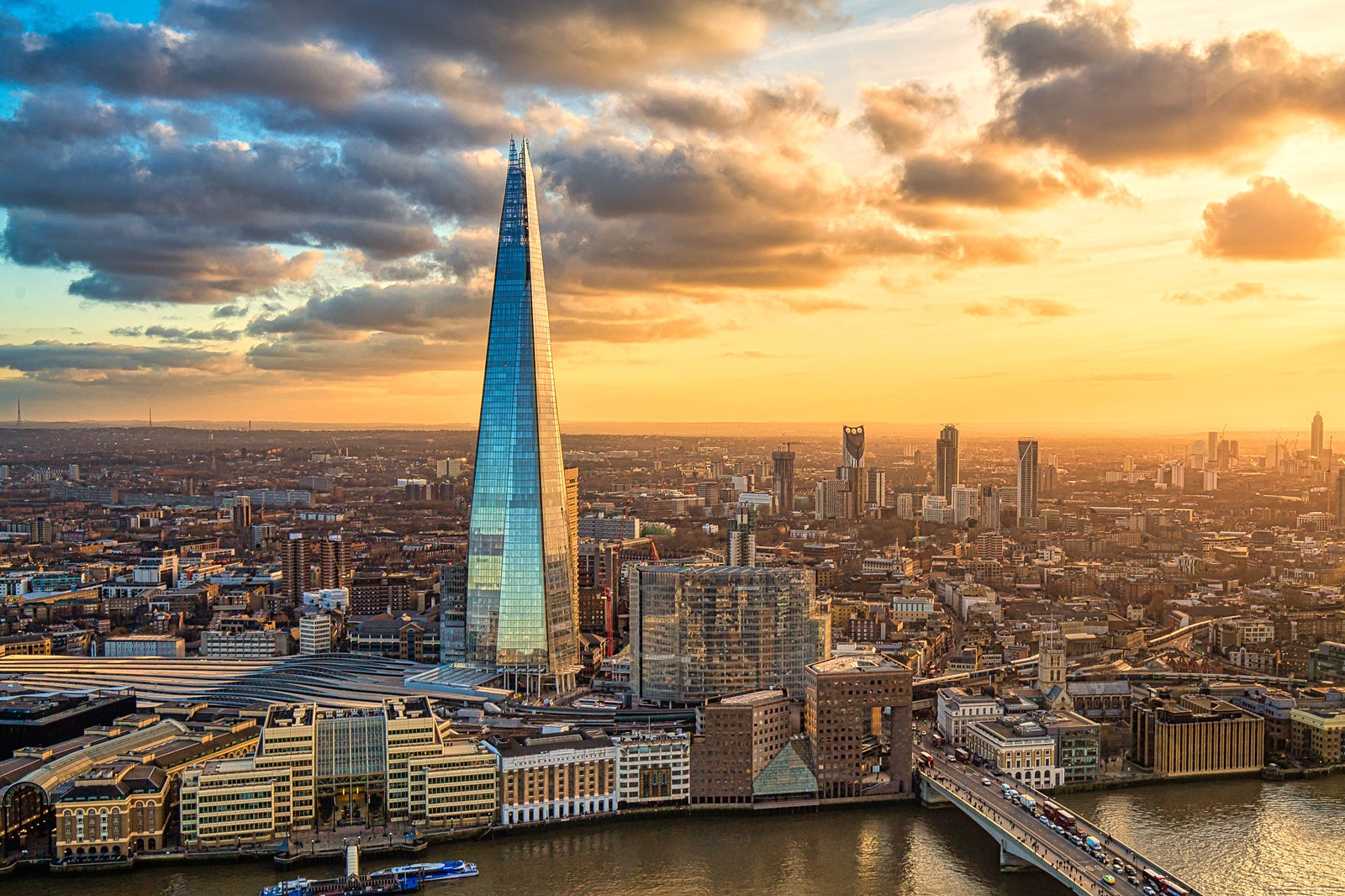 The building was designed by Italian architect Renzo Piano and was completed in 2012. It is primarily used for office space and luxury apartments, but also includes several restaurants, bars, and a viewing gallery on the 72nd floor that offers panoramic views of London.
The Shard's unique design is inspired by the spires of London's churches and the masts of sailing ships that once sailed along the Thames. The building's façade is made of glass and steel, and its distinctive shape tapers as it rises to a point at the top.
In addition to its impressive height, The Shard is also notable for its sustainable design features. The building uses energy-efficient technology to reduce its carbon footprint, and it collects rainwater to be used for irrigation and flushing toilets.
Overall, The Shard is a modern architectural marvel that offers stunning views of London and serves as a symbol of the city's growth and innovation in the 21st century.
---
5 – Big Ben and the Houses of Parliament:
Big Ben and the Houses of Parliament, also known as the Palace of Westminster, are iconic landmarks located in the heart of London, England. The Houses of Parliament is the meeting place of the UK's two parliamentary houses – the House of Commons and the House of Lords.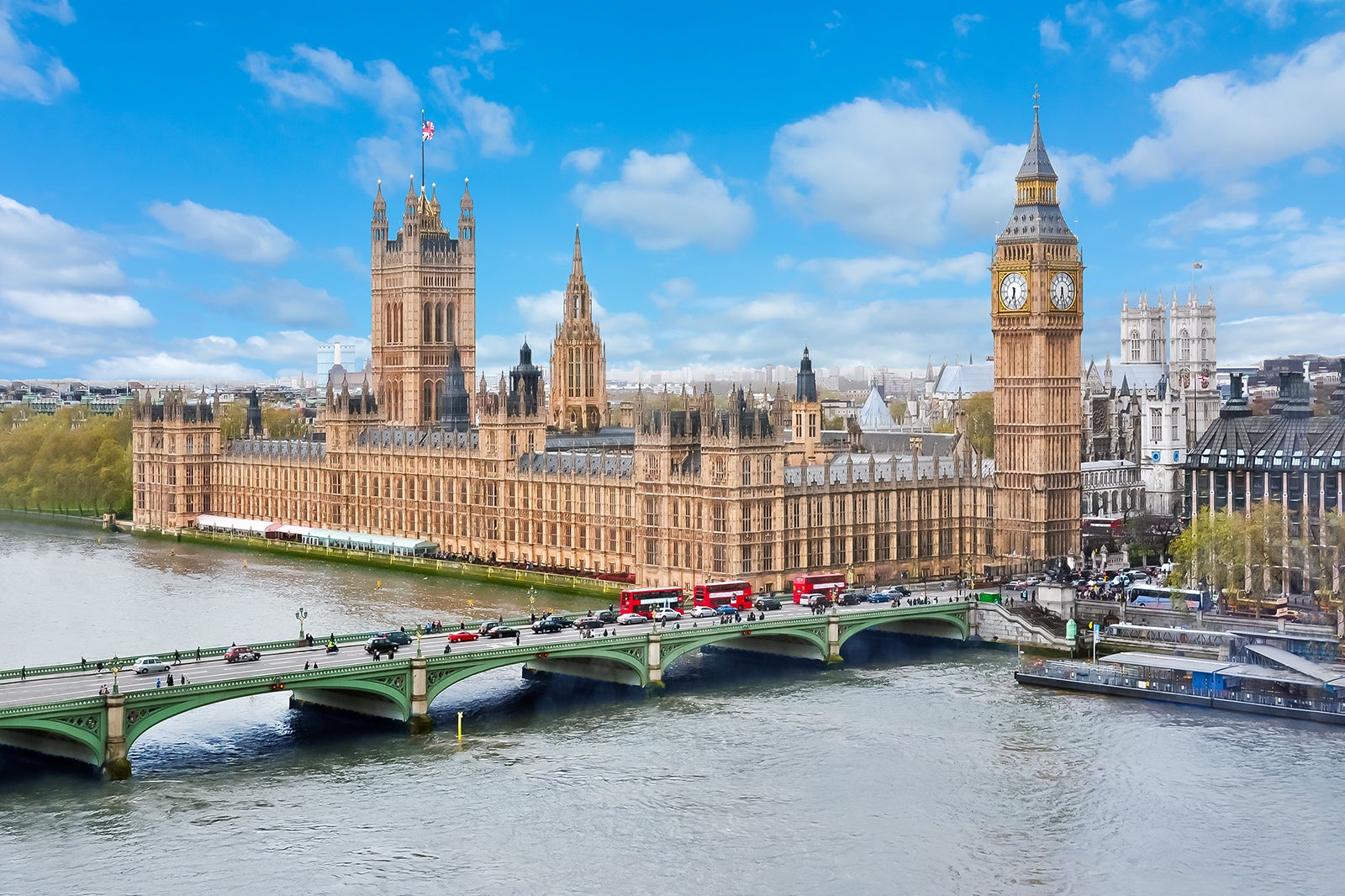 Big Ben is the nickname for the Great Bell of the clock tower located at the north end of the Houses of Parliament. The tower was completed in 1859 and stands at 96 meters (315 feet) tall. The clock face on each side of the tower is 7 meters (23 feet) in diameter, and the hour hand is 2.7 meters (9 feet) long. The bell itself weighs 13.7 tonnes (15.1 tons) and chimes on the hour, every hour.
The Houses of Parliament building itself is a striking example of neo-Gothic architecture, with intricate stonework, pointed arches, and ornate detailing. The building was originally constructed in the mid-19th century after a fire destroyed the previous Palace of Westminster in 1834.
Visitors can take guided tours of the Houses of Parliament, which include a visit to the House of Commons and the House of Lords, as well as the chance to see historic art and artifacts. The views of the Thames River and surrounding city from the Houses of Parliament are also breathtaking.
Overall, Big Ben and the Houses of Parliament are not only important symbols of British democracy, but also impressive examples of architecture and engineering. They are must-see landmarks for anyone visiting London.
---
6 – Buckingham Palace:
Buckingham Palace is the official residence of the monarch of the United Kingdom, currently Queen Elizabeth II. It is located in the City of Westminster, London, and was originally known as Buckingham House, a large townhouse built for the Duke of Buckingham in 1703. In 1761, it was acquired by King George III as a private residence for Queen Charlotte, and has since been used by the monarchs of the United Kingdom as their official residence in London.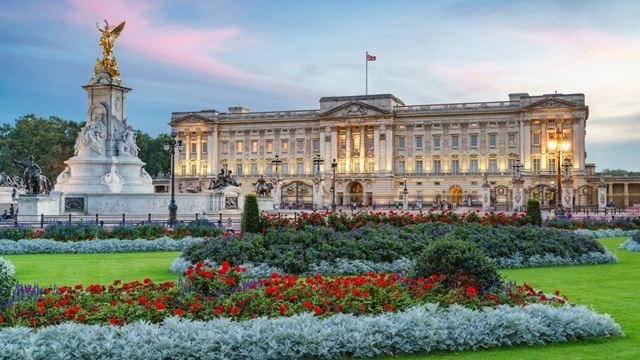 Buckingham Palace is a major tourist attraction in London and is known for its iconic balcony where the Royal Family appears during special events and celebrations. The palace also houses a collection of priceless art, furniture, and other treasures, and is surrounded by beautiful gardens that are open to the public during the summer months.
In addition to being the official residence of the monarch, Buckingham Palace is also the administrative headquarters of the monarch and is used for official events, state occasions, and royal receptions.
---
7 – Sketch London:
Sketch London is a unique and quirky restaurant located in Mayfair, London. It is known for its playful and eccentric design, with each room in the restaurant having its own distinct style and theme.
The restaurant features several different dining spaces, including the Gallery, which is decorated with over 200 original drawings by famous British artist David Shrigley, and the Lecture Room & Library, a Michelin-starred restaurant with plush velvet furnishings and a grand chandelier.
Sketch London is also home to several bars, including the famous Pink Bar, which is covered in pink velvet and features over 80 different types of champagne. There is also the Glade Bar, a cozy and intimate space decorated with a forest theme and featuring a unique cocktail menu.
In addition to its dining and drinking options, Sketch London also hosts art exhibitions and installations throughout the year, making it a popular destination for art lovers and foodies alike.
---
8 – Columbia Road Flower Market:
Columbia Road Flower Market is a famous and popular flower market located in the East End of London. It takes place every Sunday from early morning until around 3pm, and attracts thousands of visitors each week.
The market has been in operation for over 150 years and is known for its vibrant and colorful displays of flowers, plants, and shrubs, as well as for its friendly and lively atmosphere. The market is made up of around 60 independent flower stalls, each with their own unique offerings and specialties.
In addition to flowers and plants, Columbia Road also features a range of street performers, musicians, and food vendors, creating a vibrant and lively atmosphere. Visitors can also explore the surrounding area, which is filled with independent boutiques, cafes, and restaurants.
Columbia Road Flower Market is a must-visit destination for anyone interested in flowers and gardening, as well as for those looking for a unique and lively shopping experience in London.
---
9 – Neal's Yard:
Neal's Yard is a charming pedestrian alleyway located in the Covent Garden area of London. It is known for its colorful buildings and unique shops, and has become a popular destination for visitors to the city.
The area was originally a rundown and neglected part of Covent Garden, but in the 1970s it was transformed into a vibrant and alternative shopping and dining destination. Today, Neal's Yard is home to a variety of independent shops and cafes, including health food stores, organic cafes, and alternative therapy centers.
One of the most iconic features of Neal's Yard is its colorful buildings, which are painted in bright shades of blue, green, and yellow. This has made it a popular spot for Instagrammers and photographers, who come to capture the colorful buildings and quirky street art.
Visitors to Neal's Yard can explore the shops and cafes, sample organic and healthy foods, and enjoy the unique atmosphere of this charming pedestrian alleyway. It is a great destination for anyone interested in alternative lifestyles, health and wellness, or just looking for a unique and colorful experience in London.
---
10 – Platform 9 3/4 at King's Cross Station:
Platform 9 3/4 at King's Cross Station is a fictional platform from the Harry Potter series, which has become a popular destination for fans of the books and movies. In the story, Platform 9 3/4 is a secret platform where Hogwarts School of Witchcraft and Wizardry students catch the Hogwarts Express train to the school.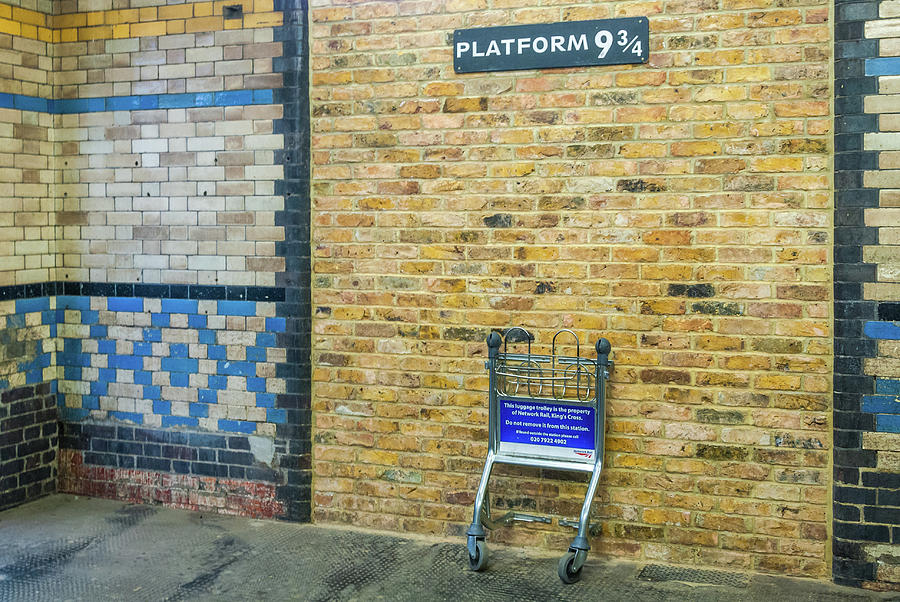 In real life, King's Cross Station in London has embraced the popularity of the Harry Potter franchise and has created a special photo opportunity for fans. A luggage trolley half-disappearing into the wall, with a sign reading "Platform 9 3/4", has been placed in a section of the station. Visitors can take photos pretending to push the trolley through the magical barrier and onto the platform.
The platform has become a popular destination for tourists and Harry Potter fans from around the world, and there is often a long queue to take a photo. The area around Platform 9 3/4 has also been transformed into a mini Harry Potter gift shop, selling merchandise such as wands, scarves, and other Harry Potter-themed souvenirs.
Visiting Platform 9 3/4 at King's Cross Station is a must-do for any Harry Potter fan visiting London, and it is a fun and unique way to experience a piece of the magical world of Harry Potter in real life.
---
These are just a few of the many Instagrammable spots in London. With its rich history, diverse culture, and vibrant atmosphere, there is always something new and exciting to discover and photograph in this amazing city.
Search City: