Amsterdam's Green Escapes: A Guide to the City's Secret Gardens and Parks
Amsterdam is renowned for its vibrant culture, picturesque canals, and architectural beauty. However, what many people don't know is that the city is also home to some of the most stunning and well-preserved gardens and parks in Europe. From hidden gems to urban oases, Amsterdam's green escapes offer a respite from the bustling city life and provide an opportunity to connect with nature. In this guide, we will explore the best secret gardens and parks in Amsterdam, sharing tips on how to navigate them, the history and culture behind them, and how to get the most out of your visit. Get ready to discover Amsterdam's hidden green side!

Introduction: Discovering the Green Side of Amsterdam
Amsterdam is often associated with its bustling streets, historic canals, and vibrant nightlife. However, the city also has a lesser-known side that is full of green spaces and tranquil gardens. From hidden gems to urban oases, Amsterdam offers a diverse range of green escapes that are worth exploring. Whether you're a local or a tourist, this guide will introduce you to some of the best green spaces in Amsterdam.
Why Amsterdam's Green Escapes are Worth Exploring
Amsterdam's green spaces are not only beautiful, but they also offer a much-needed break from the busy city streets. Whether you're looking for a peaceful retreat, a place to exercise, or a spot to enjoy a picnic, Amsterdam's green spaces have got you covered. In addition, many of these spaces have a rich history and cultural significance, making them even more fascinating to explore.
Hidden Gems: Exploring Amsterdam's Secret Gardens
The Begijnhof Garden: A Peaceful Oasis in the City
Tucked away in the bustling city center, the Begijnhof Garden is a hidden gem that offers a serene escape from the crowds. This courtyard garden dates back to the 14th century and was originally a beguinage, a community of unmarried women who lived a religious lifestyle. Today, the garden is open to the public and features lush greenery, a charming chapel, and a historic well.

The Hortus Botanicus: Amsterdam's Oldest Botanic Garden
Established in 1638, the Hortus Botanicus is one of the oldest botanic gardens in the world. Located in the Plantage neighborhood, this garden is home to a wide variety of plant species from around the globe, including rare and exotic plants. In addition, the garden has several beautiful greenhouses, a butterfly house, and a charming café.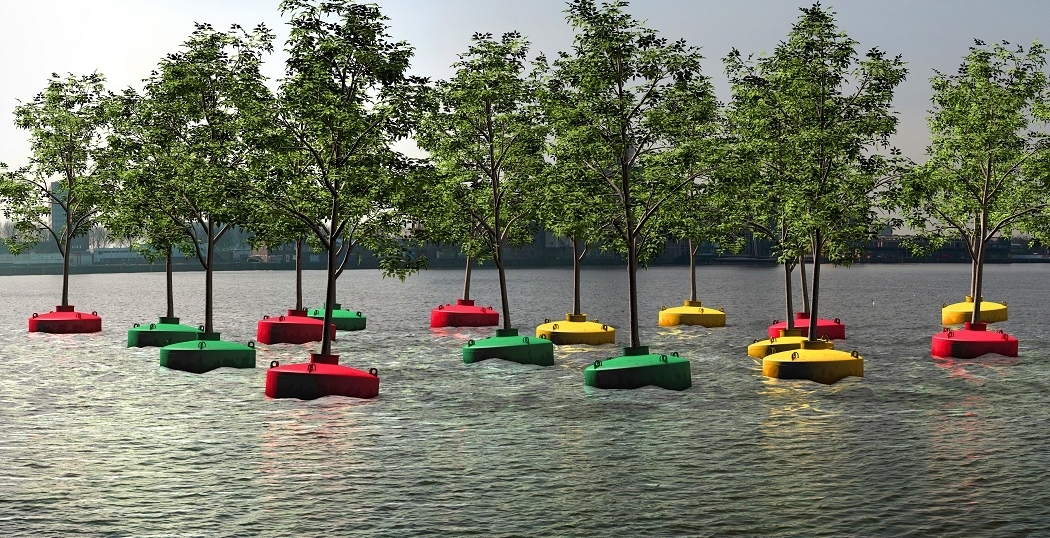 The Drijvend Bos (Floating Forest): A Unique Green Space on Water
The Drijvend Bos, also known as the Floating Forest, is a unique green space that floats on a body of water in Amsterdam's North district. This "forest" is made up of 20 trees that are planted on a floating platform, creating a surreal and peaceful experience. Visitors can reach the Floating Forest by ferry or kayak and enjoy a moment of tranquility surrounded by water and greenery.
Urban Oases: Parks in the Heart of the City

Vondelpark: Amsterdam's Most Famous Green Space
No guide to Amsterdam's green spaces would be complete without mentioning Vondelpark. Located in the heart of the city, Vondelpark is Amsterdam's most famous and largest park. This green oasis features walking and cycling paths, ponds, gardens, and even a few restaurants and cafes. Vondelpark is a popular spot for picnicking, people watching, and outdoor concerts and events.
Oosterpark: A Lively and Multicultural Park
Located in Amsterdam East, Oosterpark is a lively and multicultural park that reflects the diversity of the neighborhood. This green space features sprawling lawns, ponds, sculptures, and several sports facilities. In addition, the park hosts various cultural and community events throughout the year, making it a vibrant and dynamic space.
Sarphatipark: A Charming Hidden Gem in De Pijp
Nestled in the trendy De Pijp neighborhood, Sarphatipark is a charming and tranquil green space that is loved by locals. This park features a beautiful pond, winding paths, and plenty of benches for relaxation. Sarphatipark is also home to a weekly organic market and several outdoor fitness classes, making it a popular spot for healthy living enthusiasts.
Historical and Cultural Landmarks: Gardens with a Story
The Rembrandtplein Garden: A Tribute to the Famous Painter
Located in the bustling Rembrandtplein square, the Rembrandtplein Garden is a small but beautiful green space that pays tribute to the famous painter Rembrandt who once lived in this area. This garden features a statue of Rembrandt and a pond with a fountain, creating a peaceful oasis in the middle of the city.
The Keukenhof Gardens: A Colorful Display of Tulips
Located just outside of Amsterdam, the Keukenhof Gardens are a must-visit for flower enthusiasts. This expansive garden features over 7 million tulips, daffodils, and hyacinths, making it one of the largest flower gardens in the world. The Keukenhof Gardens are only open for a few weeks every year, from late March to mid-May, but they are definitely worth the trip.
The Castle Gardens of Arcen: A Fairytale-like Experience
Located in the picturesque town of Arcen in Limburg, the Castle Gardens of Arcen are a fairytale-like experience that is not to be missed. These gardens feature an impressive castle, several themed gardens, waterfalls, and even a vineyard. Visitors can spend hours wandering through the gardens or relaxing in one of the many serene spots.'s Green Spaces
Bring a Picnic: Enjoy a Relaxing Lunch in One of the Parks
Wear Comfortable Shoes: Many of the Parks Have Walking Trails
Visit During the Week: Some Parks and Gardens Can Get Crowded on Weekends
Check for Events: Many Green Spaces Host Festivals and Performances Throughout the Year
Beyond the City: Day Trips to Amsterdam's Countryside
Amsterdam may be a bustling city, but there are plenty of green spaces in the surrounding countryside that offer a peaceful respite from the urban hustle and bustle. The Amsterdamse Bos, just a short bike ride from the city center, is a sprawling forest oasis that boasts walking and biking trails, a lake for swimming and boating, and even a goat farm. For those looking to experience a quintessential Dutch village, the Zaanse Schans is a must-see, featuring traditional windmills, gardens and even a cheese shop.
For those who want to explore further afield, De Hoge Veluwe National Park is a two-hour train ride from Amsterdam and offers over 5,000 hectares of stunning natural landscapes, including sand dunes, heathlands, and forests. Visitors can explore the park on foot, by bike or even on one of the free white bicycles that are available to use throughout the park.
Sustainable Living: Amsterdam's Green Initiatives
Amsterdam is a city that takes sustainability seriously, and this is reflected in its numerous green initiatives. The Green Roof Project, for example, is a program that transforms flat roofs into green spaces, providing habitat for birds and insects and helping to regulate the temperature of buildings. The NoordOogst Urban Farm is another example of sustainable living in action, where visitors can learn about organic farming practices and even sample the farm's produce.
For those interested in urban agriculture, the Pluktuin is a community garden where members can grow their own produce for a small fee. The garden also features a café where visitors can enjoy a fresh and seasonal lunch while surrounded by greenery.
Fun Activities: Events and Festivals in Amsterdam's Green Spaces
Amsterdam's green spaces are not just for relaxing – they're also the perfect setting for a host of fun events and festivals. During Open Garden Days, visitors get a rare chance to peek inside some of the city's most beautiful private gardens. The Pure Markt is a weekly farmers' market that takes place in various parks around the city, while the Hortus Festival brings classical music to Amsterdam's Botanic Garden.
Tips for Exploring: Navigating Amsterdam's Green Spaces
Exploring Amsterdam's green spaces is a truly rewarding experience, but it's important to keep a few things in mind. Bringing a picnic is always a good idea, as many of the parks have designated spots for outdoor dining. Also, don't forget to wear comfortable shoes as many of the parks and gardens have walking trails that are worth exploring.
Weekends can be busy in some of the city's more popular green spaces, so it's worth considering visiting during the week. Finally, keep an eye out for festivals and events throughout the year – many of Amsterdam's parks and gardens host concerts, performances and other celebrations that are not to be missed.As you can see, Amsterdam's green escapes offer a treasure trove of hidden gems, urban oases, and cultural landmarks. Whether you're a nature lover, a history buff, or simply seeking a moment of tranquility, there's something for everyone in this city's secret gardens and parks. So, the next time you're in Amsterdam, make sure to take some time to explore its green side and discover the beauty and charm of these hidden gems.
FAQs
1. Are Amsterdam's green escapes free to visit?
Yes, most of Amsterdam's parks and gardens are free to visit. However, some parks may have an entrance fee for specific attractions, such as greenhouses or museums located within the park. Check the park's website or information board for details.
2. How can I get to Amsterdam's countryside from the city?
Amsterdam has an extensive public transportation system with buses and trains that can take you to the surrounding towns and countryside. Alternatively, you can rent a bike or a car to explore the countryside on your own. Day trip packages are also available from tour operators.
3. Can I have a picnic in Amsterdam's parks?
Yes, picnics are allowed in most of Amsterdam's parks and gardens. There may be designated picnic areas in some parks, but you can also spread a blanket and enjoy your food in open spaces. Be mindful of the park's rules and regulations and dispose of your trash in designated bins.
4. When is the best time of year to visit Amsterdam's green spaces?
Amsterdam's green spaces are beautiful in all seasons, but the best time to visit depends on your preferences. Spring is the best time to see the tulips in bloom at Keukenhof Gardens, while summer is ideal for outdoor concerts and festivals. Fall brings beautiful foliage and a cooler climate, while winter offers a serene and peaceful atmosphere.
Search City: