Madrid is widely regarded as one of Europe's top art destinations, with world-class museums like the Prado and the Reina Sofia drawing in art lovers from around the globe. However, the Spanish capital has much more to offer than just its famous art institutions. In this article, we'll take a closer look at Madrid's lesser-known art galleries and museums, exploring the hidden gems of the city's vibrant art scene. From off-the-path museums to under-the-radar galleries, we'll uncover the best places to see art in Madrid, as well as the cultural and culinary experiences that make these spaces truly unique. Whether you're a seasoned art enthusiast or simply looking for a new way to experience Madrid's rich cultural offerings, this guide is a must-read for anyone interested in exploring the city's artistic side.

Introduction to Madrid's Art Scene
Madrid, the vibrant capital of Spain, is renowned for its artistic legacy. The city boasts some of the world's most famous art museums such as the Prado, the Thyssen-Bornemisza, and the Reina Sofia. However, beyond these popular tourist destinations lies a lesser-known, yet equally rich art scene that is waiting to be explored. From hidden gems and alternative spaces to quaint galleries, Madrid's art scene is a treasure trove for art lovers.
Overview of Madrid's Artistic Legacy
Madrid has been a hub for artistic expression since its inception in the 9th century. The city was home to famous Spanish artists such as Francisco Goya and Diego Velazquez, whose masterpieces are on display at the Prado Museum. The 20th century art movement in Madrid was defined by the works of artists like Salvador Dali and Pablo Picasso, whose art can be seen at the Reina Sofia Museum.
Importance of Lesser-Known Art Galleries and Museums
Madrid's lesser-known art galleries and museums are an essential part of the city's artistic landscape. They provide a platform for local artists and showcase emerging art forms. These galleries and museums also offer visitors a chance to experience and appreciate art in a more intimate and personalized way, away from the crowds that flock to the popular museums.
Hidden Gems: The Best Lesser-Known Art Galleries
The Joy of Discovering Off-The-Beaten-Path Galleries
Exploring Madrid's off-the-beaten-path galleries is one of the most exciting experiences for art lovers. These galleries offer a unique perspective on the city's art scene and often showcase art that is not found in the mainstream museums. The galleries are typically nestled in narrow streets and alleys, adding to the charm and uniqueness of the experience.
Must-See Collections for Art Lovers
Some of the must-see collections for art lovers in Madrid's lesser-known galleries include the contemporary art at The Museum of Contemporary Art of Madrid (MAC), the photography exhibitions at La Fabrica, and the unique art pieces at El Delgado Buil Gallery. These galleries offer a diverse range of art, from traditional to modern forms, making them a must-visit for anyone looking to delve into Madrid's art scene.
Off-The-Path Museums: Exploring Madrid's Alternative Art Spaces
Unique Exhibits and Displays
Madrid's alternative art spaces offer a unique take on art and the creative process. The Matadero Madrid, for example, is a former slaughterhouse turned contemporary art space that houses temporary and permanent exhibitions, concerts, and theatrical performances. The Naval Museum is another off-the-path museum that showcases the history of the Spanish navy through art and artifacts.
Exploring Alternative Art Forms
Madrid's alternative art spaces also provide a platform for artists to showcase alternative art forms. The Casa Encendida is a cultural center that features exhibitions, workshops, and performances across various disciplines, including digital art, music, and theater. The Tabacalera is another alternative art space that hosts art exhibitions and cultural events and has become a hub for underground and non-conventional art forms.
The Intersection of Culture and Creativity: Exploring Madrid's Art Districts
Madrid's Most Culturally Rich Neighborhoods
Madrid's art districts are where culture and creativity intersect. The Lavapies neighborhood is one of Madrid's most culturally rich areas, featuring a diverse range of galleries, theaters, and cultural centers. The Malasana neighborhood is another vibrant area that is home to some of the city's most innovative art spaces.
The Best Way to Navigate Madrid's Art Districts
The best way to navigate Madrid's art districts is on foot. Exploring the streets and alleyways of neighborhoods like Lavapies and Malasana will reveal hidden galleries, unique art installations, and alternative art spaces that are not found on the main tourist routes. Visitors can also take part in guided art tours that offer a deeper understanding of Madrid's art scene and its cultural heritage.
The Art of Food: Madrid's Best Dining Spots for Art Lovers
Madrid is a city where art can be found in every corner, including its vibrant culinary scene. From quirky bars to Michelin-starred restaurants, there are plenty of options for art lovers looking to satiate their hunger for both culture and cuisine. Here are some top picks for restaurants that combine art and food.
Restaurants that Combine Art and Food
Café Comercial is a legendary café that has been a hub for artists and writers for over a century. Its art deco interiors and wooden paneling make it a stunning spot to enjoy a cup of coffee or a bite to eat.
For a true gastronomic experience, head to DiverXO. Located in the Chamartín district, this three-Michelin-starred restaurant is helmed by Chef David Muñoz, famous for his boundary-pushing cuisine inspired by art and emotions. The restaurant's interiors are equally stunning, with a futuristic design that transports diners to another world.
Where to Dine for an Artistic Experience
If you're looking for a more artistic experience, head to the Mercado de San Miguel. This beautiful 20th-century building is home to dozens of food stalls specializing in everything from traditional tapas to international cuisine. The market itself is a work of art, with its wrought-iron beams and glass walls offering a breathtaking view of the city.
For something more contemporary, check out Sala de Despiece. This trendy restaurant has an industrial-chic design that blends seamlessly with its artistic menu, which features playful dishes inspired by pop art.
A Contemporary Take: Exploring Madrid's Modern Art Scene
Madrid's modern art scene is a vibrant mix of galleries, museums, and public spaces that have made the city a hub for emerging artists from all over the world. Whether you're a seasoned art lover or a casual enthusiast, Madrid's contemporary art scene has something to offer for everyone.
Overview of Madrid's Contemporary Art Scene
The neighborhood of Lavapiés is home to a bustling arts community, with galleries and artist collectives popping up in every corner. La Tabacalera is a former tobacco factory turned cultural center that hosts exhibitions, concerts, and workshops.
If you're looking for something more mainstream, the Reina Sofía Museum is a must-visit. Its extensive collection of contemporary art includes works by Picasso, Dalí, and Miró, as well as a wide range of installations and multimedia art.
Must-See Modern Art Exhibitions
Every year, Madrid hosts a number of art fairs that showcase the best of contemporary art from around the world. ARCOmadrid is the largest contemporary art fair in Spain, featuring works by over 200 galleries from 30 countries.
Contemporary art also spills out into the streets of Madrid. Every summer, the city hosts Pinta Malasaña, a street art festival that transforms the historic Malasaña neighborhood into an open-air gallery.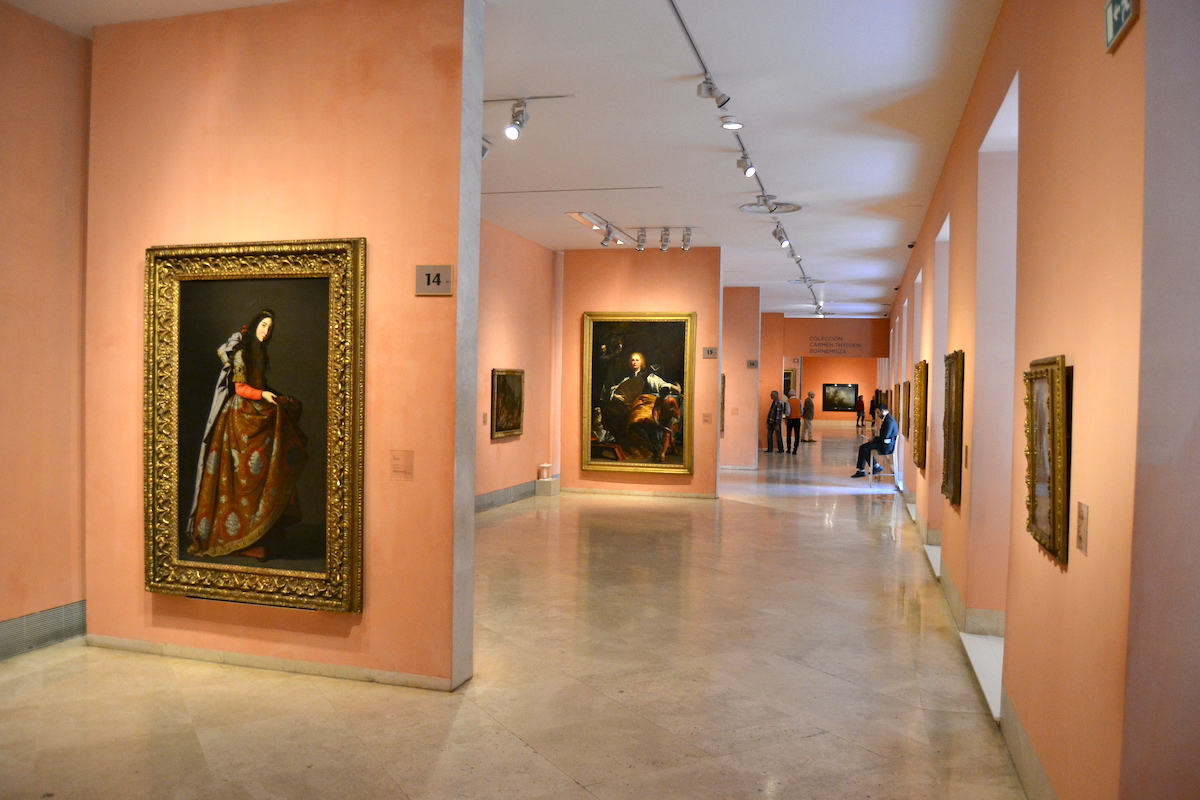 Artistic Traditions: Discovering Madrid's Historical Art Museums
Madrid's art scene is not just about contemporary art. The city has a rich cultural history that has produced some of the most influential art movements in the world. From the Baroque to the Renaissance, Madrid's historical art museums offer a glimpse into centuries of artistic traditions.
Madrid's Most Historic Art Museums
The Prado Museum is one of the most renowned art museums in the world, with a collection of over 8,000 paintings that spans from the Middle Ages to the 19th century. Its impressive galleries include works by some of the most famous artists in history, including Goya, Velázquez, and El Greco.
Another must-visit museum is the Thyssen-Bornemisza Museum, which houses over 1,600 paintings from the 13th century to the present day. Its diverse collection includes works by Impressionists, Expressionists, and Pop artists, as well as some lesser-known but equally fascinating artists.
Experiencing the Rich History of Madrid's Art Scene
For a more immersive art experience, head to the Royal Palace of Madrid. The palace has a stunning collection of art and antiques, including works by some of the greatest Spanish artists of all time. The palace also hosts regular art exhibitions and events throughout the year, making it a must-visit for art enthusiasts.Madrid's art scene is diverse and rich, with many less well-known galleries and museums that offer a unique glimpse into the city's culture and history. Exploring these hidden gems can be a rewarding and enlightening experience, providing a deeper appreciation for Madrid's artistic legacy. So why not step off the beaten path and discover the lesser-known side of Madrid's art scene? You never know what treasures you might uncover.
FAQ
Are these lesser-known galleries and museums worth visiting?
Absolutely. While Madrid's famous museums are certainly worth a visit, the city's lesser-known art spaces offer a unique perspective on the city's cultural offerings. These galleries and museums often feature local artists or focus on specific art movements or genres, providing a more intimate and specialized art experience.
Which neighborhoods are best for exploring Madrid's art scene?
Madrid has several neighborhoods that are well-known for their arts and culture scenes, including Malasaña, Chueca, and Lavapiés. These neighborhoods are home to a variety of galleries, museums, and artist studios, making them ideal for exploring Madrid's artistic side.
What's the best way to get around Madrid's art district?
Walking is the best way to explore Madrid's art districts, as many of the galleries and museums are located in close proximity to one another. However, public transportation is also a convenient and affordable option, with many galleries and museums located near subway stations or bus stops.
What other cultural experiences should I check out while in Madrid?
In addition to its art scene, Madrid is known for its rich history, architecture, and cuisine. Be sure to check out the city's historic landmarks, such as the Royal Palace and Plaza Mayor, as well as its many restaurants serving traditional Spanish dishes like paella and tapas.
Search City: