Barcelona's street art scene is a vibrant and ever-changing showcase of the city's creative spirit. The city's walls are adorned with striking murals and graffiti, reflecting its rich cultural heritage and contemporary artistry. Here is a guide to some of the most notable spots and artists in Barcelona's street art scene:
---
El Raval
El Raval is a vibrant and eclectic neighborhood in the heart of Barcelona. Known for its diverse population, narrow streets, and bustling atmosphere, El Raval has become a hub for art, culture, and nightlife. It's a popular spot for tourists and locals alike, offering a unique blend of old and new Barcelona.
In recent years, El Raval has gained recognition for its thriving street art scene, which reflects the area's rich cultural heritage and contemporary creativity. As you wander the streets of El Raval, you'll find a wide array of murals and graffiti adorning the walls, ranging from small-scale pieces to expansive works of art.
Notable street art locations in El Raval:
Carrer de la Riereta: This narrow street is home to a variety of colorful murals and graffiti, with new pieces appearing regularly.
Carrer de les Ramelleres: Along this street, you can find a mix of contemporary art and historic elements, including a preserved Roman wall.
The Kiss Mural: Located on the façade of the Palau de la Virreina, the "Kiss Mural" is a photomosaic created by artist Joan Fontcuberta. It is made up of thousands of small photographs submitted by the public, which together form an image of a kiss.
MACBA (Museum of Contemporary Art of Barcelona): The area surrounding the museum is a hotbed for street art, with many walls and public spaces adorned with murals and graffiti.
Carrer de Sant Pau: Wander down this street to discover a range of vibrant street art pieces, including works by renowned artists such as C215 and ROA.
While exploring El Raval, be sure to visit some of its other cultural landmarks, such as the CCCB (Center for Contemporary Culture of Barcelona), La Boqueria Market, and the Gaudí-designed Palau Güell. With its rich history, diverse population, and ever-evolving street art scene, El Raval offers a unique glimpse into the heart and soul of Barcelona.
---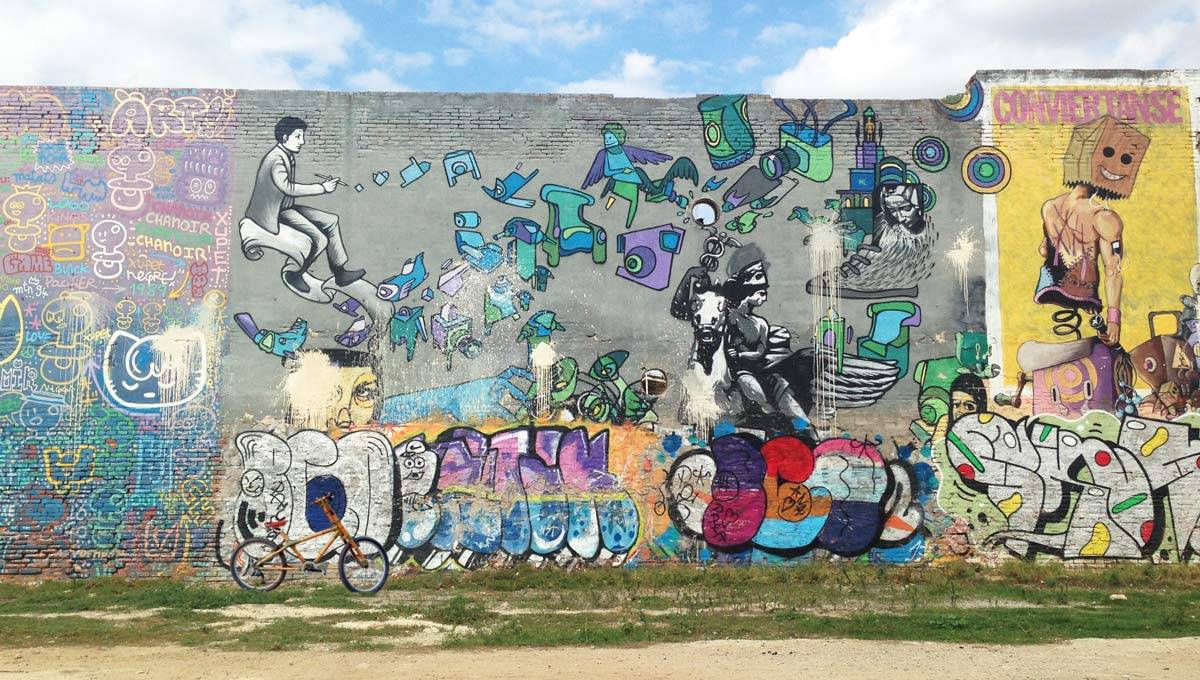 Poblenou, located in the Sant Martí district of Barcelona, is a neighborhood that has undergone a significant transformation in recent years. Once an industrial area filled with factories and warehouses, Poblenou has reinvented itself as a hub for creativity, innovation, and artistic expression. This metamorphosis is most evident in the area's vibrant street art scene, which features large-scale murals and intricate graffiti pieces.
Key spots to discover street art in Poblenou:
Rambla del Poblenou: This lively boulevard is the heart of the neighborhood, and its surrounding streets are filled with striking murals and street art pieces.
Carrer de Pere IV: Take a walk down this street to find an array of impressive street art pieces on the walls of old factories and warehouses, reflecting Poblenou's industrial past.
The Nau Bostik: A former industrial complex turned cultural center, Nau Bostik is now a creative space that hosts workshops, exhibitions, and events. The walls of the complex are adorned with numerous murals and graffiti, showcasing the work of both local and international artists.
Poblenou Urban District: This initiative aims to promote creativity and art in the area by organizing events and providing spaces for artists to work. The organization has supported the creation of several murals and street art pieces throughout Poblenou.
Parc del Centre del Poblenou: Designed by French architect Jean Nouvel, this park features lush green spaces, modern architecture, and a selection of unique street art pieces.
Notable street artists with work in Poblenou include:
Sixe Paredes: Known for his vibrant, abstract style, Sixe Paredes has created several large-scale murals in the Poblenou area.
Jorge Rodríguez-Gerada: This Cuban-American artist has produced several murals in the neighborhood, including a massive piece titled "Terrestrial Series" that covers the entire side of a building.
El Xupet Negre: This Barcelona-born artist is known for his iconic black pacifier symbol and has several works scattered throughout Poblenou.
While exploring Poblenou, make sure to visit other attractions such as the Torre Glòries (formerly known as Torre Agbar), the Poblenou Park, and the nearby beaches of Bogatell and Mar Bella. With its mix of contemporary art, historic buildings, and innovative spaces, Poblenou offers a unique and fascinating perspective on Barcelona's ongoing transformation.
---
Gràcia is a charming and bohemian neighborhood located in the northern part of Barcelona, known for its narrow streets, lively squares, and strong community spirit. The area is a popular destination for locals and tourists alike, offering a blend of traditional Catalan culture and modern creativity. Gràcia's vibrant street art scene is a testament to its artistic atmosphere, featuring a diverse mix of styles and subject matter.
Here are some key spots to discover street art in Gràcia:
Plaça del Sol: This bustling square is surrounded by numerous bars and cafes, making it a popular meeting spot. Look out for small street art pieces on the walls and shutters of nearby buildings.
Carrer Verdi: This street is home to an eclectic mix of shops, cafes, and bars, as well as a variety of murals and graffiti.
Carrer de l'Or: Wander down this narrow street to find some unique and intricate street art pieces tucked away among the residential buildings.
Carrer de la Fraternitat: Along this street, you can discover several murals and graffiti, including works by renowned street artists like C215 and Invader.
Carrer de la Providència: This street features a mix of small and large-scale street art pieces, adding a splash of color to the neighborhood's facades.
Some of the notable street artists with work in Gràcia include:
C215: Known for his intricate stencil work, this French artist has left his mark on Gràcia with several detailed portraits.
Invader: This anonymous artist, famous for his pixelated mosaic works inspired by the classic arcade game Space Invaders, has installed a number of his signature pieces in Gràcia.
El Pez: This Barcelona-born artist is known for his colorful and joyful murals, featuring smiling fish characters.
While in Gràcia, be sure to explore its many charming squares, such as Plaça de la Vila de Gràcia and Plaça de la Virreina, and visit the stunning Park Güell, one of Antoni Gaudí's most iconic works. Gràcia's unique blend of traditional charm and artistic flair make it a must-visit destination for those seeking a taste of authentic Barcelona.
---
Jardins de les Tres Xemeneies, also known as the "Three Chimneys Park," is located in the Poble-sec neighborhood of Barcelona. The park is named after the three iconic chimneys that stand within its boundaries, which are remnants of an old power station. In recent years, the park has become a popular spot for urban art enthusiasts, as it serves as a legal graffiti space where street artists can freely express their creativity without fear of fines or removal.
The walls within Jardins de les Tres Xemeneies are constantly changing, with new artworks appearing regularly. This makes the park an ever-evolving open-air gallery, showcasing a wide range of styles and techniques from both local and international artists. From intricate stencils to large-scale murals, Jardins de les Tres Xemeneies offers an impressive display of the diverse talents within Barcelona's street art community.
To get to Jardins de les Tres Xemeneies, you can take the metro (L3) and exit at the Paral·lel station. The park is just a short walk from there. While in the Poble-sec area, consider exploring some of the nearby attractions, such as the famous Carrer Blai, known for its lively atmosphere and delicious tapas bars, or the iconic Montjuïc mountain, home to the Magic Fountain, the National Art Museum of Catalonia, and the Olympic Stadium.
Visiting Jardins de les Tres Xemeneies is a unique experience that provides a glimpse into the dynamic world of Barcelona's street art scene. As the park's artworks are constantly evolving, you'll never see the same piece twice, making each visit a new and exciting adventure.
---
Notable Barcelona Street Artists:
Pez: Known for his iconic "happy fish" character, Pez has been brightening up the streets of Barcelona since the 1990s. His work features colorful, smiling fish that are instantly recognizable.
El Pez: El Pez, another influential artist in the Barcelona street art scene, creates intricate, large-scale murals that often incorporate elements of nature and local culture.
Miss Van: Starting as a graffiti artist in the 90s, Miss Van is known for her "poupees" or doll-like female figures, which have become a symbol of female empowerment in the street art community.
Aryz: Aryz's work spans the gamut from small pieces to massive murals. His distinctive style often features skeleton-like figures and other fantastical creatures.
C215: Hailing from France, C215 is known for his intricate stencil work that often features portraits of marginalized individuals, including the homeless and refugees.
Search City: