Barcelona, the vibrant capital of Catalonia, is renowned for its rich culinary scene, which offers an enticing blend of traditional flavors and innovative creations. From bustling markets to charming tapas bars and Michelin-starred restaurants, this gastronomic paradise caters to every taste and preference. In this blog post, we will explore the culinary treasures of Barcelona and guide you through the city's most delectable offerings.
---
La Boqueria, or Mercat de la Boqueria, is a famous public market located in the heart of Barcelona, Spain, on La Rambla, a bustling pedestrian street. Officially known as Mercat de Sant Josep de la Boqueria, the market is a top attraction for locals and tourists alike due to its rich history, colorful atmosphere, and diverse range of products.
Dating back to the 13th century, La Boqueria began as an open-air market on the outskirts of the old city. Over the years, the market underwent several transformations and expansions before finally settling in its current location in 1840. The iconic metal roof that covers the market today was added in 1914.
La Boqueria is a food lover's paradise, offering a wide variety of fresh produce, meats, seafood, cheeses, nuts, dried fruits, spices, and more. The market also features an array of bars and eateries, where visitors can sample traditional Catalan dishes, tapas, and other Spanish delicacies. In addition to food, La Boqueria hosts numerous stalls selling flowers, handcrafted items, and souvenirs.
The market is usually open Monday through Saturday, from 8:00 am to 8:30 pm, although individual stall hours may vary. It is a bustling and vibrant destination that captures the essence of Barcelona's culinary culture and provides a unique sensory experience for visitors.
---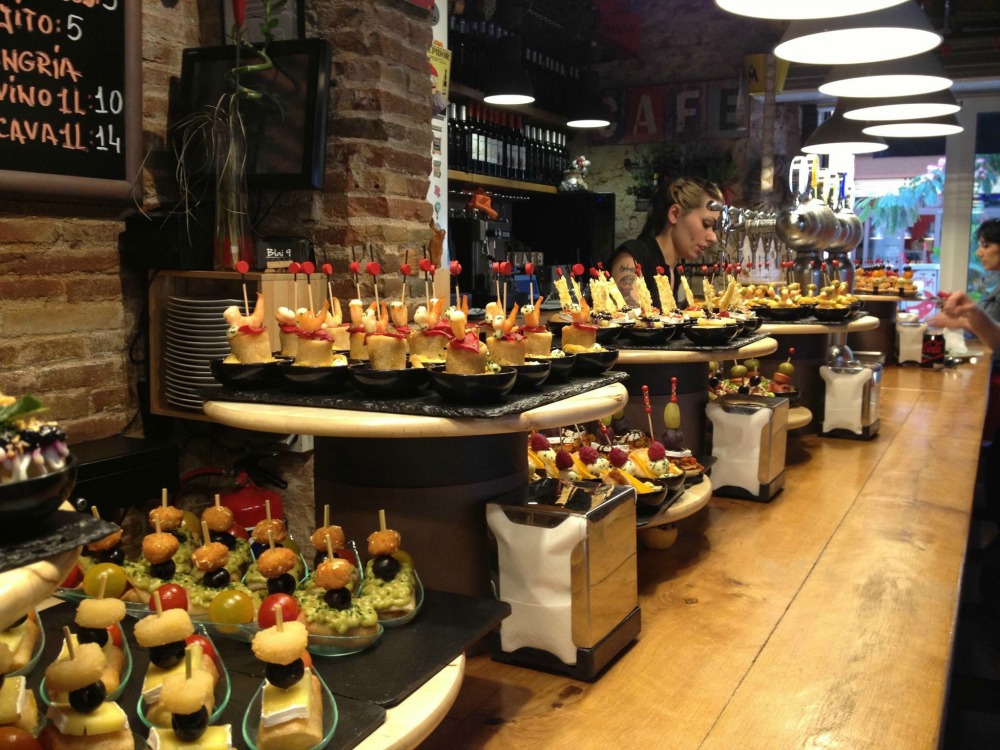 Tapas bars are a popular dining concept in Spain and have gained popularity in many other countries as well. These establishments are known for serving small, appetizer-sized portions of various dishes called "tapas." The idea behind tapas is to encourage conversation and socialization, as people can share and sample different flavors while enjoying drinks and good company.
In Spain, tapas bars can be found in almost every city and town, but some of the most famous tapas scenes can be found in cities like Madrid, Barcelona, Seville, and Granada. Traditional tapas include dishes such as patatas bravas (fried potatoes with spicy sauce), croquetas (fried rolls filled with ingredients like ham, cheese, or fish), jamón ibérico (cured Iberian ham), tortilla española (Spanish omelette), and pulpo a la gallega (Galician-style octopus).
Many tapas bars also offer modern and creative interpretations of these classic dishes, incorporating local and seasonal ingredients or putting an international spin on traditional flavors.
A visit to a tapas bar typically involves ordering several dishes to share among friends or family, along with drinks like wine, beer, or vermouth. In some regions of Spain, it's common for tapas to be served as a complimentary snack when ordering a drink.
Tapas bars can range from casual, standing-room-only establishments to more formal, sit-down restaurants. Regardless of the setting, the focus remains on sharing good food, conversation, and camaraderie.
---
Barcelona is a city known for its vibrant culinary scene and has been a hotspot for innovative gastronomy, including modernist cuisine. Some of the most renowned modernist cuisine restaurants in Barcelona are:
Tickets Bar: Owned by Albert Adrià, brother of the famous Ferran Adrià, Tickets Bar is a playful, lively, and creative tapas bar that offers innovative twists on traditional Spanish dishes. Here, you can expect to find a menu full of surprises and unique culinary experiences.
Disfrutar: Founded by former El Bulli chefs, Disfrutar takes modernist cuisine to new heights with a focus on Mediterranean flavors. The restaurant has earned multiple Michelin stars for its avant-garde dishes and exceptional dining experience.
Alkimia: Helmed by Chef Jordi Vilà, Alkimia offers contemporary Catalan cuisine with a modernist touch. The restaurant's menu is based on seasonal ingredients and showcases the chef's creativity and skill.
Cinc Sentits: Led by Chef Jordi Artal, Cinc Sentits features modern Catalan cuisine with an emphasis on high-quality, locally sourced ingredients. The restaurant has earned a Michelin star for its inventive dishes and exceptional service.
Hoja Santa: Another Albert Adrià project, Hoja Santa focuses on modern Mexican cuisine, incorporating molecular gastronomy techniques and avant-garde presentations to create a unique dining experience.
These are just a few examples of the modernist cuisine restaurants in Barcelona. With its rich culinary history and innovative spirit, the city offers a wide variety of establishments where you can experience cutting-edge gastronomy.
---
Barcelona, with its prime location on the Mediterranean coast, is a paradise for seafood lovers. The city boasts numerous restaurants and markets where you can find an array of fresh, high-quality seafood. Here are some seafood delights and recommended places to try them in Barcelona:
La Paradeta: This seafood market-style restaurant chain offers a casual dining experience where you can choose your seafood from a counter display and have it cooked to your liking. They serve a wide variety of seafood, including fish, shellfish, and crustaceans.
Cal Pep: Cal Pep is a popular tapas bar known for its seafood dishes. They serve fresh and flavorful options like fried fish, clams, squid, and tuna tartare. The lively atmosphere and friendly service make it a must-visit spot for seafood enthusiasts.
Bar Cañete: Located in the Raval neighborhood, Bar Cañete is a stylish tapas bar that offers an extensive seafood menu. Some of the standout dishes include razor clams, salted cod fritters, and seafood rice.
7 Portes: Established in 1836, this historic restaurant is famous for its traditional Catalan cuisine and seafood dishes. The paella and rice dishes are particularly renowned, featuring ingredients like lobster, prawns, and other fresh seafood.
Rias de Galicia: Focused on Galician cuisine, Rias de Galicia offers a variety of seafood dishes, including octopus, scallops, and percebes (goose barnacles). Their seafood platters are perfect for sharing among friends or family.
La Mar Salada: Situated in the Barceloneta neighborhood, La Mar Salada is well-known for its seafood paellas and arroces (rice dishes). The restaurant focuses on using high-quality ingredients and traditional techniques to create mouthwatering dishes.
These are just a few of the many seafood delights you can find in Barcelona. The city's coastal location and Mediterranean influence make it an ideal destination for enjoying fresh and flavorful seafood dishes.
---
Barcelona, the capital of Catalonia, is a gastronomic haven that offers a diverse range of traditional Catalan cuisine. This regional cuisine is characterized by the use of fresh, local ingredients, and the combination of flavors from the sea and the mountains. Here are some restaurants in Barcelona where you can savor authentic Catalan dishes:
Can Culleretes: Founded in 1786, Can Culleretes is the oldest restaurant in Barcelona and has been serving traditional Catalan fare for centuries. Popular dishes here include escudella i carn d'olla (a hearty meat and vegetable stew), canelons (Catalan-style cannelloni), and suquet de peix (fish stew).
Els Quatre Gats: This historic restaurant, which opened in 1897, was once a gathering place for modernist artists like Pablo Picasso. Today, it continues to serve Catalan classics such as bacallà a la llauna (baked salt cod with tomato and garlic) and fideuà (a noodle-based dish similar to paella).
La Pubilla: Located in the Gràcia neighborhood, La Pubilla offers a modern take on traditional Catalan cuisine. Their menu changes daily based on seasonal ingredients, but you can expect to find dishes like fricandó (slow-cooked beef with mushrooms) and escalivada (roasted eggplant, peppers, and onions).
Senyor Parellada: Set in a beautifully restored 18th-century building, Senyor Parellada specializes in traditional Catalan recipes. Sample dishes like espinacas a la catalana (Catalan-style spinach with raisins and pine nuts) or arroz caldoso de bogavante (a soupy rice dish with lobster).
Ca l'Isidre: This family-run restaurant is known for its high-quality ingredients and traditional Catalan dishes. Try their cap i pota (a slow-cooked stew made with beef head and leg) or the roasted vegetable dish, samfaina.
Set Portes: Established in 1836, Set Portes is famous for its paella and rice dishes, but it also offers other Catalan specialties like fideuà and arroz negro (black rice with squid ink).
Casa Leopoldo: Located in the Raval neighborhood, this historic restaurant has been serving traditional Catalan cuisine since 1929. Some of its signature dishes include arròs de muntanya (mountain rice with rabbit and snails) and bacallà amb samfaina (salt cod with a vegetable medley).
These are just a few examples of the many restaurants in Barcelona where you can enjoy traditional Catalan cuisine. The city offers a wide variety of establishments that cater to all tastes and budgets, allowing you to explore the rich culinary heritage of Catalonia.
---
Barcelona is home to a variety of sweet treats, ranging from traditional Catalan pastries and desserts to contemporary creations. Here are some must-try sweets and where to find them in the city:
Churros con chocolate: Churros are fried dough pastries, typically served with a cup of thick, hot chocolate for dipping. You can find this classic Spanish treat at various places throughout the city, but Granja M. Viader and Xurreria Dels Banys Nous are two popular spots.
Crema Catalana: Similar to crème brûlée, crema catalana is a creamy custard dessert with a caramelized sugar topping. You can try this traditional Catalan dessert at various restaurants and bakeries, such as La Colmena and Pastisseria Hofmann.
Canelons de Sant Esteve: These sweet, ricotta-filled cannelloni are a Catalan specialty traditionally served on St. Stephen's Day (December 26th). Look for them at traditional bakeries or restaurants like Can Culleretes.
Xuixos: Xuixos are deep-fried, sugar-coated pastries filled with crema catalana. Try these delicious treats at bakeries like Pastisseria La Palma or Baluard Bakery.
Panellets: Panellets are small, round pastries made from almond paste, sugar, and egg, often coated with pine nuts. They are especially popular during the All Saints' Day festivities (late October to early November). You can find them at bakeries such as Caelum and Forn Mistral.
Cacao Sampaka: This chocolate shop offers a wide range of gourmet chocolates and chocolate-based products, including bonbons, bars, and spreads. It's an excellent place to pick up gifts or indulge in some exquisite sweets.
Bubo Barcelona: A modern pastry shop created by renowned pastry chef Carles Mampel, Bubo offers beautiful and innovative desserts, macarons, and chocolates. Their creations are as delicious as they are visually stunning.
Espai Sucre: This unique dessert-only restaurant offers a tasting menu that showcases the art of pastry and desserts. It's an unforgettable experience for those with a sweet tooth.
These are just a few examples of the sweet treats you can find in Barcelona. The city's vibrant culinary scene offers something for everyone, from traditional Catalan sweets to innovative, contemporary desserts.
Search City: