Dubai: The Ultimate Luxury Destination – Top 10 Most Opulent Experiences in the City of Gold
Dubai, known as the City of Gold, is a playground for luxury enthusiasts. From opulent hotels to exclusive experiences, this destination offers the finest in extravagance. Discover the top 10 most luxurious experiences in Dubai that will leave you in awe.
---
Stay at the Burj Al Arab: The Pinnacle of Luxury in Dubai
The iconic Burj Al Arab, often referred to as the world's only 7-star hotel, is the epitome of luxury and sophistication in Dubai. Designed to resemble a billowing sail, this architectural marvel rises majestically above the Arabian Gulf, offering guests an unparalleled experience in opulence and exclusivity. Discover what makes a stay at the Burj Al Arab truly unforgettable.
Exceptional Accommodations: The Burj Al Arab features 202 duplex suites, ranging in size from 1,820 to 8,395 square feet. Each suite boasts floor-to-ceiling windows, offering panoramic views of the Arabian Gulf, and is adorned with lavish furnishings, state-of-the-art technology, and the finest amenities.
Personalized Service: Guests of the Burj Al Arab enjoy impeccable service, including a private butler available 24/7 to cater to their every need. From arranging private dining experiences to coordinating transportation and excursions, the hotel's staff ensures a seamless and unforgettable stay.
World-Class Dining: The Burj Al Arab is home to an impressive collection of fine dining establishments, including Al Mahara, which features an impressive floor-to-ceiling aquarium, and Al Muntaha, offering panoramic views of Dubai from the 27th floor. Each restaurant offers a unique culinary experience, with menus crafted by world-renowned chefs.
Private Beach and Pool Access: Guests can unwind at the hotel's exclusive private beach or take a dip in one of the temperature-controlled swimming pools. The hotel also offers luxury cabanas equipped with air conditioning, refreshments, and personalized service for the ultimate relaxation experience.
The Talise Spa: Indulge in a rejuvenating treatment at the award-winning Talise Spa, located on the 18th floor of the hotel. The spa offers a range of bespoke treatments, including massages, facials, and body rituals, using the finest products and techniques.
Exclusive Experiences: The Burj Al Arab offers unique experiences tailored to its guests, such as private yacht charters, helicopter tours, and Rolls-Royce chauffeur services. Guests can also enjoy access to the Wild Wadi Waterpark and complimentary use of the hotel's fleet of luxury cars.
Extravagant Amenities: In addition to the opulent accommodations and personalized service, guests can enjoy a range of extravagant amenities, including a pillow menu, in-suite check-in and check-out, and the option of a 24-carat gold-plated iPad to use during their stay.
A stay at the Burj Al Arab is an experience like no other, with unparalleled luxury, exceptional service, and an array of indulgent amenities. Whether you're seeking a romantic getaway, a family vacation, or a once-in-a-lifetime splurge, the Burj Al Arab promises to exceed your every expectation.
---
Atlantis, The Palm is a stunning ocean-themed resort located on the iconic Palm Jumeirah island in Dubai. With its striking architecture, luxurious accommodations, and an array of world-class dining options, Atlantis offers guests an unforgettable culinary experience. Discover the exquisite dining opportunities available at this breathtaking resort.
Ossiano: Immerse yourself in an enchanting underwater world at Ossiano, Atlantis, The Palm's signature fine dining restaurant. Enjoy a sumptuous menu featuring fresh seafood, exquisite caviar, and innovative dishes crafted by award-winning chefs, all while taking in the mesmerizing view of the Ambassador Lagoon and its marine life through the floor-to-ceiling windows.
Nobu: Indulge in a fusion of Japanese cuisine and South American flavors at Nobu, the world-renowned restaurant by celebrity chef Nobu Matsuhisa. Sample signature dishes such as the Black Cod Miso and Yellowtail Jalapeño, and experience the unique atmosphere that has made Nobu a favorite among global food enthusiasts.
Hakkasan: Experience authentic Cantonese cuisine with a contemporary twist at Hakkasan, a Michelin-starred restaurant renowned for its innovative dishes and stylish interiors. Savor signature dishes like the Crispy Duck Salad and the Dim Sum Platter, and pair your meal with a selection from their extensive wine and cocktail list.
Ronda Locatelli: Embark on an Italian culinary journey at Ronda Locatelli, helmed by acclaimed chef Giorgio Locatelli. Featuring a menu that highlights both traditional and modern Italian dishes, this restaurant offers a warm and inviting ambiance, perfect for a romantic dinner or a family gathering.
Bread Street Kitchen & Bar: Visit the Bread Street Kitchen & Bar, a lively restaurant by celebrity chef Gordon Ramsay, for a taste of British-European cuisine in a casual yet stylish setting. Enjoy classics like Fish & Chips and Beef Wellington, accompanied by a selection of innovative cocktails and craft beers.
Ayamna: Experience the rich flavors of authentic Lebanese cuisine at Ayamna, which translates to "the good old days." Savor traditional dishes, such as Mixed Grill and Shish Taouk, while enjoying live entertainment and warm Arabian hospitality in an elegant setting.
Seafire Steakhouse & Bar: For the meat lovers, Seafire Steakhouse & Bar is a must-visit. This New York-style steakhouse boasts a menu featuring premium cuts of beef, succulent seafood, and an impressive wine list. The open kitchen allows guests to watch as their meal is expertly prepared by the talented chefs.
Wavehouse: For a more casual dining experience, head to Wavehouse, a unique family-friendly venue that combines dining, entertainment, and live sports. Choose from a menu of comfort food classics, such as burgers, pizzas, and salads, while enjoying a lively atmosphere complete with arcade games and a surf machine.
With a diverse range of exceptional dining options, Atlantis, The Palm offers a culinary adventure that caters to every palate. From upscale fine dining experiences to casual eateries, this iconic resort guarantees a memorable gastronomic journey in the heart of Dubai.
---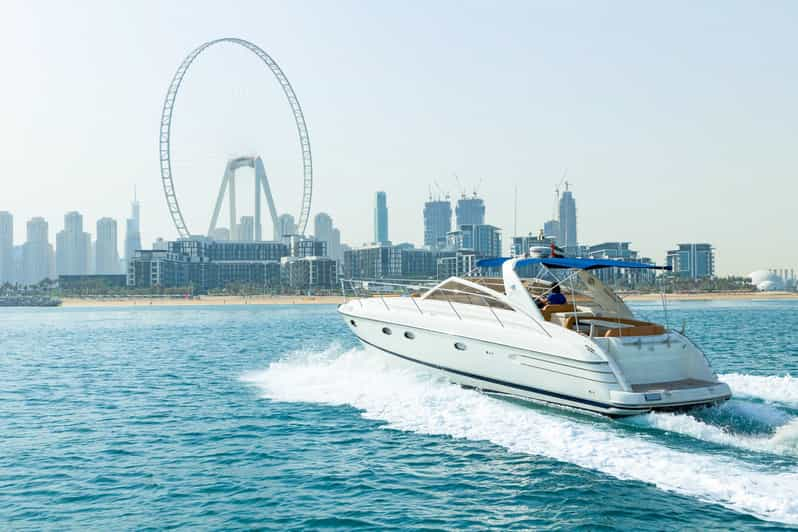 Dubai's stunning skyline, warm waters, and spectacular sights make it an ideal destination for a luxury yacht charter. Experience the glamour and exclusivity of cruising the Arabian Gulf aboard a private yacht, complete with personalized service, extravagant amenities, and unparalleled views. Discover what makes chartering a luxury yacht in Dubai an unforgettable adventure.
Tailored Itineraries: When chartering a luxury yacht in Dubai, you have the freedom to create a bespoke itinerary that caters to your interests and preferences. Whether you want to sail past iconic landmarks, explore hidden coves and beaches, or enjoy water sports, your yacht charter experience can be tailored to your desires.
Stunning Views: Experience breathtaking views of Dubai's skyline as you cruise along the coast, taking in sights such as the Burj Al Arab, Atlantis, The Palm, and the upcoming Dubai Harbour. Enjoy the mesmerizing sunset over the Arabian Gulf, creating the perfect backdrop for a memorable evening on the water.
Luxury Amenities: Aboard your private yacht, indulge in a range of luxurious amenities, such as spacious cabins, state-of-the-art entertainment systems, and gourmet dining. Many yachts also offer additional features such as hot tubs, sun decks, and water toys like jet skis and paddleboards for a truly lavish experience.
Personalized Service: Your luxury yacht charter comes complete with an experienced crew, including a captain, steward, and chef, all dedicated to ensuring your comfort and satisfaction throughout the voyage. They'll cater to your every need, from navigating to the perfect swimming spot to preparing gourmet meals tailored to your preferences.
Exclusive Events: A luxury yacht charter in Dubai is the perfect setting for hosting exclusive events, such as birthday celebrations, corporate outings, or intimate weddings. Impress your guests with an unforgettable experience on the water, complete with customized décor, entertainment, and catering.
Water Sports and Activities: For those seeking adventure, many luxury yacht charters offer an array of water sports and activities to enjoy during your voyage. Take advantage of the crystal-clear waters by snorkeling, scuba diving, or trying out various water toys like Seabobs, paddleboards, or kayaks.
Overnight Excursions: If you wish to extend your luxury yacht charter experience, consider an overnight excursion. Explore nearby destinations, such as the World Islands or the pristine waters of the Musandam Peninsula in Oman, and wake up to the serene beauty of the Arabian Gulf.
Chartering a luxury yacht in Dubai is the ultimate way to experience the city's glamour and breathtaking scenery while enjoying unparalleled service and comfort. Whether you're celebrating a special occasion or simply seeking a unique adventure, a private yacht charter promises an unforgettable experience on the waters of the Arabian Gulf.
---
Dubai's awe-inspiring skyline and breathtaking landmarks make it the perfect city to explore from the sky. A private helicopter tour offers a unique perspective on this architectural marvel, providing an unforgettable bird's-eye view of the city's most iconic sights. Discover the exhilarating experience of soaring above Dubai on a private helicopter tour.
Iconic Landmarks: Witness Dubai's most famous landmarks from a unique vantage point as you fly over attractions such as the Burj Khalifa, Palm Jumeirah, and the World Islands. Gaze down at the stunning sail-shaped Burj Al Arab, and admire the impressive design of the Dubai Frame.
Customizable Routes: Private helicopter tours in Dubai offer the flexibility to customize your route, allowing you to focus on the sights that interest you most. Whether you're fascinated by the city's modern architecture, coastal beauty, or cultural heritage, your helicopter tour can be tailored to your preferences.
Professional Pilots and Guides: During your helicopter tour, you'll be accompanied by an experienced pilot who is not only skilled in maneuvering the aircraft but also knowledgeable about Dubai's landmarks and history. The pilot will provide insightful commentary, ensuring an engaging and informative experience.
Luxurious Comfort: Private helicopter tours prioritize your comfort and safety, with state-of-the-art aircraft, noise-canceling headsets, and comfortable seating. Enjoy a smooth and unforgettable flight as you take in the remarkable sights below.
Perfect for Special Occasions: A private helicopter tour is an ideal way to celebrate a special occasion or surprise a loved one. Whether it's a birthday, anniversary, or marriage proposal, the unique experience of soaring above Dubai's skyline will make the moment truly unforgettable.
Spectacular Photo Opportunities: Capture stunning aerial photographs of Dubai's most iconic sights during your private helicopter tour. With unobstructed views from above, you'll have the opportunity to snap incredible shots that will serve as a lasting memory of your adventure.
Exclusive Experiences: Some helicopter tour operators offer additional exclusive experiences to enhance your journey. These may include options such as a luxury car transfer to the helipad, champagne upon arrival, or even a private desert landing for a truly unique adventure.
A private helicopter tour in Dubai is an extraordinary way to explore and appreciate the city's architectural wonders and scenic beauty. With customizable routes, luxurious comfort, and unparalleled views, a helicopter tour promises an exhilarating and unforgettable experience for visitors seeking a unique perspective on the City of Gold.
---
A luxury desert safari in Dubai offers a unique and immersive experience, combining the enchanting beauty of the Arabian desert with the finest in comfort and hospitality. From dune bashing in luxurious vehicles to indulging in a sumptuous dinner under the stars, discover what makes a luxury desert safari an unforgettable adventure.
Elegant Transportation: Your luxury desert safari begins with a pick-up in a high-end vehicle, such as a Range Rover or a Mercedes-Benz G-Class. Enjoy a comfortable and stylish ride to the desert, where the adventure awaits.
Thrilling Dune Bashing: Experience the adrenaline rush of dune bashing as you traverse the golden sands in a luxurious 4×4 vehicle. Expert drivers will take you on an exhilarating ride across the dunes, offering breathtaking views and thrilling descents.
Sunset Camel Ride: Embrace the traditional mode of desert transportation with a serene camel ride. As the sun sets over the dunes, this gentle journey provides a unique perspective on the vast beauty of the Arabian desert.
Falconry Display: Witness the ancient art of falconry during an exclusive live demonstration. Learn about these majestic birds of prey and their incredible hunting skills, and even have the opportunity to interact with them up close.
Private Bedouin-Style Camp: Arrive at a luxurious, private Bedouin-style camp nestled among the dunes. Relax in opulent surroundings complete with Arabian carpets, plush cushions, and soft lighting, creating an intimate and magical atmosphere.
Gourmet Dinner: Savor a lavish dinner featuring a fusion of traditional Emirati cuisine and international delicacies, expertly prepared by top chefs. Indulge in succulent grilled meats, aromatic rice dishes, and an assortment of delicious desserts, accompanied by a selection of fine beverages.
Live Entertainment: Enjoy live entertainment as you dine under the stars, featuring traditional Arabian music and mesmerizing performances by belly dancers, tanoura dancers, or fire dancers, adding to the enchanting ambiance of the evening.
Stargazing: Escape the city's light pollution and marvel at the beauty of the desert night sky. With the help of professional telescopes and knowledgeable guides, embark on a celestial journey, observing the stars, planets, and constellations above.
A luxury desert safari in Dubai is the perfect way to immerse yourself in the enchanting world of the Arabian desert while indulging in the finest comforts and experiences. From thrilling dune bashing to dining under the stars, this unforgettable adventure offers a unique and memorable glimpse into the region's rich cultural heritage and natural beauty.
---
Dubai is a global shopping paradise, home to some of the world's most extravagant malls, luxurious boutiques, and exclusive designer stores. A VIP shopping experience in Dubai takes retail therapy to new heights, offering personalized services, tailored consultations, and unparalleled luxury. Discover what makes a VIP shopping experience in Dubai the ultimate indulgence for shopaholics.
Personal Shopping Assistant: Enjoy the services of a dedicated personal shopping assistant, who will guide you through the best stores and boutiques based on your preferences and style. Your personal shopper will help you navigate the vast array of shopping options, ensuring you find the perfect items to suit your taste and needs.
Luxury Transportation: Travel in style with a chauffeured luxury car, such as a Rolls-Royce or Bentley, which will transport you between malls and boutiques. Enjoy a seamless and stress-free shopping experience as you're whisked between Dubai's most exclusive shopping destinations.
Access to Exclusive Boutiques: Experience the true meaning of luxury shopping with access to exclusive boutiques and private showrooms, where you'll find rare, limited-edition, or bespoke items not available to the general public. Enjoy a curated selection of the finest fashion, accessories, and jewelry, handpicked just for you.
Tailored Fashion Consultations: Meet with expert fashion consultants who will offer personalized style advice and wardrobe recommendations, ensuring that you look and feel your best. Benefit from their in-depth knowledge of the latest trends, designers, and fashion tips to elevate your personal style.
Private Fittings and Alterations: Enjoy private fittings in luxurious dressing rooms, where you can try on your selections in comfort and privacy. Should you require alterations, many VIP shopping experiences offer on-site tailoring services, ensuring that your purchases fit flawlessly.
Refreshments and Relaxation: Recharge during your shopping spree with access to VIP lounges, where you can enjoy a selection of refreshments, including champagne, gourmet snacks, and other delectable treats. Relax in a serene and luxurious environment before continuing your retail adventure.
Hands-Free Shopping: No need to carry your purchases as you browse – a VIP shopping experience often includes a hands-free shopping service. Your personal shopping assistant will ensure that your items are collected and securely stored, ready for you to collect at the end of your excursion or delivered directly to your hotel.
Personalized Gifts and Souvenirs: Complete your VIP shopping experience with the purchase of personalized gifts or souvenirs, which can be customized or monogrammed to create a lasting memory of your time in Dubai.
A VIP shopping experience in Dubai offers the ultimate in luxury retail therapy, providing personalized service, exclusive access, and unparalleled comfort. Whether you're seeking the latest designer collections, bespoke creations, or simply want to indulge in a day of opulent shopping, a VIP shopping experience in Dubai promises to exceed your every expectation.
---
Dubai is known for its opulence and indulgence, and its exclusive spa retreats are no exception. Offering world-class treatments, stunning facilities, and personalized service, these luxurious havens provide the perfect escape for those seeking relaxation and rejuvenation. Discover the unparalleled experiences awaiting you at Dubai's exclusive spa retreats.
Luxurious Facilities: Dubai's exclusive spa retreats boast state-of-the-art facilities designed to ensure ultimate relaxation and rejuvenation. Unwind in lavish surroundings, complete with tranquil relaxation areas, hydrotherapy pools, steam rooms, saunas, and beautifully landscaped gardens.
Bespoke Treatments: Indulge in a range of bespoke treatments tailored to your individual needs and preferences. From rejuvenating facials and invigorating body scrubs to deeply relaxing massages and revitalizing body wraps, the expert therapists at these exclusive spa retreats use the finest products and techniques to ensure exceptional results.
Signature Experiences: Many of Dubai's exclusive spa retreats offer signature experiences unique to their establishments. These may include traditional Arabian treatments, such as the Hammam ritual, or innovative therapies that combine cutting-edge technology with ancient healing practices.
Couples' Spa Packages: Reconnect with your partner by indulging in a romantic couples' spa package. Enjoy side-by-side treatments in a private suite, followed by a relaxing soak in a hydrotherapy tub or a glass of champagne in a secluded relaxation area.
Personalized Wellness Programs: For a more holistic approach to wellness, some exclusive spa retreats in Dubai offer personalized wellness programs. These comprehensive programs may include a combination of spa treatments, fitness sessions, and nutrition consultations, all designed to help you achieve your health and well-being goals.
World-Class Therapists: Dubai's exclusive spa retreats employ highly skilled and experienced therapists who are dedicated to providing exceptional service and personalized attention. They are trained in a variety of modalities, ensuring a truly customized experience that caters to your unique needs.
Tranquil Ambiance: The serene atmosphere at Dubai's exclusive spa retreats is an essential part of the experience. Soft lighting, soothing music, and calming scents create a peaceful environment that promotes deep relaxation and allows you to leave the stresses of everyday life behind.
An exclusive spa retreat in Dubai offers a sanctuary of relaxation and rejuvenation amidst the city's bustling energy. With luxurious facilities, personalized treatments, and unparalleled service, these spas provide the perfect escape for those seeking to unwind and reconnect with their mind, body, and spirit. Whether you're a local or a visitor, a visit to one of Dubai's exclusive spa retreats promises an unforgettable experience of pampering and indulgence.
---
Driving a supercar in Dubai is a thrilling and luxurious experience. This city is known for its opulence, and there is no better way to explore it than behind the wheel of a high-performance supercar.
To drive a supercar in Dubai, follow these steps:
Research rental companies: Start by researching reputable supercar rental companies in Dubai. Popular companies include PureDrive, Paddock Rent A Car, and Masterkey Luxury Car Rental, among others. Look for customer reviews and pricing to help you make your decision.
Choose your supercar: Once you have chosen a rental company, browse their selection of available supercars. Some popular models include Lamborghini Aventador, Ferrari 488, McLaren 720S, and Porsche 911 GT3. Be sure to consider factors such as performance, comfort, and style when making your choice.
Check eligibility: Before you rent a supercar, you will need to meet certain eligibility requirements. These typically include being over 21 or 25 years old, having a valid international or UAE driver's license, and providing a passport copy or Emirates ID.
Review rental terms and conditions: Carefully review the terms and conditions of the rental agreement. Pay attention to details like insurance coverage, mileage limits, security deposits, and any additional fees.
Book your supercar: Once you've selected your supercar and reviewed the terms and conditions, book the rental. Be prepared to provide necessary documentation and payment information.
Pick up the supercar: On the day of your rental, head to the rental location to pick up your supercar. The rental company will likely walk you through a brief orientation and answer any questions you may have.
Drive responsibly: As you hit the road, remember to drive responsibly and follow all local traffic laws. Supercars are powerful machines, and you should always prioritize safety.
Enjoy the experience: Take in the sights of Dubai as you cruise around in your supercar. Popular locations to visit include the Burj Khalifa, Palm Jumeirah, Dubai Marina, and the various luxury shopping malls.
Return the supercar: After your rental period has ended, return the supercar to the rental location. Be sure to follow the rental company's guidelines for returning the car and avoid any additional fees.
Driving a supercar in Dubai is a once-in-a-lifetime experience. Enjoy the luxury and excitement while following all local traffic laws and rental guidelines to ensure a safe and unforgettable adventure.
---
Attending a VIP event in Dubai can be an unforgettable experience, with the city's luxurious and glamorous atmosphere. Here are some tips to make the most of your time at such an event:
Dress appropriately: Dubai is known for its high-end fashion scene, so make sure to dress accordingly for a VIP event. Opt for elegant and stylish attire, and avoid anything too revealing or casual.
Be punctual: Arriving on time is important for any event, but particularly for a VIP gathering. You don't want to miss out on any important introductions or presentations.
Network: VIP events often attract successful and influential individuals from various industries. Take advantage of the opportunity to make connections and expand your professional network. Approach people politely and engage in meaningful conversations.
Be respectful of local customs: While Dubai is a cosmopolitan city, it is still essential to respect local customs and traditions. Avoid excessive public displays of affection, and be mindful of the local dress code.
Capture the moment: Take photos and share them on social media to document your experience. However, be sure to ask for permission before taking photos of others or in restricted areas.
Follow the event's agenda: Be attentive to the event schedule and ensure you don't miss any key activities or presentations.
Enjoy the cuisine: Dubai is known for its diverse and exquisite culinary scene. Make sure to savor the delectable dishes served at the event.
Stay at a luxury hotel: Complete your VIP experience by staying at one of Dubai's many luxury hotels, such as the Burj Al Arab, the Atlantis, or the Armani Hotel.
Explore the city: Take some time to visit iconic landmarks like the Burj Khalifa, Palm Jumeirah, and the Dubai Mall, as well as cultural sites like the Al Fahidi Historical Neighborhood and the Jumeirah Mosque.
Follow up: After the event, follow up with the connections you made by sending a thank-you note or connecting on LinkedIn. This will help solidify your new relationships and open doors for future opportunities.
---
A private art tour in Dubai is a fantastic way to explore the city's burgeoning art scene and discover hidden gems. Here's a suggested itinerary to make the most of your private art tour:
Alserkal Avenue: Begin your tour in Al Quoz, at the heart of Dubai's contemporary art scene. Alserkal Avenue is home to numerous art galleries, studios, and creative spaces. Visit galleries such as Carbon 12, The Third Line, and Lawrie Shabibi to see the works of regional and international artists.
Dubai Design District (d3): Next, head to the Dubai Design District, a creative hub that houses design studios, fashion boutiques, and art galleries. Don't miss the contemporary art at Salsali Private Museum and the unique designs at Tashkeel.
Al Fahidi Historical Neighborhood: Delve into Dubai's history and culture at the Al Fahidi Historical Neighborhood, where you'll find the XVA Gallery, which showcases Middle Eastern and international contemporary art. Also, visit the Majlis Gallery, known for its extensive collection of traditional and modern art.
Jameel Arts Centre: Situated on Jaddaf Waterfront, this contemporary arts institution hosts temporary exhibitions, workshops, and events. The Jameel Arts Centre focuses on showcasing the works of regional artists and providing a platform for contemporary art and cultural dialogue.
Etihad Museum: Learn about the history of the United Arab Emirates at the Etihad Museum, which features exhibits on the country's founding and development. Although the museum's primary focus is on history, it also displays some artwork related to the UAE's heritage.
Tashkeel: Visit this art center in Nad Al Sheba, which provides a platform for local artists to develop and showcase their talents.
Search City: