Dubai's Cultural Gems: Exploring the Traditional Side of the Modern Metropolis
Dubai is often hailed as the epitome of luxury and modernity, with its towering skyscrapers, opulent shopping malls, and futuristic architecture. However, beyond this glittering facade lies a fascinating cultural landscape that showcases the emirate's rich history and traditions. In this article, we will take you on a journey through some of Dubai's lesser-known cultural gems, offering a glimpse into the traditional side of this modern metropolis.
---
Al Fahidi Historical Neighborhood
The Al Fahidi Historical Neighborhood, previously known as the Bastakiya Quarter, is a captivating area that takes you back to the early 20th century in Dubai. Located along the Dubai Creek, this well-preserved district showcases traditional Emirati architecture, providing visitors with a unique insight into the city's history and heritage.
The neighborhood features narrow, winding alleyways and courtyards lined with traditional houses called barajeels. These houses are made of coral, gypsum, and palm wood, and are characterized by their iconic wind towers or wind catchers (Barjeel). Wind towers were an early form of air conditioning, designed to catch and circulate cooler air inside the buildings.
One of the primary attractions in Al Fahidi Historical Neighborhood is the diverse range of cultural institutions it hosts. Some of the key places to visit in the area include:
Dubai Museum: Housed within the 18th-century Al Fahidi Fort, the Dubai Museum offers a fascinating insight into the city's history, culture, and transformation through various exhibits and artifacts.
Sheikh Mohammed Centre for Cultural Understanding (SMCCU): The SMCCU is a non-profit organization dedicated to promoting cultural awareness and fostering dialogue between different nationalities in Dubai. Visitors can participate in cultural meals, walking tours, and educational programs to gain a deeper understanding of Emirati traditions, customs, and religion.
Art galleries: The neighborhood is home to numerous art galleries showcasing local, regional, and international artists. These galleries not only exhibit contemporary art but also highlight the traditional art forms of the region.
XVA Art Hotel and Gallery: This boutique hotel and gallery is a must-visit for art enthusiasts. It is a unique establishment that blends traditional architecture with contemporary art and design.
Coffee Museum: This interactive museum takes visitors on a journey through the history of coffee, exploring its origins, cultural significance, and various brewing techniques.
Alserkal Cultural Foundation: This cultural center features art exhibitions, workshops, and events that celebrate the region's rich cultural heritage.
The Arabian Tea House: Located within the neighborhood, this traditional tea house offers a wide selection of teas, coffees, and authentic Emirati cuisine in a serene courtyard setting.
A stroll through the Al Fahidi Historical Neighborhood is a delightful way to immerse yourself in the traditional side of Dubai, offering a stark contrast to the city's modern skyscrapers and bustling lifestyle.
---
The Jumeirah Mosque is one of the most iconic and beautiful landmarks in Dubai, known for its stunning architecture and welcoming atmosphere. Situated in the Jumeirah district, the mosque is a must-visit cultural attraction for both Muslim and non-Muslim visitors.
Built in the late 1970s, the Jumeirah Mosque is a stunning example of traditional Fatimid architecture, characterized by its elegant proportions, intricate calligraphy, and geometric patterns. The mosque is constructed entirely of white stone, which adds to its majestic appearance, particularly when illuminated at night.
The Jumeirah Mosque is one of the few mosques in Dubai that is open to non-Muslims, making it an important cultural hub for fostering understanding and dialogue between different faiths. The Sheikh Mohammed Centre for Cultural Understanding (SMCCU) manages the visits and guided tours, which aim to educate visitors about Islam, its practices, and Emirati culture. The tours provide an opportunity to learn about the mosque's architecture, Islamic customs, and the significance of prayer in the Muslim faith.
Some important information to consider when visiting Jumeirah Mosque:
Modest dress code: Both men and women are required to dress modestly when visiting the mosque. Women must cover their hair, and both genders should wear clothing that covers their arms and legs. If needed, the mosque provides traditional attire for visitors.
Guided tours: The tours are usually conducted at designated times from Saturday to Thursday. It is recommended to check the schedule and arrive early, as there is limited capacity.
Photography: Visitors are allowed to take photographs within the mosque, making it an excellent opportunity to capture the beauty of its architectural details.
Etiquette: As a place of worship, it is essential to be respectful and follow the guidelines provided by the tour guides during your visit.
The Jumeirah Mosque offers a unique opportunity to experience the beauty of Islamic architecture and gain insight into the religious and cultural practices of the United Arab Emirates. By visiting this magnificent mosque, you can deepen your understanding of the local culture and appreciate the artistry that has gone into its creation.
---
Alserkal Avenue is a vibrant arts and cultural district located in the Al Quoz industrial area of Dubai. Once a collection of industrial warehouses, the area has been transformed into a thriving hub for contemporary art, design, and creativity. Today, Alserkal Avenue is home to a diverse range of galleries, studios, and alternative performance spaces that showcase both local and international talent.
Key highlights and attractions of Alserkal Avenue include:
Art Galleries: Alserkal Avenue is renowned for its diverse selection of art galleries, which exhibit works by emerging and established artists from the region and around the world. Some of the prominent galleries include Carbon 12, Green Art Gallery, Lawrie Shabibi, and The Third Line.
Design and Creative Spaces: In addition to art galleries, Alserkal Avenue is home to numerous design studios, creative agencies, and alternative performance spaces. These venues host events, workshops, and talks that foster collaboration and innovation within the creative community.
Alserkal Lates: Occurring on selected evenings throughout the year, Alserkal Lates is an event where galleries and creative spaces within the district stay open late, inviting visitors to explore the exhibitions and attend special events, performances, and workshops.
The Yard: This outdoor space is the heart of Alserkal Avenue, where visitors can enjoy public art installations, open-air film screenings, and food trucks serving a variety of international cuisine.
The Junction: As a dedicated performing arts space, The Junction is a key venue for local and regional theatre productions, comedy shows, and other live performances.
Nadi Al Quoz: This social space offers a unique, relaxed environment where visitors can enjoy talks, workshops, or simply unwind with a book or a game. Nadi Al Quoz often hosts special events and pop-up exhibitions, further adding to the vibrant atmosphere of Alserkal Avenue.
A4 Space: A multifunctional space that includes a café, workspace, library, and exhibition area, A4 Space is a popular destination for both creatives and those looking to enjoy a leisurely afternoon in a stimulating environment.
Alserkal Avenue is a testament to Dubai's commitment to nurturing the arts and fostering a vibrant cultural scene. By visiting this thriving district, you can immerse yourself in the creative energy that defines the contemporary side of Dubai, while also gaining insight into the region's artistic heritage and cultural diversity.
---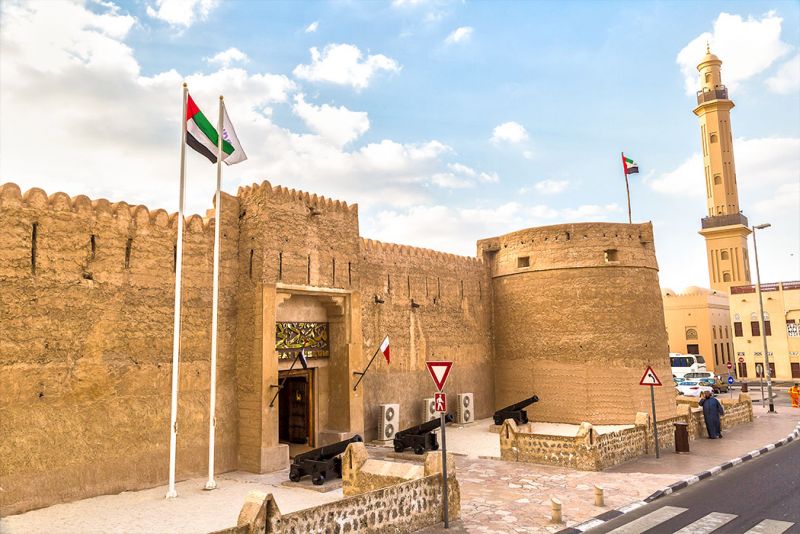 The Dubai Museum and Al Fahidi Fort are significant historical and cultural landmarks in Dubai, providing visitors with a unique insight into the city's fascinating past and rapid transformation. Located in the Al Fahidi Historical Neighborhood, the museum and fort are must-visit attractions for anyone interested in understanding the history, heritage, and customs of the United Arab Emirates.
Al Fahidi Fort, built in 1787, is the oldest existing building in Dubai. Constructed primarily from coral and gypsum, the fort has served multiple purposes over the years, including as a residence for the ruling family, a seat of government, a prison, and an ammunition depot. One of the most striking features of the fort is its central tower or wind tower, which was an early form of air conditioning in traditional Emirati architecture.
In 1971, the Al Fahidi Fort was converted into the Dubai Museum to showcase the city's history and cultural heritage. The museum features a range of exhibits and artifacts that offer a glimpse into various aspects of Dubai's past, from ancient archaeological finds to interactive displays illustrating the city's rapid development.
Some highlights of the Dubai Museum include:
Archaeological findings: The museum showcases artifacts unearthed from archaeological sites in the UAE, some of which date back to over 4,000 years ago. These artifacts provide insight into the region's early settlements, trade, and craftsmanship.
Traditional Emirati lifestyle: The museum features exhibits that recreate traditional Emirati homes, souks, and mosques, giving visitors an understanding of the local customs and lifestyle before the discovery of oil and the city's rapid modernization.
Pearl diving: The museum presents an exhibit dedicated to the pearl diving industry, which played a crucial role in Dubai's economy before the oil boom. The display includes traditional diving equipment and information about the techniques and risks involved in pearl diving.
Multimedia presentations: Interactive displays and video presentations at the museum help illustrate Dubai's transformation from a small fishing village to the ultramodern metropolis it is today.
Al Fahidi Fort itself: The fort's structure, complete with coral and gypsum walls, offers a glimpse into the traditional building techniques and materials used in the region.
Visiting the Dubai Museum and Al Fahidi Fort is an excellent way to learn about the city's history, culture, and the factors that have shaped its development. As you explore the exhibits and the fort itself, you'll gain a deeper appreciation for the traditions and heritage that underpin the modern, cosmopolitan city that Dubai is today.
---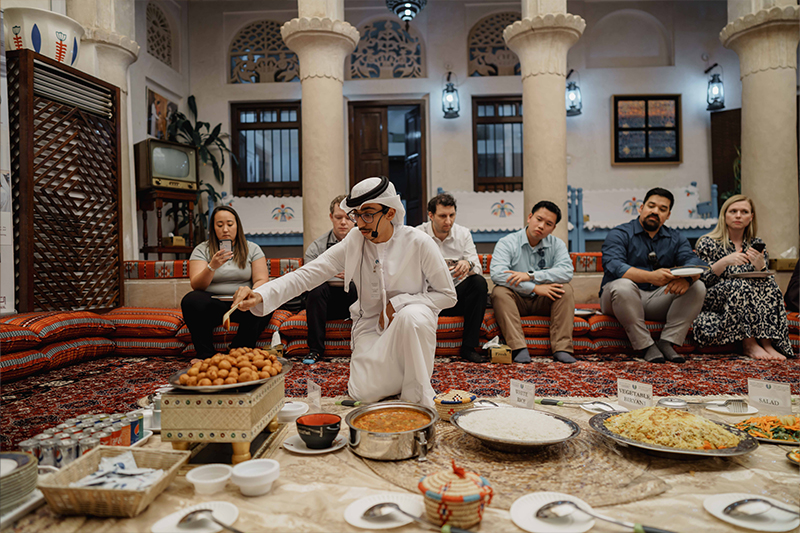 The Sheikh Mohammed Centre for Cultural Understanding (SMCCU) is a non-profit organization established in 1998 in Dubai, United Arab Emirates. The SMCCU aims to promote cultural awareness and foster dialogue and understanding between different nationalities and cultures residing in Dubai. The center creates an open and inclusive environment where visitors can learn about Emirati traditions, customs, and religion, breaking down barriers and stereotypes in the process.
The SMCCU offers various activities and programs to help visitors gain a deeper understanding of Emirati culture and lifestyle:
Cultural meals: The center hosts traditional Emirati meals, such as breakfast, lunch, and dinner, where visitors can enjoy authentic local cuisine while engaging in conversation with their Emirati hosts. This experience allows guests to ask questions and learn about Emirati customs and values in a relaxed, informal setting.
Mosque visits: The SMCCU organizes guided visits to the Jumeirah Mosque, providing non-Muslims with an opportunity to learn about Islamic practices, the significance of prayer, and the architectural features of the mosque. These visits encourage interfaith dialogue and understanding.
Heritage tours: The SMCCU conducts walking tours of the Al Fahidi Historical Neighborhood, where visitors can explore the traditional architecture and learn about the history of Dubai. These tours also include visits to museums, galleries, and other cultural institutions in the area.
Educational programs: The center offers a range of educational programs and workshops for schools, universities, and corporate groups, covering topics such as Emirati history, culture, and the Arabic language.
Cultural events: The SMCCU frequently organizes cultural events and celebrations, such as Emirati National Day and Ramadan, where visitors can participate in traditional customs and practices.
Visiting the Sheikh Mohammed Centre for Cultural Understanding is a unique opportunity to experience Emirati culture firsthand and engage in meaningful dialogue with local residents. By participating in the SMCCU's programs and activities, visitors can broaden their cultural horizons and contribute to a more inclusive and harmonious society.
---
The Heritage Village in Dubai is a living museum that offers visitors a glimpse into the traditional Emirati way of life before the city's rapid modernization. Located near the mouth of Dubai Creek, the Heritage Village is a reconstructed traditional village that showcases local customs, architecture, and crafts, providing a rich cultural experience for visitors.
Some of the key attractions and experiences at the Heritage Village include:
Traditional architecture: The village features typical Emirati houses, known as barasti, made from palm fronds, as well as houses constructed from coral and gypsum. Visitors can explore these structures to learn about traditional building techniques and materials.
Craft demonstrations: The Heritage Village hosts artisans who demonstrate traditional Emirati crafts, such as pottery, weaving, and glass blowing. These demonstrations provide insight into the skills and techniques that have been passed down through generations.
Falconry and camel rides: Visitors can experience local customs like falconry and camel rides, which were an essential part of the Bedouin lifestyle in the past.
Local cuisine: The village features a traditional Emirati restaurant where visitors can sample authentic local dishes and learn about the region's culinary heritage.
Museum: The small museum within the Heritage Village displays a variety of artifacts, tools, and photographs that document the history and culture of the UAE.
Souk: The bustling traditional market, or souk, within the village allows visitors to purchase a wide range of traditional Emirati products, such as spices, handicrafts, and textiles.
Cultural events: The Heritage Village also hosts cultural events and performances throughout the year, including traditional music and dance shows, which celebrate Emirati heritage and customs.
A visit to the Heritage Village provides a fascinating and immersive experience of traditional Emirati culture, allowing visitors to gain a deeper understanding of the history and customs that underlie the modern, cosmopolitan city of Dubai.
---
The Gold and Spice Souks are traditional markets located in the Deira district of Dubai, near the Dubai Creek. These souks have been an integral part of the city's trading history and offer visitors an authentic and vibrant shopping experience that showcases the rich cultural heritage of the region.
Gold Souk: The Gold Souk is one of the most famous and largest gold markets in the world. This dazzling market features hundreds of shops selling a vast array of gold jewelry, including necklaces, bracelets, earrings, and rings. The Gold Souk is known for its competitive prices and impressive selection of designs, which range from traditional Arabic styles to modern and contemporary pieces.
Some tips for visiting the Gold Souk:
Bargaining: Haggling is an essential part of the shopping experience in the Gold Souk. It's common for shoppers to negotiate with vendors to get the best possible price.
Quality assurance: Gold sold in Dubai is regulated by strict government standards, ensuring that the quality and purity of the items are accurately represented.
Exploring: Take your time to browse through the various shops and compare designs and prices before making a purchase.
Spice Souk: Located near the Gold Souk, the Spice Souk is a vibrant and aromatic market that offers a wide variety of spices, herbs, nuts, and dried fruits sourced from around the world. The market's narrow, winding alleys are lined with small shops selling colorful mounds of saffron, cardamom, cinnamon, and other exotic spices.
Some tips for visiting the Spice Souk:
Sampling: Don't hesitate to ask the vendors for a sample or to learn more about a particular spice or herb.
Bargaining: Like in the Gold Souk, haggling is expected in the Spice Souk. Negotiate with vendors to get a good deal on your purchases.
Storage: Be sure to store the spices in airtight containers to preserve their freshness and aroma once you're back home.
Visiting the Gold and Spice Souks in Dubai is a unique and memorable experience that allows you to immerse yourself in the city's rich trading history and cultural heritage. As you explore these bustling markets, you'll discover a treasure trove of sensory delights and gain a deeper appreciation for the city's diverse and colorful past.
Search City: