Dubai's Thrilling Adventure Activities: From Desert Safaris to Indoor Skiing
Dubai is a city known for its luxurious lifestyle, iconic architecture, and cutting-edge technology. However, it is also a fantastic destination for adventure lovers, offering a wide range of thrilling activities. Here are some of the most exciting adventure activities you can experience in Dubai:
---
A desert safari is one of the most popular and thrilling activities for tourists visiting Dubai. It offers an exciting way to experience the beauty of the Arabian Desert while indulging in various adventures. A typical desert safari includes the following activities:
Dune Bashing: This high-adrenaline activity involves driving a 4×4 vehicle, usually a Toyota Land Cruiser or a similar off-road vehicle, at high speeds over the desert dunes. Professional drivers navigate the terrain, providing passengers with a roller-coaster-like experience as they ascend and descend the dunes.
Camel Riding: Experience the desert the way Bedouins have done for centuries by riding a camel. This gentle activity allows you to traverse the desert landscape at a leisurely pace, taking in the stunning views and getting a glimpse into the traditional way of life.
Sandboarding: Similar to snowboarding, sandboarding involves sliding down the dunes on a specially designed board. This exhilarating activity allows you to carve your way through the desert sands while enjoying the unique terrain.
Quad Biking: For a more independent and thrilling desert experience, quad biking is an excellent option. After a brief safety briefing and instructions, you can ride a quad bike through the dunes, following a guide or exploring the desert at your own pace.
Sunset Photography: Desert safaris often include a stop for taking in the breathtaking desert sunsets. The golden hues of the setting sun create a picturesque backdrop for capturing stunning photographs to remember your adventure.
Traditional Arabian Camp Experience: After the adrenaline-pumping activities, most desert safaris lead to a traditional Arabian campsite. Here, you can relax and enjoy an authentic Middle Eastern experience, complete with henna painting, shisha smoking, and traditional Emirati cuisine.
Live Entertainment: In the evening, the campsite comes alive with various forms of traditional Arabian entertainment, such as belly dancing, Tanoura dancing, and fire shows. These performances showcase the region's rich cultural heritage and provide an enjoyable way to unwind after an action-packed day.
Stargazing: The remote desert location, far from the city's bright lights, provides an ideal opportunity for stargazing. With clear skies, you can gaze at the stars and constellations, making for a peaceful and memorable end to your desert adventure.
Desert safaris in Dubai are available as half-day, full-day, or overnight experiences, allowing you to choose the duration that best suits your preferences and schedule. No matter which option you select, a desert safari is sure to provide an unforgettable adventure and a unique perspective of Dubai's vast desert landscape.
---
Indoor skiing in Dubai is made possible by Ski Dubai, an innovative and massive indoor ski resort located within the Mall of the Emirates. The facility spans 22,500 square meters and maintains a constant temperature of -1 to -2 degrees Celsius, creating an authentic winter wonderland experience in the heart of the desert city.
Ski Dubai offers a variety of activities and experiences suitable for visitors of all ages and skill levels:
Skiing and Snowboarding: Ski Dubai features five different slopes with varying degrees of difficulty, catering to both beginners and experienced skiers or snowboarders. The longest run is 400 meters with a 60-meter drop, providing a thrilling experience for more advanced participants. Equipment rental and professional instructors are available to ensure a safe and enjoyable time on the slopes.
Snow Park: The Snow Park is a large play area offering a range of fun activities and attractions, such as tobogganing, tubing, and a snowball throwing gallery. It's an ideal place for families and visitors who want to experience the snow without skiing or snowboarding.
Penguin Encounter: Ski Dubai is home to a group of Gentoo and King penguins, and visitors can have an up-close and personal encounter with these adorable creatures. The Penguin Encounter includes a 40-minute educational session where you can learn about the penguins, watch them play, and even interact with them.
Snow Bullet: For adrenaline seekers, the Snow Bullet is a 150-meter long zipline that takes you soaring 16 meters above the snowy landscape. This exhilarating ride offers a unique bird's-eye view of Ski Dubai's wintry environment.
Snow Cinema: Ski Dubai also features a Snow Cinema where you can watch family-friendly movies while surrounded by the snow. With cozy seating, warm blankets, and hot beverages, it's a one-of-a-kind movie experience.
Ski School: For those who are new to skiing or snowboarding, Ski Dubai offers lessons for all ages and abilities. Professional instructors provide group or private lessons, ensuring that you gain the skills and confidence needed to enjoy your time on the slopes.
Ski Dubai is open year-round, providing visitors with a refreshing escape from the desert heat and a unique opportunity to experience winter sports in the Middle East. With its wide range of activities and attractions, Ski Dubai offers an unforgettable experience for visitors of all ages and interests.
---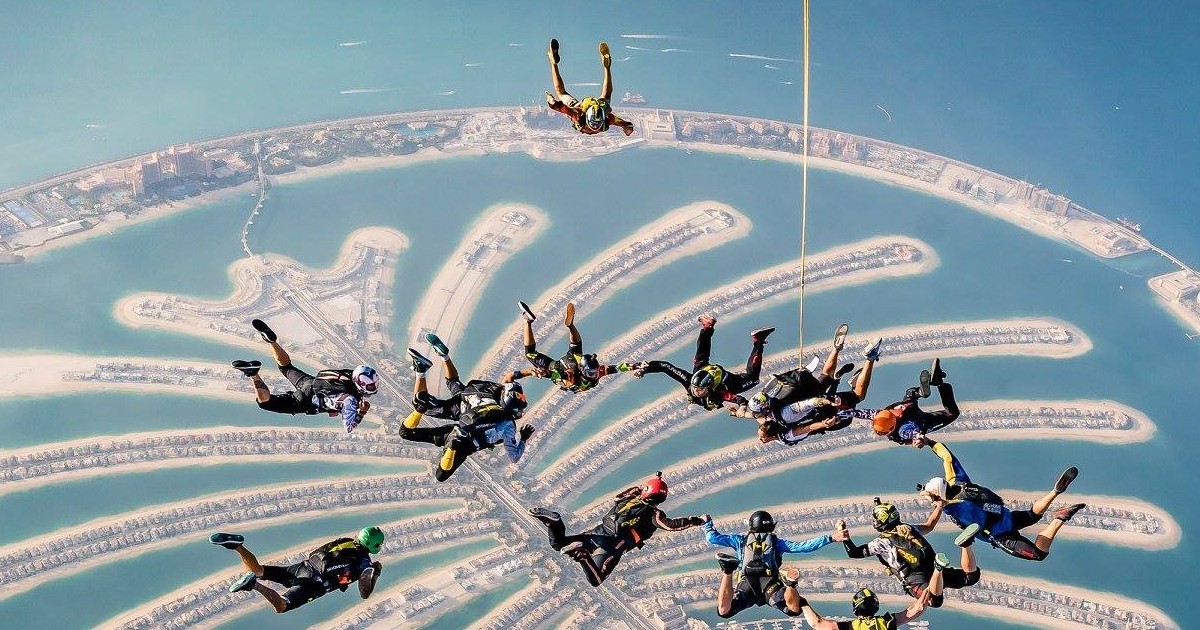 Skydiving in Dubai is an adrenaline-pumping activity that attracts adventure enthusiasts from around the world. With its stunning cityscape and unparalleled views of iconic landmarks, Dubai offers an unforgettable skydiving experience.
Skydive Dubai is the premier skydiving center in the city, providing both tandem skydives and courses for those looking to become certified solo skydivers. Here are some of the key highlights of skydiving in Dubai:
Tandem Skydiving: Ideal for first-time skydivers or those who want to experience the thrill of freefall without prior training, tandem skydiving pairs you with a professional instructor. The instructor controls the entire jump, from exit to freefall, parachute deployment, and landing, ensuring your safety and enjoyment.
There are two main drop zones for tandem skydives in Dubai:
a. The Palm Drop Zone: This location offers unparalleled views of the iconic Palm Jumeirah, Dubai Marina, and the city's stunning skyline. Jumping from an altitude of 13,000 feet, you'll experience approximately 60 seconds of freefall before your instructor deploys the parachute, allowing you to enjoy a scenic 5-minute canopy ride before landing.
b. The Desert Drop Zone: Situated approximately 35 kilometers outside of the city, this drop zone provides a unique perspective of Dubai's vast desert landscape. Jumping from 13,000 feet, you'll experience the same thrilling freefall and canopy ride as the Palm Drop Zone, with a different backdrop.
Accelerated Freefall (AFF) Course: For those looking to become certified solo skydivers, Skydive Dubai offers the AFF course. This comprehensive training program includes ground school and a series of jumps accompanied by certified instructors. Upon successful completion of the course, you'll be qualified to skydive independently.
Formation Skydiving and Freeflying: Experienced skydivers can participate in group jumps, practicing formation skydiving or freeflying with like-minded enthusiasts. Skydive Dubai hosts various events and workshops throughout the year, providing opportunities to learn new skills and connect with fellow skydivers.
Wind Tunnel: If you're not quite ready to take the leap from an airplane, Skydive Dubai's wind tunnel, located at the Palm Drop Zone, offers a safe and controlled environment to experience the sensation of freefall. The wind tunnel generates powerful winds that lift you off the ground, simulating the feeling of skydiving without actually jumping from a plane.
Whether you're a first-time skydiver or an experienced jumper, skydiving in Dubai promises a thrilling and unforgettable experience. With its world-class facilities and spectacular views, Skydive Dubai is a must-visit destination for adventure seekers.
---
Ziplining in Dubai offers an exhilarating way to experience the city's stunning skyline and iconic landmarks from a unique perspective. One of the most popular ziplining attractions in Dubai is the XLine Dubai Marina.
XLine Dubai Marina is the world's longest urban zipline, stretching over 1 kilometer in length and reaching speeds of up to 80 km/h (50 mph). It's operated by XDubai, a leading company specializing in adventure experiences in the city. Here's what you can expect when ziplining at XLine Dubai Marina:
Location: XLine Dubai Marina is situated in the heart of the bustling Dubai Marina district. The zipline starts from the Amwaj Towers and ends at the Dubai Marina Mall, taking riders on a thrilling ride above the marina's luxurious yachts, skyscrapers, and waterfront promenade.
Panoramic Views: The XLine Dubai Marina offers unparalleled views of some of the city's most iconic landmarks, such as the Palm Jumeirah, the Atlantis Hotel, and the Burj Al Arab, as well as the impressive Dubai Marina skyline.
Safety: Safety is a top priority at XLine Dubai Marina. All participants receive a safety briefing and are equipped with a full-body harness and helmet. The zipline uses state-of-the-art technology and meets international safety standards to ensure an enjoyable and secure experience.
Duration: The entire ziplining experience, including the safety briefing, gearing up, and the ride itself, takes approximately 45 minutes to 1 hour. The zipline ride itself lasts around 60 seconds, providing a thrilling, high-speed adventure.
Age and Weight Restrictions: To participate in the XLine Dubai Marina zipline, riders must be at least 12 years old and weigh between 50 kg (110 lbs) and 100 kg (220 lbs). Riders under 18 years old must be accompanied by a parent or legal guardian.
Tandem Zipline: The XLine Dubai Marina offers a tandem zipline option, allowing friends or family members to experience the thrill side-by-side. This can add an extra element of fun and excitement to the adventure.
Ziplining at XLine Dubai Marina is a thrilling and unforgettable way to explore Dubai's impressive skyline. With its unique urban setting, high speeds, and incredible views, this adventure is a must-try for adrenaline seekers visiting the city.
---
Hot air ballooning in Dubai provides a serene and breathtaking way to experience the beauty of the Arabian Desert. This peaceful adventure allows you to float high above the dunes and take in the stunning landscape while enjoying the tranquility of the early morning skies. Here's what you can expect during a hot air ballooning experience in Dubai:
Sunrise Launch: Hot air balloon rides in Dubai typically begin at sunrise when the winds are calmest and the temperatures are cooler. The soft morning light and the desert's changing colors create a magical atmosphere as you gently lift off the ground.
Panoramic Views: As you float thousands of feet above the desert, you'll be treated to panoramic views of the vast dunes, distant mountains, and unique desert flora and fauna. On a clear day, you may even catch a glimpse of the city's skyline in the distance.
Wildlife Spotting: The Dubai desert is home to a variety of wildlife, including Arabian oryx, gazelles, and various bird species. During your hot air balloon ride, you may have the opportunity to spot these animals roaming the dunes below.
Professional Pilots: Hot air balloon rides in Dubai are led by experienced and licensed pilots who prioritize safety and ensure a smooth and enjoyable flight. Throughout the ride, your pilot will share fascinating facts about the desert landscape, its history, and the local wildlife.
Duration: The entire hot air ballooning experience, including transportation to and from the launch site, typically takes around 4-5 hours. The flight itself lasts approximately 1 hour, depending on weather conditions.
Post-Flight Celebrations: After landing, most hot air ballooning companies in Dubai offer a post-flight celebration, which may include a light breakfast, traditional Arabic tea or coffee, and a flight certificate as a souvenir of your adventure.
Age and Weight Restrictions: Generally, hot air balloon rides in Dubai are suitable for passengers aged 5 and above. However, there might be weight restrictions depending on the specific company and balloon capacity.
Hot air ballooning in Dubai offers a unique and unforgettable way to experience the enchanting beauty of the desert. With its serene atmosphere and mesmerizing views, this adventure is perfect for those seeking a peaceful yet awe-inspiring experience.
---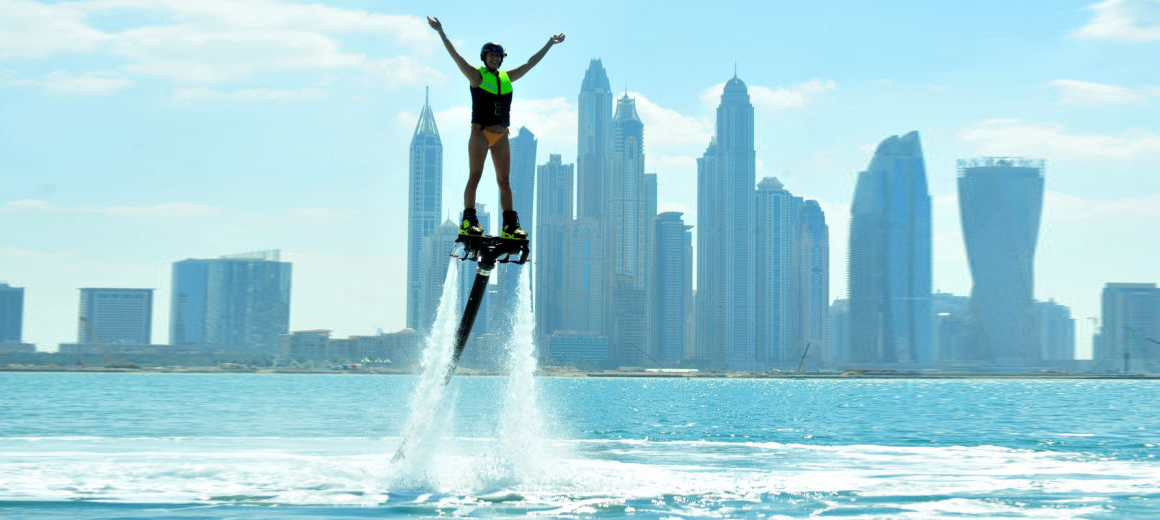 Flyboarding is an exciting water sport that allows you to soar above the water's surface with the help of a jet-powered board connected to a personal watercraft (PWC) via a long hose. In Dubai, this thrilling activity has gained popularity among adventure-seekers and tourists, offering a unique way to enjoy the city's beautiful beaches and waterfront areas.
Here's what you can expect during a flyboarding experience in Dubai:
Professional Instruction: Before you begin your flyboarding adventure, a certified instructor will provide a safety briefing and teach you the basics of operating the flyboard. This includes learning how to control your movements, balance, and altitude while in the air.
Gearing Up: You will be provided with a lifejacket, helmet, and the flyboard itself, which is securely strapped to your feet. The flyboard is connected to a PWC through a long hose, which supplies the water pressure necessary to propel you into the air.
Water Takeoff: With the help of your instructor, you will enter the water and start practicing the basic maneuvers, such as maintaining balance and controlling your height. As you become more comfortable, you can begin attempting more advanced tricks and moves.
Duration: A typical flyboarding session in Dubai lasts between 20-30 minutes, depending on the package chosen. This is usually enough time for beginners to get the hang of the sport and experience the thrill of soaring above the water.
Locations: Flyboarding is available at several locations in Dubai, including popular waterfront areas like Jumeirah Beach Residence (JBR), Palm Jumeirah, and Kite Beach.
Age and Weight Restrictions: Generally, flyboarding participants must be at least 16 years old, and there may be weight restrictions in place, usually ranging from 45 kg (100 lbs) to 135 kg (300 lbs). It's essential to check the specific requirements with your chosen flyboarding provider.
Flyboarding in Dubai offers a thrilling and unforgettable adventure for water sports enthusiasts and adrenaline-seekers. With its beautiful coastline and warm waters, Dubai is an ideal location for experiencing the exhilaration of this innovative water sport.
---
Dune buggy riding is a popular adventure activity in Dubai, offering an exciting way to explore the vast and beautiful Arabian Desert. These off-road vehicles are specifically designed for navigating the sand dunes, providing an adrenaline-pumping experience as you maneuver through the desert terrain.
Here's what you can expect during a dune buggy riding experience in Dubai:
Safety Briefing and Instruction: Before embarking on your dune buggy adventure, you will receive a safety briefing and basic instructions on operating the vehicle. This includes learning how to control the buggy, proper steering techniques, and safety precautions.
Gearing Up: You will be provided with the necessary safety gear, such as a helmet and goggles, to ensure a safe and enjoyable experience.
Guided Tours: Dune buggy riding experiences in Dubai are typically guided, with a professional leading the way through the desert. This ensures that participants stay on designated paths and minimize the risk of getting lost or damaging the fragile desert ecosystem.
Buggy Options: Dune buggies in Dubai come in various sizes and engine capacities, ranging from single-seaters to larger models that can accommodate multiple passengers. Depending on your preferences and the specific tour provider, you may have the option to choose the type of dune buggy you want to ride.
Terrain and Scenery: Dune buggy riding in Dubai allows you to explore the beautiful desert landscape, traversing rolling sand dunes, navigating around unique desert flora, and occasionally spotting local wildlife such as camels, gazelles, or Arabian oryx. The terrain can be both challenging and exhilarating, offering an authentic off-road experience.
Duration: Dune buggy riding experiences in Dubai typically range from 1-4 hours, depending on the tour package chosen. Some tours may also include additional activities such as camel rides, sandboarding, or a traditional Bedouin camp experience.
Age and Driving Requirements: Generally, dune buggy riders must be at least 16 years old, and drivers must possess a valid driver's license. It's essential to check the specific requirements with your chosen dune buggy tour provider.
Dune buggy riding in Dubai offers an adrenaline-filled adventure for off-road enthusiasts and thrill-seekers alike. With its stunning desert landscape and challenging terrain, a dune buggy experience is an unforgettable way to explore the beauty of the Arabian Desert.
---
Deep-sea fishing in Dubai is an exciting and rewarding activity that attracts both local and visiting fishing enthusiasts. With its strategic location along the Arabian Gulf, Dubai offers abundant marine life, making it an ideal destination for deep-sea fishing expeditions.
Here's what you can expect during a deep-sea fishing experience in Dubai:
Charter Boats: Deep-sea fishing in Dubai is typically done via chartered boats that are equipped with necessary fishing gear, bait, and modern fish-finding technology. You can choose from various types and sizes of boats, accommodating small groups to larger parties.
Professional Crew: Your deep-sea fishing expedition will be guided by an experienced crew who are knowledgeable about local fishing conditions and techniques. They will help you find the best fishing spots and provide assistance as needed.
Targeted Species: Dubai's waters are home to a variety of fish species, including barracuda, kingfish, queenfish, sailfish, dorado (mahi-mahi), tuna, grouper, and snapper, among others. The type of fish you catch will depend on the time of year and fishing conditions.
Fishing Techniques: Depending on the targeted species and conditions, you may use various fishing techniques such as trolling, bottom fishing, or jigging. The crew will provide guidance on the most effective techniques for the day's conditions.
Duration: Deep-sea fishing trips in Dubai typically last between 4 to 8 hours, depending on the package chosen. Longer trips may offer a greater chance of catching a variety of fish species.
Catch and Release: Some deep-sea fishing charters in Dubai practice catch and release, meaning that certain fish species may be released back into the water after being caught. This promotes sustainable fishing practices and helps conserve marine life. However, some charters may allow you to keep your catch, depending on the species and local regulations.
Age Restrictions: While there may not be strict age restrictions for deep-sea fishing in Dubai, it's generally recommended for children to be at least 8 years old to ensure they can safely participate in the activity. Adult supervision is required for younger participants.
Deep-sea fishing in Dubai offers a thrilling and memorable experience for both novice and experienced anglers. With its rich marine life and stunning coastal scenery, a deep-sea fishing adventure in Dubai is an enjoyable way to explore the region's aquatic treasures.
---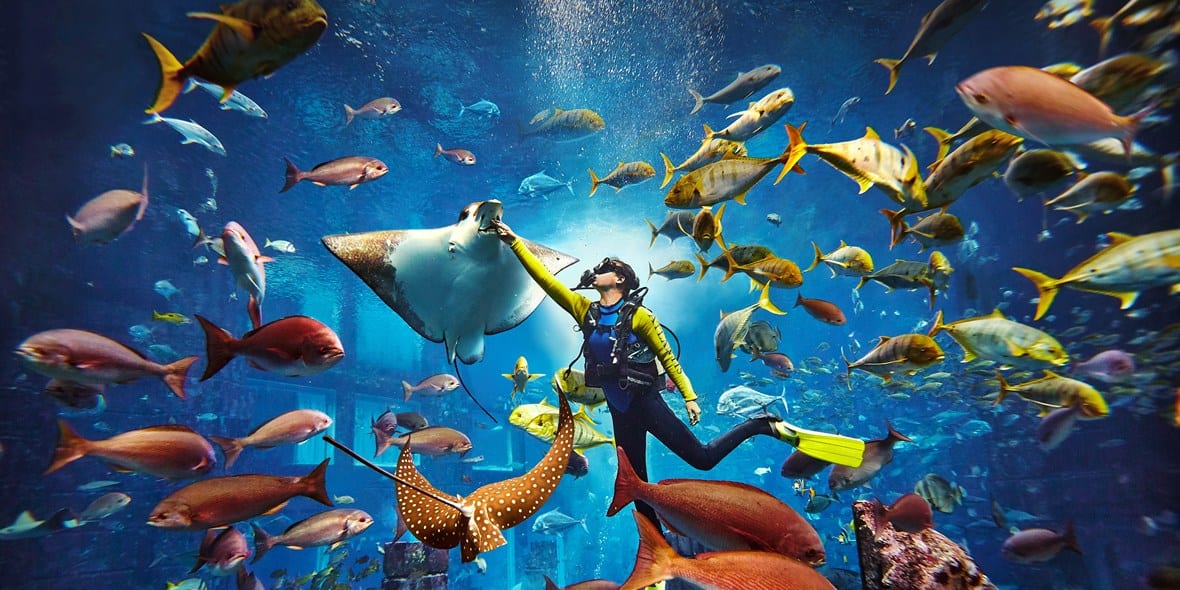 Scuba diving in Dubai offers a unique opportunity to explore the underwater world of the Arabian Gulf. The warm waters, artificial reefs, and shipwrecks make it an interesting destination for divers of all skill levels. While Dubai may not be as famous for its natural coral reefs as some other diving destinations, it still offers a fascinating diving experience.
Here's what you can expect during a scuba diving experience in Dubai:
Dive Centers: Dubai has several dive centers that offer PADI-certified courses and guided dives for certified divers. These centers provide all necessary equipment, instruction, and guided excursions to various dive sites in the region.
Courses and Certification: If you're new to scuba diving, you can enroll in an introductory Discover Scuba Diving course or pursue your PADI Open Water Diver certification. For experienced divers, advanced courses such as the PADI Advanced Open Water Diver, Rescue Diver, or specialty courses are available.
Dive Sites: Dubai offers a variety of dive sites suitable for divers of different experience levels. Some popular dive sites include:

Jumeirah Beach (Jumeirah Open Beach): Suitable for beginners, this shallow dive site has a sandy bottom with scattered coral formations and marine life such as pufferfish, stingrays, and moray eels.
The Zainab Wreck: A sunken cargo ship located approximately 25 nautical miles off Dubai's coast, this dive site offers an exciting wreck diving experience for advanced divers.
Martini Rock: An artificial reef with a depth of around 22 meters (72 feet), Martini Rock attracts a variety of marine life, including snappers, barracudas, and colorful reef fish.
The Anchor Barge: Sunk to create an artificial reef, this dive site features a barge with an anchor resting nearby, attracting schools of fish and offering an interesting wreck diving experience.

Marine Life: While diving in Dubai, you can expect to encounter a variety of marine life, such as stingrays, moray eels, pufferfish, snappers, and barracudas. Although coral growth is limited in the region, some artificial reefs and wrecks have attracted colorful reef fish and other marine creatures.
Water Conditions: The Arabian Gulf generally has good visibility, with water temperatures ranging from 22°C (72°F) in winter to 33°C (91°F) in summer. The diving season in Dubai runs year-round, but the best time to dive is from October to May when the water is cooler and visibility is better.
Scuba diving in Dubai offers a unique underwater adventure with its artificial reefs, shipwrecks, and diverse marine life. Whether you're a beginner or an experienced diver, exploring Dubai's underwater world is a fascinating experience you won't want to miss.
---
Bungee jumping is an adrenaline-pumping activity that involves jumping from a tall structure while connected to a large elastic cord. While Dubai is well-known for its thrilling adventure sports and record-breaking attractions, bungee jumping is not as prominent in the city compared to other activities like skydiving and ziplining.
However, there are some bungee jumping experiences available in the UAE, such as the one at the Gravity Zone in Dubai's neighboring emirate, Abu Dhabi. Here's what you can expect during a bungee jumping experience at the Gravity Zone:
Safety Briefing: Before your jump, you will receive a safety briefing and guidelines on the proper jumping technique. This will ensure you have a safe and enjoyable experience.
Gearing Up: You will be provided with a harness, which will be securely fastened to your ankles and/or waist, and then connected to the bungee cord.
Jump Height: The bungee jump platform at the Gravity Zone is approximately 50 meters (164 feet) high, offering a thrilling free-fall experience before the bungee cord stretches and rebounds.
Jump Options: Depending on your preferences and the specific facility, you may have the option to choose between a standard head-first dive, a tandem jump with a friend, or a "touch the water" jump, where you can briefly touch the water surface below before bouncing back up.
Age and Weight Restrictions: Bungee jumping participants must typically be at least 14 years old, and there may be weight restrictions in place, usually ranging from 40 kg (88 lbs) to 120 kg (265 lbs). It's essential to check the specific requirements with your chosen bungee jumping provider.
While bungee jumping options in Dubai and the UAE may be limited, the experience at the Gravity Zone in Abu Dhabi offers a thrilling adventure for those seeking an adrenaline rush. Just remember to double-check the age and weight restrictions and ensure you're comfortable with the activity before taking the plunge.
Search City: