Eco-Friendly Amsterdam: A Guide to Sustainable Travel in the Venice of the North
Amsterdam, also known as the "Venice of the North," is a city famous for its picturesque canals, iconic architecture, and vibrant culture. It's also a city that has made a commitment to sustainability and is at the forefront of eco-friendly travel destinations. From biking to farm-to-table restaurants, Amsterdam provides numerous opportunities for travelers to experience sustainable travel. In this guide, we'll explore everything eco-friendly in Amsterdam, from getting around sustainably to supporting local sustainability efforts. With this guide, you can experience all that Amsterdam has to offer while feeling good about reducing your carbon footprint.

1. Amsterdam's Commitment to Sustainability
1.1 A Brief History of Amsterdam's Sustainability Efforts
Amsterdam has long been a leader in sustainability efforts. Their focus on the environment dates back to the 1970s when the city began to embrace sustainable urban planning. In the 1990s, Amsterdam became one of the first cities to launch a comprehensive sustainability program. Since then, the city has been at the forefront of efforts to combat climate change and implement sustainable policies.
1.2 Current Sustainability Initiatives in Amsterdam
Amsterdam continues to prioritize sustainability today. The city has set ambitious goals to become carbon neutral by 2050, improve air quality, and reduce waste. The city also promotes sustainable travel options like biking and public transportation, and supports sustainable food and shopping options.
2. Getting Around Sustainably in Amsterdam
2.1 Biking in Amsterdam
Biking is an integral part of Amsterdam's culture and a great way to see the city sustainably. With over 800,000 bicycles in the city, Amsterdam is one of the most bike-friendly cities in the world. There are plenty of bike rental options available, as well as guided bike tours to see the city's sights.
2.2 Public Transportation Options
Amsterdam also offers an extensive public transportation network including trams, buses, and the metro. The city's public transportation system is affordable, efficient, and easy to use. Visitors can purchase the OV-chipkaart, a reloadable smart card that can be used on all public transportation.
2.3 Sustainable Taxi and Car Services
For those that prefer to use car services, Amsterdam offers several sustainable options. Taxis and cars can be booked through services like GreenCab or Taxi Electric, which provide electric or hybrid vehicles.
3. Eco-Friendly Accommodations in Amsterdam
3.1 Sustainable Hotel Options
Amsterdam has a wide range of hotels that prioritize sustainability. Options like the Conscious Hotel, Hotel Jakarta, and QO Amsterdam all offer eco-friendly amenities and practices like energy-efficient lighting, low-flow water fixtures, and sustainable food options.
3.2 Eco-Friendly Hostels and Guesthouses
For budget-conscious travelers, there are also several eco-friendly hostels and guesthouses in Amsterdam. The Cocomama Hostel and Ecomama Hostel both use environmentally-friendly practices like composting and recycling, and offer sustainable amenities like bamboo towels and organic toiletries.
4. Experience Sustainable Dining and Shopping in Amsterdam
4.1 Farm-to-Table Restaurants
Amsterdam offers a variety of farm-to-table restaurants that prioritize sustainable ingredients and locally-sourced produce. Places like De Kas and Restaurant As use seasonal ingredients from local farms and gardens to create fresh and delicious meals.
4.2 Organic and Sustainable Food Markets
There are also several organic and sustainable food markets in Amsterdam like the Noordermarkt and the Albert Cuyp Market. These markets offer fresh, locally-sourced produce, as well as other sustainable products like reusable bags and organic beauty products.
4.3 Eco-Friendly and Sustainable Shopping Options
For sustainable shopping, Amsterdam offers several options like the Tony's Chocolonely Superstore, which offers ethically-sourced chocolate and a commitment to ending slave labor in the chocolate industry. The city also has several sustainable fashion options like the Geitenwollenwinkel, a fair fashion boutique that specializes in sustainable clothing and accessories.
By prioritizing sustainability through initiatives like sustainable transportation, eco-friendly accommodations, and farm-to-table dining, Amsterdam is making it easy for visitors to travel sustainably and enjoy everything the city has to offer.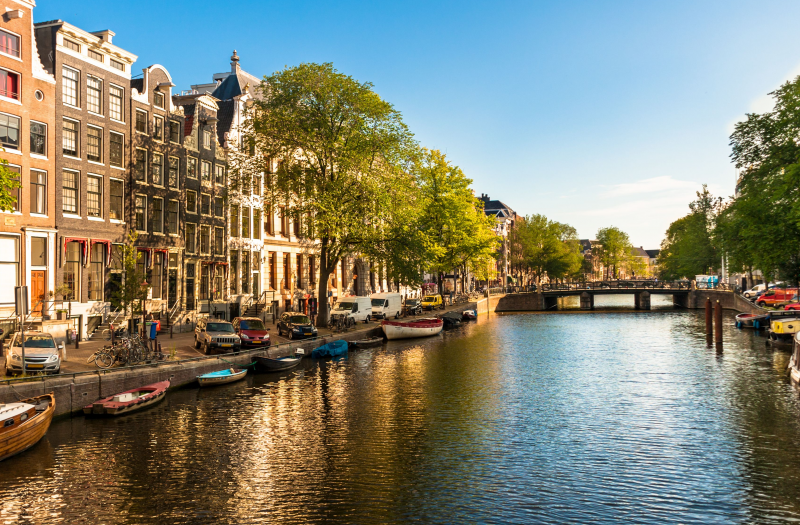 5. Enjoying Amsterdam's Green Spaces and Parks
Amsterdam is home to many beautiful parks and green spaces that offer a peaceful escape from the city's hustle and bustle. In addition to being places to relax, these areas are also important for the environment.
5.1 The Vondelpark
One of the most popular green spaces in Amsterdam is the Vondelpark. This urban park is a perfect spot for picnics, sports, and watching live music performances. The park is also home to various wildlife and plants, making it a significant ecosystem.
5.2 The Amsterdam Forest
The Amsterdam Forest, or Amsterdamse Bos, is a vast woodland area situated south of the city center. This green space is home to a variety of wildlife, including deer, foxes, and rabbits. Visitors can enjoy the fresh air by hiking, biking, or horseback riding through the forest.
5.3 Sustainable Outdoor Activities
In addition to visiting the city's green spaces, there are many outdoor activities that promote sustainable tourism in Amsterdam. Renting a bike or a boat is a fun and eco-friendly way to explore the city. Visitors can also take part in walking tours or nature tours that educate on the local environment and wildlife.
6. Supporting Local Sustainability Efforts in Amsterdam
As a responsible traveler, it's essential to ensure that you are supporting local sustainability efforts in Amsterdam. Here are some ways to get involved.
6.1 Volunteering Opportunities
There are many volunteer opportunities in Amsterdam that focus on sustainability. These can range from cleaning up trash in the city's canals to helping with park restoration projects. Volunteering is an excellent way to give back while also learning more about the local culture and environment.
6.2 Supporting Local Sustainability Businesses
Supporting local businesses that prioritize sustainable practices is another way to promote eco-friendly tourism in Amsterdam. Look for restaurants that serve locally-sourced and organic food, shops that sell environmentally-friendly and fair trade goods, and hotels that have implemented energy-saving measures.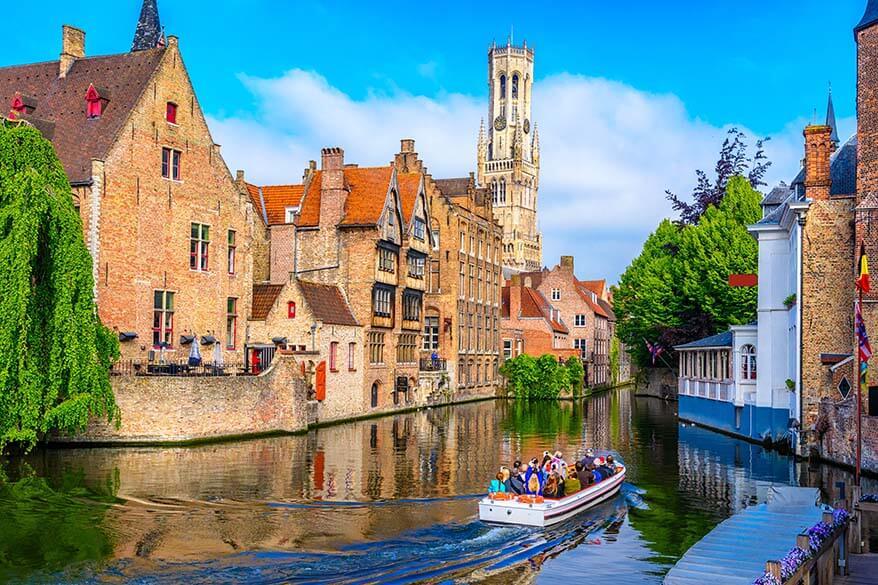 7. Sustainable Day Trips from Amsterdam
Beyond Amsterdam, there are many opportunities to explore the surrounding area through sustainable day trips. Here are some recommendations.
7.1 Sustainable Beaches and Coastal Areas
The Netherlands has a long coastline with many beaches and coastal areas to explore. Sustainable options for beach visits include those that promote clean-up efforts and minimize waste, such as those with filtered drinking water stations and reusable dishware.
7.2 Sustainable Nature Reserves and Parks
The Netherlands is also home to many national parks and nature reserves that offer sustainable outdoor activities. These areas are carefully protected and managed to ensure the preservation of local ecosystems, and visitors are encouraged to respect the environment while exploring.
8. Tips for Being a Responsible Tourist in Amsterdam
To make sure you're doing your part as a responsible tourist in Amsterdam, here are some tips to keep in mind.
8.1 Respect the Environment
When visiting Amsterdam's parks and green spaces, be sure to respect the environment by following posted rules and avoiding littering or damaging local plants and wildlife. When exploring the city, take care to use designated bike lanes and crosswalks to avoid accidents.
8.2 Reduce Waste and Energy Consumption
Reducing waste and energy consumption is an essential part of sustainable travel. Visitors can reduce their impact by using reusable water bottles, bringing reusable bags for shopping, turning off lights and electronics when not in use, and choosing public transportation over cars.
8.3 Support Local Sustainable Businesses
Lastly, supporting local sustainable businesses is a crucial aspect of responsible tourism. Choosing to eat at restaurants that serve locally sourced ingredients, buying souvenirs from local artisans, and staying at hotels with environmentally-friendly practices can all make a positive impact on the local community.In conclusion, Amsterdam is not only a beautiful and vibrant city but also a leader in sustainable travel. By following the tips in this guide, you can experience all that Amsterdam has to offer while minimizing your impact on the environment. From biking around the city to supporting local sustainability efforts, there are numerous opportunities for eco-friendly travel in Amsterdam. So, pack your bags and come experience the Venice of the North in a way that is both enjoyable and sustainable.
Frequently Asked Questions (FAQ)
What is Amsterdam doing to promote sustainability?
Amsterdam has implemented numerous initiatives to promote sustainability, including investing in renewable energy, creating green roofs, and promoting cycling as a primary mode of transportation. In addition, the city government has set a goal to be completely carbon-neutral by 2050.
What are some eco-friendly accommodations in Amsterdam?
There are several eco-friendly accommodation options in Amsterdam, including the Conscious Hotel, a sustainable hotel with energy-saving features and organic food options, and the Cocomama hostel, which offers eco-friendly toiletries, recycling, and energy-efficient lighting.
Are there any sustainable day trips from Amsterdam?
Yes, there are several sustainable day trips from Amsterdam, including visiting the Zaanse Schans windmills, exploring the Hoge Veluwe National Park, and biking through the Frisian countryside.
How can I be a responsible tourist in Amsterdam?
You can be a responsible tourist in Amsterdam by respecting the environment, reducing waste and energy consumption, and supporting local sustainability efforts. This includes recycling, biking or walking instead of driving, and supporting local businesses that prioritize sustainability.
Search City: