Eco-Friendly Travel in Dubai: Sustainable Experiences and Green Initiatives
Eco-friendly travel in Dubai is on the rise, as the city has taken significant steps towards promoting sustainability and green initiatives. If you're looking to travel responsibly, consider the following eco-friendly experiences and initiatives during your visit to Dubai:
---
Al Marmoom Desert Conservation Reserve
Al Marmoom Desert Conservation Reserve is a large protected area covering more than 40 hectares (over 155 square miles) in the United Arab Emirates, located just outside of Dubai. It is one of the largest unfenced nature reserves in the country, featuring diverse landscapes that include sand dunes, desert plains, and a variety of desert ecosystems.
Home to over 200 species of birds, including the endangered Arabian Oryx, the reserve is a haven for wildlife and a significant conservation effort in the region. The Arabian Oryx, which was once extinct in the wild, has been successfully reintroduced into the reserve, making it a vital sanctuary for this iconic species.
Al Marmoom Desert Conservation Reserve offers visitors an opportunity to explore the natural beauty of the Arabian desert and witness its wildlife in their native habitat. Some popular activities available at the reserve include:
Wildlife Safaris: Experience the thrill of exploring the Arabian desert on a guided wildlife safari, where you can spot various animals like the Arabian Oryx, Arabian gazelle, and sand gazelle, as well as smaller mammals, reptiles, and insects.
Birdwatching: With over 200 species of birds, the reserve is a hotspot for bird enthusiasts. The Al Qudra Lakes, located within the reserve, attract a large number of migratory birds, making it a perfect location for birdwatching.
Hiking and Trekking: Explore the reserve on foot with guided treks and hikes, where you can appreciate the stunning landscapes, flora, and fauna up close. Choose from various difficulty levels to suit your preferences and fitness.
Camel Trekking: Experience the traditional mode of transportation in the Arabian desert by embarking on a camel trek through the reserve. This unique activity allows you to appreciate the beauty of the desert at a leisurely pace.
Mountain Biking: For adventure enthusiasts, Al Marmoom offers a range of mountain biking trails across different terrains, allowing you to explore the reserve while getting some exercise.
Environmental Education Programs: Learn about the importance of desert ecosystems, conservation efforts, and the cultural significance of the area through various environmental education programs provided by the reserve.
When visiting Al Marmoom Desert Conservation Reserve, it is essential to respect the environment, wildlife, and local culture by following the reserve's guidelines and adhering to sustainable practices.
---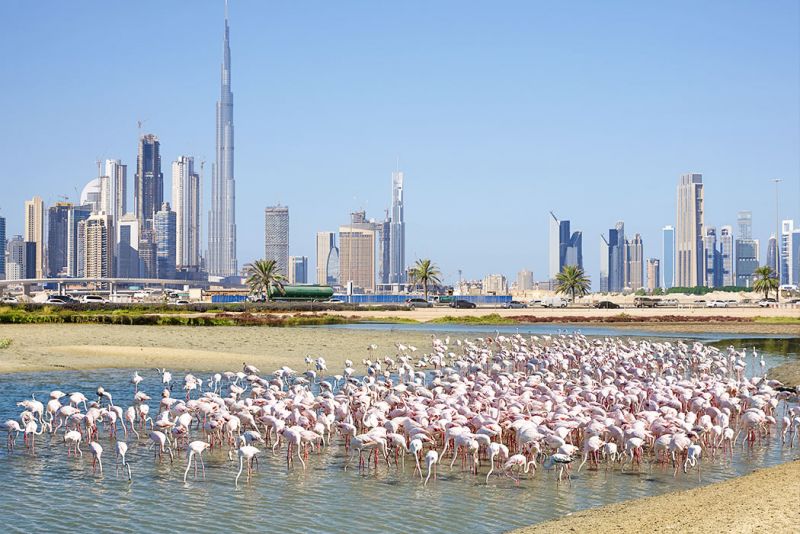 Ras Al Khor Wildlife Sanctuary is a protected wetland reserve located in Dubai, United Arab Emirates. Covering an area of approximately 6.2 square kilometers (2.4 square miles), the sanctuary is strategically positioned at the mouth of the Dubai Creek, making it an important stopover for migratory birds on the East African-West Asian Flyway. Ras Al Khor is a Ramsar site, recognized globally for its ecological importance.
The sanctuary is home to a variety of wildlife, including more than 450 species of fauna and 47 species of flora. It is best known for its large population of greater flamingos, which can be observed in the tens of thousands during the winter migration season. Other bird species commonly found in the reserve include herons, egrets, sandpipers, and ospreys.
Ras Al Khor Wildlife Sanctuary is an excellent destination for nature enthusiasts and birdwatchers. The sanctuary features three bird hides (observation points) that are accessible to the public free of charge. The hides, named Mangrove Hide, Flamingo Hide, and Lagoon Hide, are equipped with binoculars and telescopes, providing an unobtrusive way to observe the birds in their natural habitat.
To make the most of your visit to Ras Al Khor Wildlife Sanctuary, consider the following tips:
Visit during the winter months (November to March) when the migratory bird populations are at their peak. Flamingos are the most abundant during this time.
Plan your visit early in the morning or late in the afternoon when bird activity is the highest.
Be patient and quiet when observing birds from the hides. Loud noises and sudden movements may disturb the birds and cause them to move away.
Do not feed the birds or leave any litter behind. The sanctuary is a protected area, and maintaining its pristine condition is crucial for the welfare of its inhabitants.
Bring your own binoculars or a camera with a good zoom lens if you wish to get a closer look at the birds or capture some photographs.
Ras Al Khor Wildlife Sanctuary offers a unique opportunity to witness and appreciate the diversity of wildlife within the bustling city of Dubai. By visiting the sanctuary, you contribute to its conservation efforts and support the protection of these important ecosystems for future generations.
---
The Green Planet is an indoor tropical rainforest located in City Walk, Dubai. It is a unique attraction designed to raise awareness about the importance of tropical ecosystems and their role in maintaining the planet's biodiversity. The Green Planet is home to over 3,000 plants and animals from around the world, offering an immersive and educational experience for visitors of all ages.
The centerpiece of The Green Planet is a massive, 25-meter (82-foot) tall, cylindrical structure known as the BioDome, which houses the world's largest indoor man-made and life-sustaining tree. The climate-controlled environment replicates the conditions of a tropical rainforest, with lush vegetation, waterfalls, and a variety of animal species.
Visitors can explore the four levels of the BioDome, each representing a different layer of the rainforest:
Forest Floor: The lowest level of the rainforest is where decomposition takes place, providing essential nutrients to the ecosystem. Here, visitors can encounter species like the capybara, green iguana, and the red-tailed boa.
Midstory: Home to a diverse array of plant life, the midstory is where many animals reside. Visitors can observe fascinating species such as the sugar glider, two-toed sloth, and several species of tropical birds.
Canopy: The canopy is the busiest part of the rainforest, offering shelter and food for various species. Walk along the suspension bridge to spot animals like the toucan, macaw, and the squirrel monkey.
Emergent Layer: The tallest trees of the rainforest reach this layer, where they have access to sunlight and can grow large. Visitors can observe the overall structure of the rainforest and appreciate its incredible biodiversity.
In addition to exploring the BioDome, The Green Planet offers various interactive experiences, such as:
The Bat Cave: Venture into the dark world of bats, where you can learn about their incredible adaptations and witness them flying and feeding.
The Australian Walkabout: Discover the unique wildlife of Australia, including kangaroos, wallabies, and various bird species.
The Green Planet Academy: Participate in educational workshops and interactive experiences designed to teach visitors about the rainforest ecosystem, conservation efforts, and the importance of protecting our planet.
When visiting The Green Planet, be prepared to spend a couple of hours exploring the exhibits and enjoying the immersive experience. The attraction is both entertaining and educational, making it a perfect destination for families and nature enthusiasts alike.
---
Solar-powered transportation refers to vehicles and systems that use solar energy to power their operation, either directly or indirectly. This form of transportation is gaining momentum as it offers a more sustainable and eco-friendly alternative to conventional fossil-fuel-powered vehicles, helping to reduce greenhouse gas emissions and decrease dependency on non-renewable energy sources.
In Dubai, solar-powered transportation is becoming increasingly prevalent as part of the city's commitment to sustainability and clean energy. Some examples of solar-powered transportation in Dubai include:
Dubai Metro: The Dubai Metro is a fully automated, electric-powered rail system that operates across the city. While not directly powered by solar energy, the metro system contributes to reducing the city's carbon footprint by offering a more energy-efficient alternative to private vehicles. Additionally, Dubai's investments in solar power plants help to offset the energy consumed by the metro system.
Solar-Powered Electric Vehicle Charging Stations: Dubai has been installing solar-powered charging stations for electric vehicles (EVs) throughout the city. These stations, powered by solar panels, provide clean and renewable energy for EV users, further reducing the environmental impact of transportation in the city.
Solar-Powered Buses and Shuttles: Dubai has begun to introduce solar-powered buses and shuttles for public transportation. These vehicles are either partially or fully powered by solar energy, depending on the design and technology used. Examples include the Dubai Electricity and Water Authority's (DEWA) solar-powered electric vehicle and the solar-electric abra (traditional wooden boat) used for transportation along the Dubai Creek.
Solar-Powered Boats: Solar-powered boats are also becoming more common in Dubai. The solar-electric abra is one example, which operates along the Dubai Creek, offering a sustainable alternative to traditional motorized abras. Other solar-powered boats are used for tourist excursions and private transportation.
Solar-Powered Bicycles: Dubai has introduced solar-powered bicycle docking stations as part of its bike-sharing program. These stations use solar energy to power the docking mechanisms and provide electricity for the bicycles' built-in lights and other electronic components.
By investing in solar-powered transportation, Dubai is taking significant steps towards reducing its carbon emissions and promoting a more sustainable future. As a visitor, using these eco-friendly transportation options can help you minimize your environmental impact and contribute to the city's sustainability efforts.
---
In Dubai, there is a growing number of sustainable hotels that prioritize green initiatives, energy conservation, waste reduction, and water-saving practices. These eco-friendly accommodations are committed to reducing their environmental impact while still providing a comfortable and luxurious stay for their guests. Here are some sustainable hotels in Dubai to consider:
JA Lake View Hotel: Located within the JA The Resort complex, the JA Lake View Hotel is a certified eco-friendly hotel that focuses on sustainability. The property boasts a solar-heated swimming pool, energy-efficient lighting, and an on-site wastewater treatment plant. The hotel also has a commitment to reducing plastic waste and promotes the use of refillable bottles and dispensers.
Jumeirah Al Naseem: Part of the Madinat Jumeirah complex, Jumeirah Al Naseem is a luxury resort that emphasizes sustainable practices. The hotel is the first in the region to receive the prestigious Blue Flag certification for its private beach, recognizing its commitment to environmental management and safety. The property uses energy-efficient technologies, recycles water for irrigation, and participates in the Dubai Turtle Rehabilitation Project.
Element Al Jaddaf by Marriott: This eco-conscious hotel is designed with sustainability in mind, featuring energy-efficient appliances, LED lighting, and water-saving fixtures. The property also offers electric vehicle charging stations and promotes the use of bicycles for local transportation. Element Al Jaddaf actively participates in Marriott's "Serve 360: Doing Good in Every Direction" program, which includes initiatives for reducing waste and supporting local communities.
Park Hyatt Dubai: Located near Dubai Creek, Park Hyatt Dubai is committed to sustainable practices, such as energy-efficient lighting, waste reduction, and water conservation. The hotel's eco-friendly initiatives include an on-site organic garden, recycling programs, and participation in the Hyatt Thrive corporate responsibility program.
Sofitel Dubai The Palm Resort & Spa: This luxury resort on Palm Jumeirah emphasizes eco-friendliness and sustainability through various initiatives, such as solar panels for water heating, waste segregation, and energy-saving systems. The hotel also has a commitment to reducing plastic waste and uses biodegradable materials whenever possible.
When choosing a sustainable hotel in Dubai, make sure to research the property's green initiatives and certifications. By staying at an eco-friendly hotel, you can enjoy a comfortable and luxurious experience while contributing to the preservation of the environment and supporting Dubai's sustainability efforts.
---
Eco-friendly shopping in Dubai has become more accessible as the city embraces sustainability and environmentally conscious practices. There are several retail destinations and stores that focus on offering environmentally friendly products and supporting local, sustainable businesses. Here are some eco-friendly shopping options in Dubai:
The Sustainable City: The Sustainable City is a residential community designed with sustainability and green living in mind. The development features a variety of eco-friendly shops, restaurants, and services. You can find locally grown produce at the community's farmer's market, shop for sustainable fashion, or dine at restaurants that prioritize locally sourced and organic ingredients.
Ripe Organic: Ripe Organic is a popular health food store and organic farm shop that offers a wide range of eco-friendly products. You can find fresh, locally grown produce, organic pantry items, and a variety of sustainable living products, such as reusable bags, water bottles, and eco-friendly cleaning supplies.
The Change Initiative: The Change Initiative is a store that focuses on providing sustainable and eco-friendly products, ranging from household items and personal care products to fashion and accessories. The store's mission is to inspire and enable people to live more sustainably by offering products that have a minimal environmental impact.
EcoSouk: EcoSouk is an online store based in Dubai that offers a curated selection of eco-friendly products, including reusable bags, water bottles, sustainable fashion, and eco-friendly home accessories. By shopping at EcoSouk, you can support local businesses that prioritize sustainability and environmentally friendly practices.
Upcycle Dubai: Upcycle Dubai is a store that specializes in transforming waste materials and discarded items into functional and stylish products. They offer a range of upcycled products, including furniture, home accessories, and fashion items. By shopping at Upcycle Dubai, you can give new life to discarded materials while reducing your environmental impact.
When shopping in Dubai, consider supporting eco-friendly businesses and choosing products that have a minimal impact on the environment. By making conscious choices and promoting sustainable practices, you can contribute to a greener future for Dubai and the planet.
---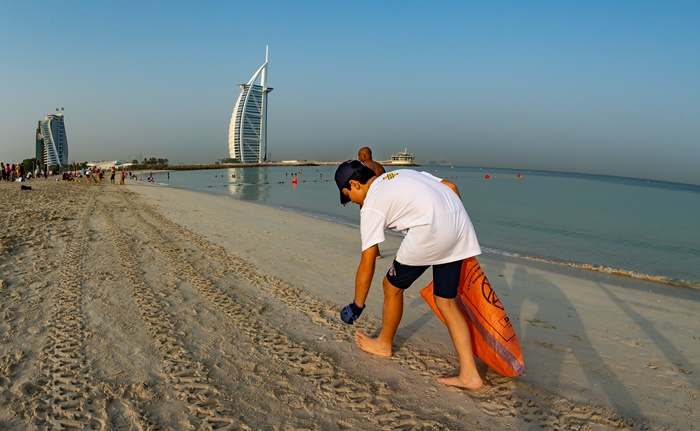 Participating in beach cleanups is a great way to contribute to environmental conservation and make a positive impact on local ecosystems. In Dubai, beach cleanups are organized by various environmental groups, non-profit organizations, and even private businesses, aiming to keep the beaches clean, protect marine life, and raise awareness about the importance of sustainable practices.
To participate in a beach cleanup in Dubai, consider the following steps:
Research organizations and groups: Look for organizations, non-profits, or community groups that organize beach cleanups in Dubai. Some examples include Emirates Environmental Group (EEG), Azraq, and Dubai Municipality. Follow their social media accounts or visit their websites to stay updated on upcoming events.
Sign up for a cleanup event: Once you've found a beach cleanup event that you'd like to join, sign up through the organizer's website or social media platform. Some events may require pre-registration, while others might be open to walk-in volunteers.
Prepare for the event: Before participating in a beach cleanup, make sure you are properly equipped. Bring gloves, reusable bags or buckets, a hat, sunscreen, and a reusable water bottle to stay hydrated. In addition, it's essential to wear comfortable clothing and closed-toe shoes.
Follow safety guidelines: During the beach cleanup, follow any safety guidelines provided by the organizers. This may include instructions on how to handle sharp objects, what types of waste to collect, and how to dispose of the collected trash.
Spread the word: Encourage friends, family members, and colleagues to participate in beach cleanups or organize a group event. The more people involved, the greater the impact on preserving the environment and raising awareness about the importance of reducing waste and protecting marine life.
By participating in beach cleanups, you can make a tangible difference in Dubai's coastal ecosystems, help protect marine life, and contribute to a cleaner, more sustainable city. Remember that every small action counts, and together we can make a positive impact on the environment.
---
Dubai Sustainable City is a pioneering residential development project that aims to create an eco-friendly and sustainable living environment in the heart of Dubai. Located in Dubailand, the Sustainable City spans across 46 hectares (113 acres) and has been designed to minimize its environmental impact and promote a healthy, green lifestyle for its residents.
Key features of Dubai Sustainable City include:
Energy-efficient design: The city is designed with energy conservation in mind, incorporating solar panels on rooftops to generate clean electricity. The buildings are also constructed with green building materials, and their orientation is optimized to reduce heat gain and energy consumption.
Renewable energy: The city generates a significant portion of its energy requirements from renewable sources, mainly solar power. The solar panels installed on rooftops and carports throughout the community generate clean electricity, contributing to a reduced carbon footprint.
Water conservation: Dubai Sustainable City has implemented various water-saving measures, including the use of treated wastewater for landscaping and irrigation, low-flow fixtures, and a focus on native and drought-resistant plants in landscaping.
Waste management: The city prioritizes waste reduction, recycling, and composting. Organic waste is composted within the community, and recycling facilities are available for residents to dispose of various types of waste materials.
Sustainable transportation: The Sustainable City encourages the use of eco-friendly transportation options, such as walking, cycling, and electric vehicles. The city features pedestrian-friendly walkways, cycling paths, and electric vehicle charging stations.
Urban farming and local food production: The community includes urban farms and greenhouses, which provide residents with fresh, locally-grown produce. This reduces the need for imported food items, lowering the community's overall carbon footprint.
Green spaces and biodiversity: The Sustainable City prioritizes green spaces, with parks, gardens, and landscaped areas covering approximately 60% of the development. These green spaces not only enhance the quality of life for residents but also support local biodiversity and help combat urban heat island effects.
Social sustainability: The city has been designed to foster a strong sense of community, with shared spaces, community centers, and a range of educational, cultural, and recreational facilities available for residents.
Dubai Sustainable City is a groundbreaking project that showcases how urban development can be both environmentally responsible and economically viable. The city serves as a model for sustainable living and urban planning, inspiring similar projects worldwide and contributing to Dubai's vision of becoming one of the most sustainable cities globally.
Search City: