Eco-tourism has become increasingly popular as travelers seek more environmentally friendly and sustainable ways to explore the world. Hong Kong, a bustling metropolis known for its towering skyscrapers and vibrant culture, also offers a wide range of eco-tourism experiences for the conscious explorer. This guide will highlight some of the top sustainable travel experiences in Hong Kong.
---
Hong Kong Geopark
The Hong Kong UNESCO Global Geopark, established in 2009, is a unique geological and ecological attraction that spans approximately 50 square kilometers. The Geopark features a diverse range of geological formations, volcanic activities, and coastal ecology that showcase Hong Kong's rich natural heritage. The park consists of two main regions: the Sai Kung Volcanic Rock Region and the Northeast New Territories Sedimentary Rock Region, which are further divided into eight geo-areas.
Sai Kung Volcanic Rock Region: This area is home to Hong Kong's most extensive and well-preserved volcanic rock formations. Key attractions include:
a. High Island: Known for its impressive hexagonal rock columns, High Island offers a spectacular view of the Geopark's unique volcanic rock formations.
b. Sharp Island: This island features tombolo, a sandbar that connects two islands, and is popular for its unique geological features, such as pineapple bun rock and rhyolite formations.
c. Ninepin Group: A cluster of islands showcasing the largest and most unique hexagonal rock columns in the Geopark.
Northeast New Territories Sedimentary Rock Region: This region is characterized by sedimentary rock formations that date back over 400 million years. Key attractions include:
a. Tolo Channel: Known for its magnificent coastal cliffs, Tolo Channel offers a glimpse into Hong Kong's geological past through its well-preserved rock strata.
b. Double Haven: A stunning coastal area featuring unique red sedimentary rocks and picturesque landscapes.
c. Plover Cove: This area boasts a diverse range of geological features, including shale and siltstone formations, as well as impressive coastal landforms like sea caves and wave-cut platforms.
d. Tung Ping Chau: The easternmost outpost of Hong Kong, Tung Ping Chau is an island renowned for its distinctive sedimentary rock formations, such as the spectacular "layer cake" rock.
e. Port Island and Ma Shi Chau: These islands are known for their diverse range of sedimentary rocks, including mudstone, siltstone, and sandstone.
To fully experience and appreciate the Hong Kong UNESCO Global Geopark, it is recommended to join guided tours or visit the park's Visitor Centres. These tours and centers offer valuable information on the geological features, ecological importance, and conservation efforts of the Geopark. Additionally, visitors can explore the park's walking trails, enjoy water activities like kayaking or snorkeling, and participate in educational programs and workshops to further appreciate the beauty and significance of this unique geological treasure.
---
Mai Po Nature Reserve is a globally important wetland located in the northwestern part of Hong Kong's New Territories. Covering an area of approximately 1,500 hectares, the reserve is managed by the World Wildlife Fund (WWF) Hong Kong and has been designated as a Ramsar site, a wetland of international importance.
Mai Po Nature Reserve is a crucial habitat for various species of flora and fauna, particularly birds. It is a significant stopover point for migratory birds along the East Asian-Australasian Flyway, attracting over 400 bird species, including endangered species like the Black-faced Spoonbill and the Saunders's Gull. The reserve is also home to diverse ecosystems, including mangroves, mudflats, and fish ponds that support various species of fish, crustaceans, and other wildlife.
Visiting Mai Po Nature Reserve:
To protect the fragile ecosystems within the reserve, access is restricted, and visitors must join guided tours or obtain a permit to enter the reserve. Guided tours are available through WWF Hong Kong and offer a chance to learn about the region's biodiversity, conservation efforts, and the importance of wetlands for migratory birds.
Activities and attractions at Mai Po Nature Reserve include:
Birdwatching: The reserve is a birdwatcher's paradise, especially during the migratory season (October to April). Bring your binoculars and cameras to observe and photograph the diverse bird species that visit the reserve.
Nature Walks: Explore the reserve's boardwalks and observe its unique ecosystems, including mangroves and mudflats. Learn about the plants and animals that thrive in these environments and the conservation efforts in place to protect them.
Floating Bird Hide: Visit the floating bird hide for an up-close view of the birds and other wildlife in the reserve, offering a unique perspective on the area's biodiversity.
Education Centre: The Peter Scott Field Studies Centre provides educational resources and workshops on wetland ecology, bird migration, and conservation efforts.
Photography Workshops: Join photography workshops to learn techniques for capturing stunning images of the reserve's landscapes and wildlife.
When visiting Mai Po Nature Reserve, be sure to follow the guidelines to minimize disturbance to wildlife and help preserve the delicate ecosystems. By doing so, you will contribute to the ongoing conservation efforts and ensure the reserve remains a thriving habitat for future generations to appreciate and enjoy.
---
Organic farm visits in Hong Kong offer a unique opportunity to learn about sustainable agriculture, eco-friendly farming practices, and local food production. These farms often provide guided tours, hands-on workshops, and various educational activities that promote a connection with nature and a better understanding of where our food comes from. Here are a few organic farms to consider visiting in Hong Kong:
Kadoorie Farm and Botanic Garden: Located in the New Territories, Kadoorie Farm and Botanic Garden is a conservation and education center that promotes sustainable living and biodiversity. Visitors can explore the farm's various gardens, enjoy nature walks, and participate in workshops related to organic farming, plant conservation, and sustainable living.
Zen Organic Farm: Situated in the northeastern part of the New Territories, Zen Organic Farm focuses on producing a wide variety of organic fruits and vegetables. The farm offers guided tours where visitors can learn about organic farming practices, pick seasonal produce, and participate in workshops on topics like composting and healthy cooking.
Rainbow Organic Strawberry Farm: Located in Yuen Long, Rainbow Organic Strawberry Farm specializes in growing organic strawberries using eco-friendly and sustainable practices. During the strawberry season (usually December to April), visitors can pick their own strawberries and learn about organic cultivation techniques.
Long Ping Organic Farming Cooperative: This cooperative in Yuen Long consists of several local organic farms working together to promote organic agriculture and provide educational opportunities. Visitors can join guided tours of the farms, participate in workshops on organic farming techniques, and purchase fresh, locally grown produce.
Go Green Organic Farm: Located in Kam Tin, Go Green Organic Farm is an educational farm that encourages visitors to connect with nature and learn about sustainable agriculture. The farm offers guided tours, hands-on workshops, and various activities related to organic farming and environmental conservation.
When planning your visit to an organic farm in Hong Kong, it's essential to check the farm's website or contact them directly to confirm opening hours, availability of guided tours or workshops, and any entrance fees or charges for activities. By visiting these farms and supporting their efforts, you contribute to a more sustainable and environmentally conscious future for Hong Kong.
---
Hong Kong offers a diverse range of hiking and biking trails that allow you to explore its stunning natural landscapes while engaging in eco-friendly activities. These trails provide a mix of challenges and scenic views, suitable for various fitness levels and interests. Here are some popular hiking and biking trails in Hong Kong:
Dragon's Back: One of Hong Kong's most famous hiking trails, Dragon's Back, offers panoramic views of the city, coastline, and surrounding islands. The trail is relatively easy and takes around 2-3 hours to complete, making it an excellent choice for both experienced hikers and beginners.
MacLehose Trail: Stretching over 100 kilometers, the MacLehose Trail is the longest hiking trail in Hong Kong, traversing the New Territories and offering a diverse range of scenery, including mountains, beaches, and reservoirs. The trail is divided into ten sections, allowing you to choose which parts to explore based on your preferences and abilities.
Tai Mo Shan: Tai Mo Shan is the highest peak in Hong Kong, reaching an altitude of 957 meters. The hike to the summit provides breathtaking views of the city and its surroundings. The trail is moderately challenging and takes approximately 3-4 hours to complete.
Lantau Trail: The Lantau Trail is a 70-kilometer circular hiking trail on Lantau Island that passes through lush forests, mountain peaks, and cultural sites like the famous Tian Tan Buddha. The trail is divided into 12 sections, allowing hikers to choose the segments that best suit their interests and abilities.
Wilson Trail: The Wilson Trail is a 78-kilometer hiking trail that traverses Hong Kong Island, Kowloon, and the New Territories. The trail offers a diverse range of landscapes, including urban parks, mountain peaks, and coastal views, and is divided into ten sections for easier navigation.
Biking Trails:
Tai Wai to Tai Mei Tuk: This 20-kilometer biking trail follows a dedicated cycling path along the Shing Mun River and Tolo Harbour, providing a flat and scenic ride suitable for cyclists of all levels.
Nam Sang Wai: Nam Sang Wai, located in Yuen Long, is a popular cycling destination known for its picturesque wetlands and birdwatching opportunities. The area offers a network of cycling paths that allow you to explore its natural beauty at a leisurely pace.
Plover Cove Reservoir Country Park: This park in the New Territories features a dedicated cycling trail that takes you around the Plover Cove Reservoir, offering stunning views of the surrounding mountains and water.
Tung Chung to Mui Wo: This 15-kilometer cycling route on Lantau Island connects Tung Chung and Mui Wo, taking you past coastal scenery, rural villages, and the lush greenery of Lantau.
Remember to follow the Leave No Trace principles while hiking and biking in Hong Kong to minimize your impact on the environment. By choosing eco-friendly activities like hiking and biking, you can enjoy Hong Kong's natural beauty while reducing your carbon footprint and supporting local conservation efforts.
---
Green cultural tours in Hong Kong offer an opportunity to explore the city's sustainable initiatives and cultural heritage. These tours showcase how Hong Kong balances economic growth with environmental protection, offering an insight into how the city has evolved into a sustainable urban center. Here are some popular green cultural tours in Hong Kong:
Hong Kong Tourism Board Green Tour: The Hong Kong Tourism Board offers a green tour that highlights the city's green initiatives, such as the Central and Western District Promenade, which features eco-friendly installations and public art, and the T-Park, which is a state-of-the-art waste management facility that converts waste into energy. The tour also includes visits to urban parks and sustainable buildings.
Green Hub Heritage and Nature Tour: Green Hub is a converted heritage building that offers eco-tours that showcase the site's history, nature, and sustainable living. The tour includes a visit to the onsite organic farm, where you can learn about sustainable agriculture practices, as well as a walk through the nearby Tai Po Market, which offers a glimpse into traditional Hong Kong culture.
Tai Kwun Heritage and Art Tour: Tai Kwun is a revitalized heritage site that offers a blend of history, art, and culture. The tour includes a visit to the former Central Police Station, which has been transformed into a cultural center featuring art exhibitions, performances, and workshops. The tour also includes a visit to the nearby Hollywood Road, which is famous for its antique shops and traditional craft workshops.
Kowloon Cultural Heritage Tour: This tour takes you through the Kowloon Peninsula, exploring its rich cultural heritage, including the Wong Tai Sin Temple, the Chi Lin Nunnery, and the Nan Lian Garden. These sites showcase traditional Chinese architecture, religious practices, and garden design, providing insight into the cultural roots of Hong Kong.
Eco-tour of Hong Kong's Outlying Islands: This tour takes you to Hong Kong's outlying islands, where you can explore the city's natural beauty and rural communities. The tour includes visits to the island of Lamma, famous for its seafood restaurants and hiking trails, and Cheung Chau Island, known for its traditional fishing village and scenic landscapes.
Green cultural tours in Hong Kong provide an opportunity to appreciate the city's commitment to sustainability while experiencing its rich cultural heritage. These tours offer a unique way to connect with the local community and gain a deeper understanding of Hong Kong's history and future direction.
---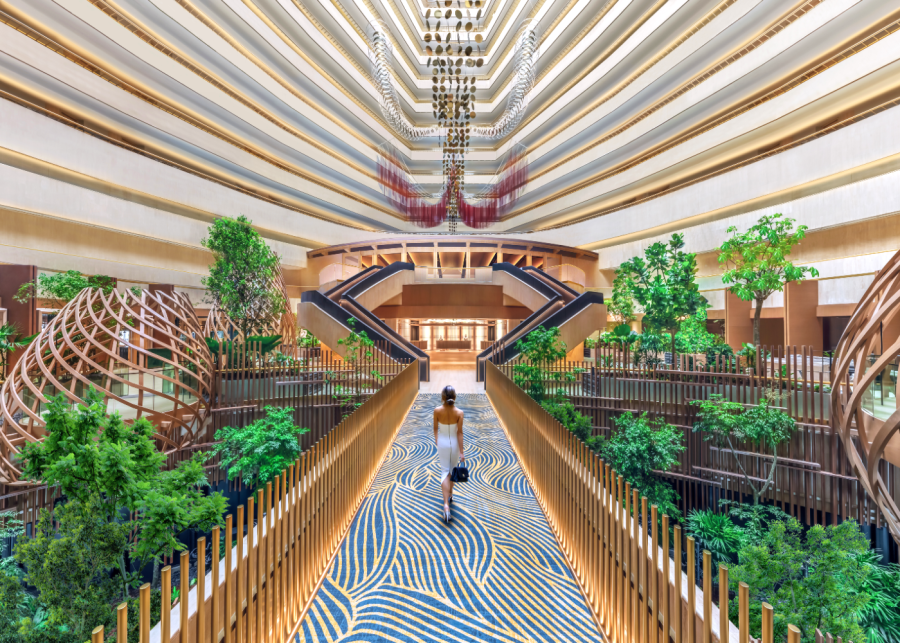 Sustainable accommodations in Hong Kong offer eco-conscious travelers a chance to reduce their carbon footprint and support environmentally responsible practices. These accommodations prioritize energy efficiency, waste reduction, and sustainable living, making them an excellent choice for conscious travelers. Here are some sustainable accommodation options in Hong Kong:
The Upper House: The Upper House is a luxury boutique hotel in Admiralty that has been awarded a gold rating for Leadership in Energy and Environmental Design (LEED). The hotel uses energy-efficient lighting, water-saving measures, and eco-friendly amenities. Additionally, the hotel partners with local environmental organizations to support conservation efforts.
Ovolo Central: Ovolo Central is a stylish hotel located in the heart of Hong Kong's Central district. The hotel has received numerous sustainability awards for its eco-friendly practices, such as using energy-efficient lighting, providing in-room recycling bins, and offering eco-friendly amenities.
L'hotel élan: L'hotel élan is a modern hotel located in Kwun Tong that has been awarded a gold rating for the BEAM Plus certification, a sustainability assessment system. The hotel features energy-efficient lighting and air conditioning, provides eco-friendly amenities, and has implemented a recycling program for guests.
Campus Hong Kong: Campus Hong Kong is a co-living space that offers sustainable accommodation options in a community-based environment. The space features a green roof, uses energy-efficient lighting, provides in-room recycling bins, and encourages guests to use refillable water bottles to reduce waste.
Mini Hotel: Mini Hotel is a budget-friendly hotel chain with several locations across Hong Kong. The hotel uses energy-efficient lighting, provides eco-friendly amenities, and encourages guests to reduce waste by offering discounts on food and drinks for those who bring their reusable containers.
By choosing sustainable accommodations in Hong Kong, you can contribute to the city's environmental efforts while enjoying a comfortable and eco-conscious stay. Be sure to research the eco-friendly practices of the accommodations you are considering and choose those that align with your values and priorities.
---
Hong Kong has an extensive public transportation network that includes a variety of low-carbon options for eco-conscious travelers. These transportation modes prioritize energy efficiency, reduce greenhouse gas emissions, and minimize traffic congestion, making them a sustainable choice for getting around the city. Here are some low-carbon transportation options in Hong Kong:
Mass Transit Railway (MTR): The MTR is the backbone of Hong Kong's public transportation network, offering an efficient and eco-friendly way to travel around the city. The MTR is powered by electricity, which is generated from natural gas and renewable energy sources, reducing greenhouse gas emissions.
Trams: Hong Kong's iconic trams are a low-carbon transportation option that has been in operation for over a century. The trams run on electricity and are an affordable and scenic way to explore the city's streets.
Buses: Hong Kong's bus system is an affordable and eco-friendly way to travel around the city. The city has been gradually introducing electric and hybrid buses to its fleet, reducing greenhouse gas emissions and air pollution.
Ferries: Hong Kong's ferry system provides an enjoyable and sustainable way to travel between Hong Kong Island and its outlying islands. The ferries run on electricity or low-sulfur marine fuel, reducing air pollution.
Bicycles: Biking is a healthy and eco-friendly way to explore Hong Kong's scenic trails and parks. Several bike rental companies offer convenient options for renting bicycles, and many of the city's parks and trails are bike-friendly.
By choosing low-carbon transportation options in Hong Kong, you can contribute to the city's efforts to reduce greenhouse gas emissions, improve air quality, and promote sustainable travel. Additionally, using public transportation can help reduce traffic congestion and the need for private cars, making the city a more pleasant and livable place for all.
---
Search City: