Madrid is a city that is steeped in history, and one cannot fully appreciate its culture without experiencing its culinary offerings, particularly its tapas. From neighborhood bars to more upscale restaurants, tapas are an integral part of Madrid's social fabric, and a great way to experience the city's lively atmosphere. In this article, we will take you on a culinary tour of Madrid's most authentic tapas bars, offering insights into the city's tapas culture, must-try dishes, and tips for ordering like a local. Whether you're a seasoned traveler or a first-time visitor, join us as we explore the diverse and delicious world of Madrid's tapas scene.

Introduction to Madrid's tapas culture
Madrid is known for its vibrant tapas culture, where locals and tourists alike enjoy small plates of food with a drink.
What are tapas?
Tapas are small plates of food that are usually served with drinks. They can range from simple snacks like olives and almonds to more elaborate dishes like croquettes and grilled octopus.
The history of tapas in Madrid
The origins of tapas culture are unclear, but it is believed to have started in Andalusia, where bartenders would serve small plates of food to cover glasses of sherry to keep the flies away. In Madrid, tapas became popular in the early 20th century, when taverns would offer small portions of food to accompany drinks. Today, Madrid boasts some of the best and most authentic tapas bars in the world.
Exploring the city's most authentic tapas bars
Madrid's tapas scene is not to be missed. Here are the best neighborhoods to go on a tapas crawl and the top-rated tapas bars by locals and tourists.
The best neighborhoods for tapas crawls
La Latina is one of the best neighborhoods for tapas crawls, with narrow streets lined with traditional taverns and bars. Malasaña is another great option, with a trendy and youthful vibe and unique tapas bars.
Top-rated tapas bars by locals and tourists
Some of the top-rated tapas bars in Madrid include Casa Labra, known for its famous cod croquettes, El Sur, a classic tavern with a wide variety of tapas dishes, and Bodega de la Ardosa, which has been serving tapas since 1892.
Must-try tapas dishes and drinks
When it comes to tapas, there are endless options to choose from. Here are some classic and regional dishes to try and the perfect drinks to pair them with.
Classic tapas dishes to order
Some classic tapas dishes to order include patatas bravas (spicy potatoes), tortilla española (potato omelette), and jamón ibérico (cured ham).
Regional tapas specialties to sample
Madrid has many regional tapas specialties to sample, such as callos a la madrileña (spicy tripe stew), huevos rotos con jamón (eggs with ham), and cocido madrileño (hearty chickpea stew).
The perfect drinks to pair with tapas
The most common drinks to pair with tapas are beer and wine. A classic pairing is vermouth with olives or anchovies, and rioja wine with grilled meats.
A guide to ordering and sharing tapas like a local
To fully immerse yourself in Madrid's tapas culture, it's important to know the do's and don'ts of tapas etiquette and how to share tapas with friends.
Tapas etiquette: do's and don'ts
Do order a variety of tapas to share with your group. Don't leave your toothpick on the plate – this is a sign of good manners.
How to order and share tapas with friends
When ordering tapas, it's common to ask for half portions so you can try more dishes. When sharing tapas, don't hog the plate – share with everyone and don't double-dip. And, of course, don't forget to say "salud" before taking a sip of your drink.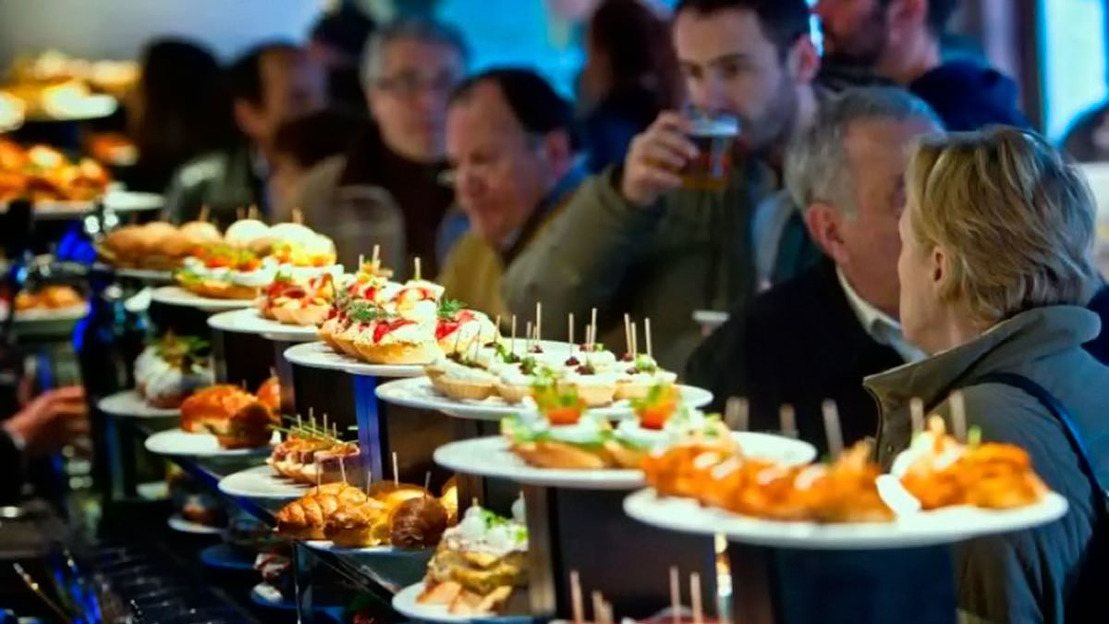 Hidden Gems: Off-the-Beaten-Path Tapas Bars to Discover
Madrid is known for its bustling tapas scene, but some of the best bars are hidden away from the tourist areas. These tapas bars not only serve up delicious food, but also offer an authentic local experience. From a hole-in-the-wall bar run by a family for generations to a trendy hangout spot in a residential neighborhood, here are our top picks for lesser-known tapas bars favored by locals.
Lesser-Known Tapas Bars Favored by Locals
El Sur: Located in the pleasant residential area of Chamberí, this rustic taverna provides an intimate ambiance with an extensive tapas menu. The dishes range from traditional Spanish cold cuts to seafood specialties, all of which are made with fresh and high-quality ingredients.
La Casa del Abuelo: A true institution in Madrid's tapas scene, this vintage-style bar has been serving its famous garlic prawns since 1906. They also offer other classic tapas dishes like grilled octopus, grilled mushrooms, and croquetas. One of the best parts of the experience is the friendly staff who make you feel like a regular.
La Taberna de los Ángeles: A local favorite, this cozy bar is situated in the heart of Madrid's Malasaña district. The menu includes all of the classic tapas dishes, but the signature dish is definitely the tuna tataki, which is always freshly prepared.
How to Find the Best Hidden Tapas Bars in Madrid
The best way to discover off-the-beaten-path tapas bars in Madrid is to explore the city's different neighborhoods. Some of the well-known areas, such as Sol and La Latina, have a lot of touristy bars, but areas like Chamberí, Lavapiés, and Malasaña are where you'll find authentic local bars. Try asking locals for recommendations or scouring local food blogs or websites, such as Madrid Food Tour or Devour Madrid.
Beyond Tapas: Other Traditional Madrid Cuisine to Sample
While tapas are a must-try in Madrid, the city has more to offer than just small plates. From delicious stews to sweet treats, here are some traditional Madrid dishes to add to your culinary bucket list.
Famous Madrid Dishes to Try
Cocido Madrileño: This hearty stew is made with chickpeas, vegetables, meat, and chorizo, and is a popular comfort food in Madrid. It's typically served in three courses – the broth, then the vegetables, and finally the meat.
Churros con Chocolate: A Spanish staple, churros are fried dough pastries that are served with a thick and rich hot chocolate dipping sauce. They're best enjoyed in the morning for breakfast or as a late-night snack.
Huevos Rotos: A simple but delicious dish, huevos rotos consists of fried eggs on a bed of crispy potatoes and chorizo. The eggs are typically cooked sunny-side up and are meant to be mixed with the potatoes.
The Best Restaurants for Authentic Madrid Cuisine
Botín: Founded in 1725, Botín is the oldest restaurant in the world according to the Guinness Book of World Records. Specializing in traditional Spanish cuisine, their famous dish is the suckling pig, which is roasted in a wood-fired oven.
Casa Lucio: A family-owned restaurant for over 40 years, Casa Lucio is famous for its huevos rotos and rustic ambiance. Celebrities like Bill Clinton and Woody Allen have dined here, and the walls are adorned with photos of famous patrons.
La Vaca y La Huerta: This farm-to-table restaurant focuses on using locally-sourced and seasonal ingredients to create traditional Spanish dishes with a modern twist. The menu changes frequently, but the quality is always top-notch.
The Evolution of Madrid's Culinary Scene and Its Impact on Tapas Culture
Madrid's culinary scene has undergone a significant transformation over the years, with the influence of modern cuisine changing the way traditional tapas are prepared and presented. Here's a look at how Madrid's food culture has evolved.
How Madrid's Culinary Scene has Changed Over Time
In the past, Spanish cuisine was viewed as simple and rustic, with restaurants serving traditional dishes like paella and cocido madrileño. However, in recent years, Madrid's culinary scene has become more innovative, with chefs experimenting with new techniques and flavors.
The Impact of Modern Cuisine on Traditional Tapas
The rise of modern cuisine has had an impact even on traditional tapas. While many bars still serve classic dishes like tortilla española and patatas bravas, some have started to experiment with new flavors and presentations. This has given rise to a new generation of tapas bars that offer a fusion of traditional and modern flavors.
Tips for Planning Your Own Tapas Tour of Madrid
Ready to embark on your own tapas tour of Madrid? Here are some tips to help you plan the perfect evening of culinary exploration.
How to Plan a Tapas Crawl in Madrid
Start by planning out your route – choose a particular neighborhood or area and map out the bars you want to visit. It's a good idea to choose bars with different specialties and styles so you can try a range of dishes. Be sure to pace yourself and share plates so you can try as much as possible.
What to Keep in Mind When Visiting Tapas Bars
Tapas bars in Madrid can get crowded, especially during peak hours. Some bars don't offer seating or may require you to stand at the bar, so wear comfortable shoes. It's also customary to order a drink with your food, so be sure to try some of the local wines or beers. Finally, don't forget to enjoy the experience – tapas are meant to be enjoyed with friends and in a relaxed setting.Madrid's tapas culture is an integral part of the city's identity, and we hope that this article has given you a comprehensive overview of what makes it so special. From the classics to the modern twists, the tapas in Madrid are as diverse as the city itself, and we encourage you to explore as many bars and dishes as possible. So take your time, savor the flavors, and enjoy the lively atmosphere of Madrid's tapas bars.
Frequently Asked Questions (FAQ)
What are tapas?
Tapas are small plates of food that are meant to be shared, and are a popular part of Spanish cuisine. They can be served as appetizers or as a complete meal, and are often accompanied by wine or other alcoholic beverages.
How do I order tapas in Madrid?
In Madrid, it is common to order several tapas dishes to share with your group, rather than ordering individual plates for each person. The best way to order tapas is to ask your server for recommendations based on your preferences, or to simply point to dishes that look interesting on the menu.
What are some classic tapas dishes to try in Madrid?
Some of the most popular tapas dishes in Madrid include patatas bravas (spicy potatoes), tortilla española (a potato and onion omelet), croquetas (fried dough filled with ham or cheese), and calamares a la romana (fried squid rings). Of course, there are many other dishes to try as well, so don't be afraid to explore the menu.
Are there any specific customs or etiquette to keep in mind when eating tapas in Madrid?
One common practice when eating tapas in Madrid is to throw your napkins on the floor after using them. This may seem odd to some visitors, but it is considered normal and helps keep the atmosphere lively and informal. Additionally, it is polite to offer to buy a round of drinks or tapas for the group if you are out with friends.
Search City: