Barcelona's Modernisme, also known as Catalan Modernism, is an architectural and artistic movement that developed in Catalonia between the late 19th and early 20th centuries. While Antoni Gaudí is undoubtedly the most famous figure associated with the movement, there were many other talented architects and artists that contributed to the unique and stunning architectural landscape of the city. This architectural tour will take you beyond Gaudí and introduce you to the works of some of the other prominent figures of the Modernisme movement.
---
Lluís Domènech i Montaner
One of the most influential architects of the Modernisme movement, Lluís Domènech i Montaner designed numerous iconic buildings in Barcelona. Key works include:
Palau de la Música Catalana (1905-1908): A UNESCO World Heritage site, this concert hall is famous for its ornate façade and intricate stained-glass windows. The interior is equally stunning, with a central skylight and extensive use of ceramics and mosaics.
Hospital de Sant Pau (1902-1930): Another UNESCO World Heritage site, this former hospital complex features numerous pavilions connected by underground tunnels, each showcasing different aspects of Modernisme. The site has been transformed into a cultural center and research institution.
---
Josep Puig i Cadafalch
Another important figure of the Modernisme movement, Josep Puig i Cadafalch designed several notable buildings in Barcelona, including:
Casa Amatller (1898-1900): Located on the famous "Illa de la Discòrdia" (Block of Discord), this building showcases a unique blend of Modernisme and Gothic influences. The façade is adorned with intricate sculptures and colorful ceramics.
Casa de les Punxes (1905): This residential building, also known as Casa Terrades, has a castle-like appearance due to its six distinctive towers. It features wrought-iron balconies and a ceramic tile roof.
---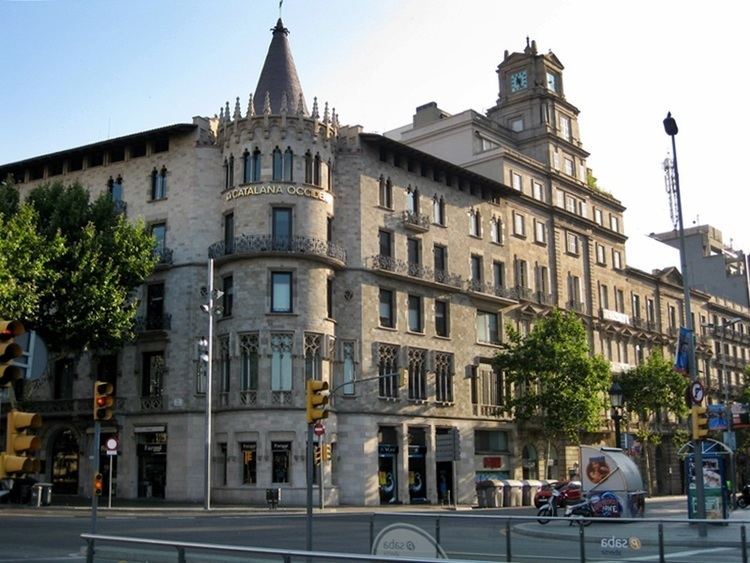 Enric Sagnier
Enric Sagnier was a prolific architect who contributed to the Modernisme movement with various buildings throughout Barcelona:
Palau de Justícia (1908): Designed with Josep Domènech i Estapà, this monumental courthouse showcases a mix of Modernisme and Neoclassical elements, with ornamental sculptures and decorative reliefs.
Temple Expiatori del Sagrat Cor (1902-1961): Located atop Tibidabo mountain, this imposing basilica was Sagnier's most ambitious project. The church features a mix of architectural styles, including Modernisme, Neo-Gothic, and Byzantine influences.
---
Other notable architects and sites
Aside from these major figures, numerous other architects contributed to Barcelona's Modernisme movement:
Casa Lleó Morera (1902-1906) by Lluís Domènech i Montaner: Another building on the "Illa de la Discòrdia," this residential building is known for its intricate stone carving and rich ornamentation.
Casa Comalat (1911) by Salvador Valeri i Pupurull: This residential building is characterized by its curving façade, undulating balconies, and colorful ceramics.
Casa Ramos (1906) by Jaume Torres i Grau: This building features a façade with a symmetrical design, adorned with wrought iron balconies, and colorful floral motifs.
Search City: